Local Government, Civic Affairs and Education
Total Action for Progress has launched a new fundraising arm that also helps build business skills for those involved in its operation – TAP Books. Most of those donated books will be sold online via Amazon and E-Bay; others too expensive to ship versus the profit realized will be offered to TAP clients in various programs. David Moore is the director for TAP Books, which he calls a "social entreprenuership" effort that is already raising money for TAP programs – $30,000 to date: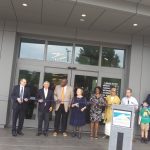 It's the largest branch in the Roanoke Public Library system outside of the main library downtown. Today they cut the ribbon for the new 4-million dollar Melrose library, which is located on the Goodwill Industries Melrose Avenue Jobs campus. At 15,000 square feet its more than twice the size of the old Melrose branch – with upgraded computer stations, a "STEM" and arts dedicated lab, and community meeting rooms. Sheila Umberger is the library system's director: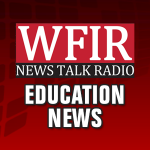 NEWS RELEASE:  The Roanoke County School Board has named Dana Stevens as the new principal at Mount Pleasant Elementary School.  Stevens replaces long-time principal, Ellen Walton, who retired at the end of the previous school year. Stevens first joined Roanoke County Public Schools in 1989 as a teacher at Clearbrook Elementary School.  In 1991, she moved to Mount Pleasant Elementary School where she was a teacher until 2013, when she became the assistant principal at W.E. Cundiff Elementary School.  In 2017, she moved to William Byrd Middle School as an assistant principal. Stevens holds a Bachelor's Degree from Radford University and a Master's Degree in educational leadership and policy studies from Virginia Tech.
"I'm pleased Dana is returning to Mount Pleasant as the school's new principal.  She was an excellent teacher at Mount Pleasant and a great assistant principal at W.E. Cundiff and William Byrd Middle School.  I am confident she will continue the standard of excellence at Mount Pleasant," said Dr. Ken Nicely, superintendent of Roanoke County Public Schools.