Environment and Outdoors

Blue Ridge Outdoors Magazine is conducting its 10th annual "Best of the Blue Ridge Awards" with online voting through November 7th. There are a number of categories, including best outdoor destination, Food and Drink venue – and best business, where Runabout Sports on Brambleton Avenue is one of the nominees, as are several other Roanoke area outdoor-oriented entries.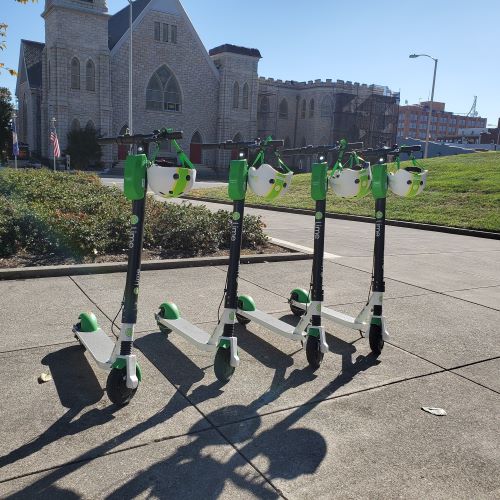 The man who eventually became Roanoke City's "Scooter guy" says they believe it opens up an affordable transportation option. The plan is to have thrice as many scooters by this weekend as WFIR's Ian Price reports:
State game officials are using radio collars to help them learn a lot more about how bears live in central Virginia — and to help the population recover from what had been near elimination. Those collars provide insights about their habits and to place orphaned cubs in bear dens, where mothers almost always accept those cubs as one of their own. WFIR's Evan Jones has more:
Local environmentalist Diana Christopulos is in the running to win the Cox Conserves National Hero award – and she's close. Taking that top prize would mean $50,000 that she says in this promotional video would go towards Appalachian Trail protection in the valley.  A Virginian has never won the Cox Conserves National Hero award; you can vote for Diana Christopulos ONLY through tomorrow at coxconservesheroes.com/vote.
Attorney General Mark Herring says Mountain Valley Pipeline has agreed to pay a civil penalty of $2.15 million for violating environmental regulations. And MVP agrees to submit to court-ordered and court-supervised compliance with environmental protections.
NEWS RELEASE: RICHMOND (October 11, 2019)—The Commonwealth of Virginia has reached an agreement with Mountain Valley Pipeline, LLC that will force the company to submit to court-ordered and court-supervised compliance with environmental protections, impose additional layers of independent, third-party monitoring on the project, and require the payment of a significant $2.15 million civil penalty. The agreement will resolve the lawsuit filed in December 2018 by Attorney General Mark R. Herring on behalf of the State Water Control Board and the Virginia Department of Environmental Quality, and includes the following key terms:
Places MVP under court-ordered and court-supervised compliance with the State Water Control Law, Stormwater Management Act, Erosion and Sediment Control Law, the state-issued Clean Water Act Section 401 Water Quality Certification and all other applicable environmental laws for the duration of construction, adding additional layers of tough oversight and accountability. Any future violations would be a violation of both applicable environmental laws and a court order, which carries much more significant consequences.
In court filings, MVP stated that it planned to challenge the validity of the Section 401 Certification issued by the State Water Control Board. If MVP had succeeded, construction would have continued but all the conditions and environmental protections the Board placed on the project would have been wiped away. This agreement locks MVP into the terms of the certification issued by the Board, and MVP waives any right to contest the previously filed suit.
MVP will have to spend its own money for enhanced monitoring of erosion control measures throughout the project and for new monitoring of fisheries and wildlife in work areas. Independent, third-party auditors, who must be approved by DEQ, will make bi-weekly assessments to ensure that best management practices are being used and that erosion and sediment controls are installed and functioning properly.
MVP must immediately confirm that it is in compliance with all applicable provisions of environmental laws, including remediation of previously identified instances of alleged noncompliance.
MVP must pay a $2,150,000 civil penalty that will support ongoing environmental protection and enforcement activities in Virginia. By comparison, the West Virginia Department of Environmental Protection recently resolved similar allegations for just $266,000.
If any future violations occur, MVP will have to immediately clean up the damage and restore the site at its own expense, and will be subject to an expedited process for imposing significant financial penalties of a predetermined amount.
Advance notification to DEQ of any land-disturbing activity in or around each waterbody or wetland.
The Commonwealth retains the ability to pursue any necessary remedy to protect public health or the environment during construction, and the Commonwealth can recover its costs for enforcing any provision of the consent decree.
"This is one of the most significant financial penalties ever imposed in Virginia for this kind of case, and more importantly, we have secured significant new monitoring, supervision, and enhanced standards for the duration of the project," said Attorney General Herring. "This resolution really sets a new standard for resolution of environmental damages cases in Virginia. By utilizing the consent decree approach of the EPA under the Obama Administration, we were able to quickly secure a major civil penalty, force significant concessions, and impose important environmental, health, and safety protections on the project that may not have been attainable if this had gone to trial."
"This consent decree significantly strengthens our ability to ensure MVP is meeting its environmental responsibilities," said DEQ Director David Paylor. "The decree stipulates that MVP will be automatically fined for any violations of the terms of this agreement with the Commonwealth of Virginia, while also imposing a significant fine for past noncompliance."
In December 2018, Attorney General Herring, DEQ, and the State Water Control Board filed suit against MVP, LLC alleging environmental violations in Craig, Franklin, Giles, Montgomery, and Roanoke Counties, particularly violations that occurred during significant rain events. The suit alleged that MVP violated the Commonwealth's environmental laws and regulations as well as MVP's Clean Water Act Section 401 Water Quality Certification by failing to control sediment and stormwater runoff resulting in impacts to waterways and roads. The matter was referred to the Office of Attorney General by the director of DEQ after numerous inspections identified violations at multiple construction sites.
In accordance with state law and State Water Control Board regulations, the settlement has been approved by Gov. Ralph Northam, Attorney General Herring, and DEQ Director Paylor and will now be subject to 30 days of public comment before being submitted to the Circuit Court of Henrico County, the circuit in which the suit was filed.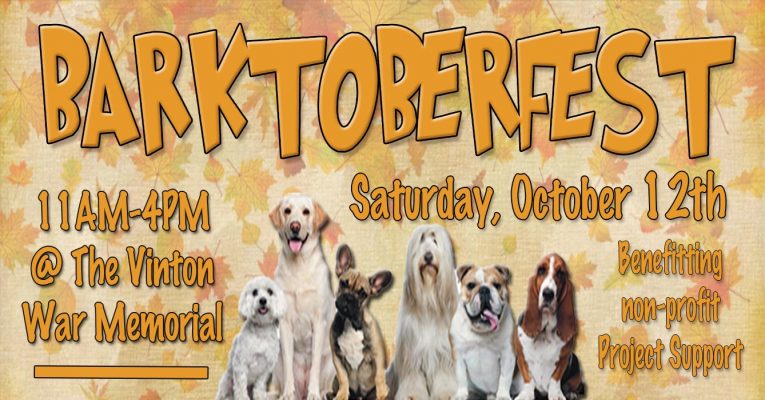 There's a festival on Saturday at the Vinton War Memorial where you not only can bring your dog – it's encouraged. WFIR's Ian Price has more:
Full details on Barktoberfest can be found HERE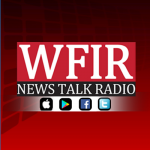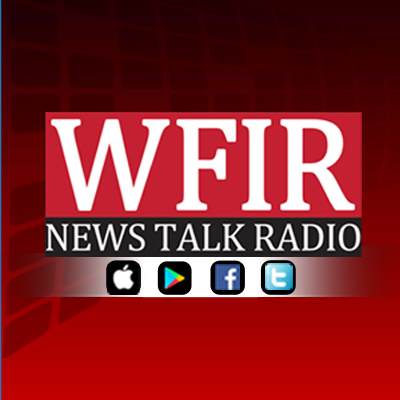 NEWS RELEASE: Blue Ridge Parkway officials announced today the reopening of the Parkway from milepost 106 to milepost 112 near Roanoke, Virginia. This section of parkway was closed on Friday, September 6 due to hazardous driving conditions caused by settling of subsurface material under the roadway.     Patching of the hazard areas has been completed and the road is back open for travel. Funding to complete full restoration of this portion of the motor road is anticipated in 2023 or later.
Parkway officials would like to thank local residents and parkway travelers for their patience during this process.
Remember, before planning travel on the Parkway, always check the Parkway's Real Time Road Map for potential closures at https://go.nps.gov/ParkwayRoads.
State Police say an Arizona man faces multiple charges – some of them felonies – for his protest of the Mountain Valley Pipeline in Montgomery County. Troopers say 24-year-old Galen Shirman-Grabowski of Tucson locked himself to a contracted pipeline helicopter yesterday. Charges include felony tampering or damaging an aircraft.
NEWS RELEASE: ROANOKE Co, Va. – The morning of October 7, 2019 the Virginia State Police was notified that an unknown individual was attached to a contracted pipeline helicopter, located on Cove Hollow Road, near Route 460 in Montgomery County. Pipeline security responded at 6:40 a.m. and located a male subject which was attached by a Sleeping Dragon to the rotor mast of the helicopter.  The subject was wearing a mask and refused to release himself from the helicopter. The Virginia State Police Tactical Field Force, Cut Team responded to the scene and removed the device.  Galen Sol Shirman-Grabowski, 24, of Tucson, Az, was removed and arrested.
Grabowski was charged with the following:
5.1-22 – Tamper/Damage an Aircraft; felony.
18.2-422 – Prohibition of Wearing of masks in certain places; felony.
18.2-460 – Obstructing justice, without force; misdemeanor.
18.2-121 – Entering property of another for the purpose of damaging it; misdemeanor.
18.2-146 – Breaking, injuring, defacing, destroying or preventing the operation of vehicle, aircraft or boat; misdemeanor.
18.2-137 – Injuring property; misdemeanor.
Grabowski is being held without bond.
Virginia's air quality continues to get better. The Virginia Department of Environmental Quality monitors the air in several metro areas around the state, and the numbers say it has improved a lot in the last two decades. No alerts have been issued for the Roanoke area, for instance, since 2012. And this year, for the first time since such monitoring began, the Richmond region had none. WFIR's Evan Jones has more:
DEQ NEWS RELEASE:
As we enter fall, daylight hours grow shorter, temperatures get cooler and ground-level ozone levels are expected to remain well below their summer peaks. As a result, the Virginia Department of Environmental Quality has suspended daily ground-level ozone forecasts until next spring. However, daily air quality forecasts for particle pollution will continue without interruption for these locations and will continue to be emailed daily and posted on the
DEQ Air Quality Monitoring Data page
 and the 
AirNow website.
This has been a
historic year
for our air quality. For the first time since ozone pollution monitoring began in the 1970s, Richmond didn't experience any days with poor air quality, when sensitive people are advised to reschedule strenuous activities (days when the Air Quality Index reaches "Code Orange" or "Code Red" levels). This is down from a high of 76 days with poor air quality in 1993. Northern Virginia experienced four exceedances, down from a high of 74 days in 1991.
RICHMOND, Va. (AP) — Permits were issued Thursday for the construction and operation of four new solar projects that are expected to offset carbon dioxide emissions in the state by 459 million pounds — the equivalent of driving more than 44,000 cars for a year.
"Virginia is adopting solar technology at record rates, and we are building an economy that is cleaner and greener as a result," Gov. Ralph Northam stated in a press release announcing the permits, issued by the Virginia Department of Environmental Quality.
The four new solar projects will produce an additional 192 megawatts of electricity. On average, 1 megawatt of solar energy can provide 190 homes with electrical power, according to the Solar Energy Industries Association.
The newly announced solar projects will consist of the following:
.Danville Farm, which is being developed in Pittsylvania County by Strata Solar Development and will generate 12 megawatts of electricity.
.Dragonfly Solar, which is being developed in Campbell County by Apex Clean Energy Holdings and will generate 80 megawatts of electricity.
.Grasshopper Solar Project, which is being developed in Mecklenburg County by Dominion Energy Services and will generate 80 megawatts of electricity.
.Turner Solar, which is being developed in Henrico County by Cypress Creek Renewables and will generate 20 megawatts of electricity.
"Over the last five years, Virginia has seen a dramatic increase in installed solar developments," DEQ Director David Paylor stated in a press release. "As of August this year, there are nearly a dozen small projects in Virginia producing 357 megawatts, enough to power more than 86,000 homes."
Last month, Northam issued Executive Order 43, which calls for 100% of Virginia's electricity to come from carbon-free sources by 2050. The executive order also calls for 30% of the state's electricity to be powered by renewable energy resources by 2030. In 2018, 7% of Virginia's electricity was generated from renewable energy sources, according to the U.S. Energy Information Administration.
"This Executive Order will help ensure that Virginia remains at the forefront of clean energy innovation, meets the urgency of the challenges brought on by climate change, and captures the economic, environmental, and health benefits of this energy growth in an equitable way that benefits all Virginians," Northam stated in a press release when the executive order was issued.
Solar energy developments can save taxpayers money. Partnering with Sun Tribe Solar, a Charlottesville-based company, Libbie Mill Library in Henrico County began installation of a rooftop solar system in September. The 122-kilowatt system is projected to save Henrico taxpayers $150,000 over the next 25 years.
According to the governor's executive order, at least 3,000 megawatts of electricity will be generated from solar and onshore wind sources by 2022. And by 2026, up to 2,500 megawatts of electricity will be generated by offshore wind sources. Currently, the state does not generate any large-scale electricity through wind farms, according to the U.S. Energy Information Administration.
Dominion Energy announced last month that it is building a 220-turbine wind farm off Virginia's coastline. The project, projected to cost $7.8 billion, will be the largest offshore wind development in the U.S. Once the wind farm is complete, Dominion claims it will power 650,000 homes at peak wind.
"Governor Ralph Northam has made it clear Virginia is committed to leading the way in offshore wind," Mark Mitchell, vice president of generation construction for Dominion Energy, said in a press release. "We are rising to this challenge with this 2,600-megawatt commercial offshore wind development."
DEQ is responsible for administering state and federal environmental policy in Virginia. The agency issues permits to regulate levels of pollution throughout the state.