Honored in 2017 by the Virginia Association of Broadcasters for "Outstanding Sports Coverage" among stations in Virginia's largest cities.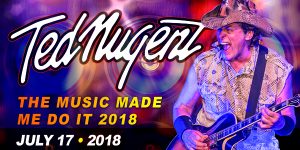 This week listen every afternoon for your chance to win TED NUGENT tickets for July 17 at The Berglund Center before you can buy them with WFIR's Greg Roberts!. Ticket go on sale Friday April 20th at 10am.
If you want to win tickets for MOE…the headlining act for Roanoke's Down by Downtown Music Festival.…on Saturday April 21, just email greglive@wfirnews.com and he'll draw 5 winners on Friday April 20.
Listen (Live M-F 5pm-7pm, podcast posted each day after the show)
Catch Greg Roberts on WLNI 105.9FM in Lynchburg from 6pm-7pm
More ways to listen:

---

e-Mail Greg Roberts Live at Bojangles Inbox – greglive@wfirnews.com

7 ELEVEN HOTLINE
540-777-LIVE (5483)
Click here for a list of local 7 Eleven Stores