Depend on it! (1989 – Present)
Today WFIR is still the Roanoke Valley's only local news station, especially notable on fateful days in American history such as September 11, 2001. That day, at approximately 9:20 AM, WFIR began nearly 30 straight hours of wall-to-wall news coverage of the terrorist attacks in New York City and Washington D.C. All commercials were cancelled and "normal" programming did not resume until noon the following day.
WFIR did change hands one more time after switching to the News/Talk format, in the year 2000. Mel Wheeler, Inc, bought WFIR and in 2002, moved the station to its current location, the "K92 Building" on Electric Road. On Friday, May 17, 2001, WFIR ended its longtime affiliation with CBS Radio. At 7:00 PM that day, listeners began hearing ABC newscasts at the top and bottom of the hour.
Also in May 2002, Joey Self began hosting the Roanoke Valley's Morning News.


In September 2011 WFIR added FM translator W297BC and revised it's logo to include the new 107.3FM that WFIR can now be heard on.
In March 2017 WFIR added a second FM translator W233CK on 94.5FM.

This brief history could not have been accomplished without the generous input and review of numerous people. In particular, WFIR would like to thank Curtis Downey and Steve Nelson.
Much of WDBJ Radio's early history could have been lost without Curtis' elaborate preservation of station history.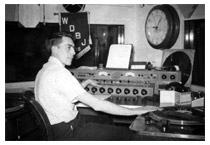 Steve Nelson has documented many other parts of Roanoke's rich radio history .
You can visit his website at http://www.roanokeradio.com.