Local Business and Economic Development
A local consulting and executive coaching firm that went through the Gauntlet business competition this spring is now helping Fleet Feet Roanoke raise money to give new shoes to 8000 underserved students in Roanoke City public schools next month. WFIR's Gene Marrano reports on the journey for, "Building Beloved Communities," In Depth:
The day Governor Northam basically shut down the state in March 2020 when the COVID pandemic struck,  Bruce C. Bryan opened the doors on his rebranded communications and marketing firm, 5 Points Creative. Today in a refurbished former residential home on Walnut Avenue they finally cut the ribbon. Formerly B2C Enterprises, 5 Points Creative now has a regional and even national client roster. Bryan is also board president for the non-profit Spot on Kirk, which will start offering live music again at the Kirk Avenue club in September.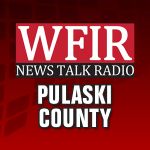 Xaloy, a manufacturer of plastic processing components for injection and extrusion machinery, is moving its barrel manufacturing operation from Ohio back to Virginia and will reopen its former facility in Pulaski County. The company will invest $1.75 million in its 100,000-square-foot site in the Town of Pulaski to produce barrels for a wide range of applications. Virginia competed against Ohio for the project, which will retain seven jobs and create 35 new jobs. In 2016, Xaloy closed its Pulaski plant and moved the majority of the facility's manufacturing and positions to Ohio. The company will also rehire a number of former employees familiar with Xaloy's specific machinery.
Governor Ralph Northam today announced that his first budget proposal for American Rescue Plan funding invests $353 million to boost recovery among Virginia's small businesses and industries hardest-hit by the COVID-19 pandemic. In May, the Governor and General Assembly leaders released a joint statement outlining shared priorities for the $4.3 billion in federal funds available to the Commonwealth from the American Rescue Plan.
The Governor was joined by House Speaker Eileen Filler-Corn, Senate Majority Leader Dick Saslaw, and Delegates Kelly Convirs-Fowler, Nancy Guy, and Alex Askew for an event at Neptune's Park on the Virginia Beach oceanfront to discuss his proposed $250 million investment in the 
Rebuild VA
 economic recovery fund, $50 million for Virginia Tourism Corporation initiatives, and $53 million for other small business including the Industrial Revitalization Fund and Virginia Main Street program.
Since launching in August 2020, the Rebuild VA economic recovery fund has awarded $120 million in federal Coronavirus Aid, Relief, and Economic Security (CARES) Act funding to more than 3,000 small businesses and nonprofits. Governor Northam and the General Assembly agreed to fund Rebuild VA with an additional $25 million in March to fulfill many of the pending applications. The Governor is proposing a new $250 million investment in Rebuild VA to meet the ongoing demand for the program and provide grants to additional small businesses.
Travel and hospitality have long been an impactful revenue generator for the Commonwealth, and from March 2020 to April 2021, Virginia lost an estimated $14.5 billion in total tourism spending. Governor Northam is proposing a $50 million investment to help the tourism industry recover and restore additional economic activity across the Commonwealth. The Virginia Tourism Corporation (VTC) will create the Virginia Tourism Recovery Program to deliver funding to all 114 destination marketing organizations throughout the Commonwealth. This funding will also allow VTC to boost its sports and meeting marketing programs, which experienced significant revenue loss during the pandemic, and extend its broadcast and digital marketing into tier 2 and 3 media markets in Charlotte, Pittsburgh, Boston, and Chicago and digital advertising to an additional 29 markets east of the Mississippi River.
Finally, Governor Northam is proposing $53 million for the Industrial Revitalization Fund and the Virginia Main Street program. The Industrial Revitalization Fund helps jumpstart industrial projects through a collaborative approach with local governments and assistance with site identification, location preparation, and the transformation of derelict structures to increase the number of shovel-ready projects. The funding will also support Virginia Main Street's Technical Assistance Grant program, which has proven to be a successful tool for revitalizing small towns. This increased investment will be focused on providing support for minority and immigrant communities, as well as woman- and minority-owned businesses.
Roanoke's small business incubator that focuses on high-tech startups is already gearing up for the next cohort. The story from WFIR Intern Reporter Caroline Moore:
See link below to apply for Fall cohort: