Local Business and Economic Development

He writes a monthly beer, wine and spirits newspaper column – and now he weighs in on the imminent Ballast Point Tap room closing. WFIR's Gene Marrano spoke with Gordon Kendall: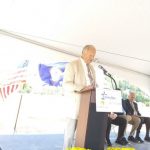 There were naysayers who thought Franklin County shouldn't spend money to purchase 550 acres for a proposed business park along US 220 south of Boones Mill – but at a ribbon cutting for "Summit View's" first tenant today – Valley Star Credit Union – Board of Supervisors chairman Cline Brubaker said those naysayers should "look back in 20 years" – when he estimates more than 2000 jobs will be created. Valley Star hopes to move its administrative offices and 40 jobs there by early 2021, into a 19,000 square foot building. Its a 7 million dollar project with a 14 million dollar build for Stik-Pak Solutions slated to start soon.
Leaders in Botetourt County say they hope to reach a deal with Ballast Point to keep the Daleville taproom open. They say the county was taken by surprise when the closure of the taproom was announced earlier this week, and they are considering flying to California to meet with Ballast Point's parent company, Constellation Brands. County Administrator Gary Larrowe tells us success of the taproom has translated into success for other local businesses.WFIR's Clark Palmer has the latest.
Ballast Point itself may not be the real culprit as to the announced closing of its tasting room in Botetourt County. It may have more to due with the maximum return on investment for stockholders. WFIR's Gene Marrano explains:
Some people want to see "game changers" like what's happened in Roanoke City with downtown housing or the Virginia Tech-Carilion campus – but Roanoke County is making the case that it is paving the way for major economic development-even issuing an in-house report on "wins" the last 5 years. More from WFIR's Gene Marrano:
Botetourt County leaders say they were taken entirely by surprise in learning Ballast Point plans to close its kitchen and tasting room at the end of the month. County Executive Gary Larrowe says in a statement the facility has been a good draw for visitors to the county, calling it "one of the premier destinations in the region", bringing in visitors from around the world.
BOTETOURT COUNTY NEWS RELEASE: On Tuesday, September 10th, Botetourt County officials were notified by Ballast Point and its owner Constellation Brands that the Constellation Brands production facility will continue to operate in Botetourt County. However, county leaders were informed that the Daleville restaurant and other front end services will close at the end of the month of September. This decision directly impacts twenty-five (25) full and part-time positions and sixteen (16) temporary employees. The production facility will remain in use. County Administration and the Department of Economic Development have reached out to company officials in order to assess the situation and will continue to be in contact during this time.
"This move comes as a total surprise to the County and to the community," said County Administrator Gary Larrowe. "Ballast Point has been a great corporate citizen and draw for visitors to the County, which makes this decision all the more impactful."
Ballast Point established its restaurant and production facility in Botetourt County in 2016. In that time, it has grown to be one of the premier destinations in the region and received visitors from around the country and world. The production facility will continue to provide Ballast Point beers to East Coast markets. The Daleville production facility represents a key location for Constellation Brands to manufacture these product lines as well as flavored malt beverages and hard seltzers distributed nationally.

Ballast Point is closing its Botetourt County kitchen and tasting room, but its parent company says it will keep the east coast brewery and distribution center open. Botetourt County officials say the announcement took them entirely by surprise. The taproom and retail location will be closing at the end of the month, according to a spokeswoman with Constellation Brands. Ballast Point began its operations there in the June of 2017, and at a ribbon cutting at that time, County Administrator Gary Larrowe spoke about the opening:
9-10 Larrowe-Ballast Point-WEB
There had been reports from ex-employees recently about Ballast Point reducing its staff there, although some online chatter from Ballast Point fans said the tasting room seemed to be busy much of the time.
CONSTELLATION BRANDS NEWS RELEASE: "As seen throughout the beer industry, growth in craft beer is being driven largely by local brands. With that, we are appropriately reallocating Ballast Point investments to drive growth in core local markets. We thank the local Daleville community, its surrounding neighbors and our taproom employees for their support and dedication over past couple of years.
We will continue to make a positive impact to the local economy through the operation of the Daleville brewing facility, which represents a robust hub for Constellation's future innovation in support of our specialty portfolio."
"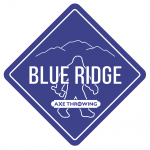 There are U.S. and even World Championships. A sports craze that first took root in Canada is now becoming bigger in the states – and is now a new business in Roanoke. More on Blue Ridge Axe Throwing's debut next weekend from WFIR's Gene Marrano:
You hear it all the time now or see it in stores – CBD infused products that claim to have health benefits. Debbie Custer with Coeus Research and the Innovation Mill in Vinton said live in studio this morning its a 6 billion dollar annual industry now that could grow exponentially. Hear the complete conversation below: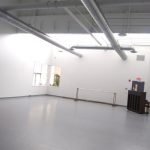 Redevelopment at the old American Viscose industrial park on 9th Street southeast is slowly taking shape, with new apartments, a coffee and custard shop, and a Carilion physical therapy center on the way. The story from WFIR's Gene Marrano about one new tenant already settled in: