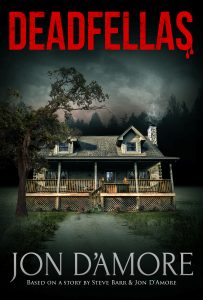 As a young man in New Jersey Jon D'Amore got drawn by accident into a Las Vegas mob scam that funneled millions of dollars out of casinos there. Years later D'Amore wrote a memoir about it, "The Boss Always Sits in the Back." Now he returns with a mob-flavored novel, "Deadfellas." D'Amore will talk about his new book and sign copies from 3 to 5-pm tomorrow at Altus Chocolate on Campbell Avenue in downtown Roanoke. He  lightens the mood in Deadfellas by adding Zombies to the plot. D'Amore is related to the old Genovese crime family in New York – but also notes that the "Mafia" is pretty much extinct at this point.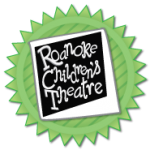 The 10th anniversary season for Roanoke Children's Theatre debuts tonight with a play based on the beloved "Goosebumps" book series. More from WFIR's Gene Marrano
Click below to hear a full length conversation with Pat Wilhelms about RCT: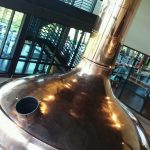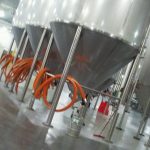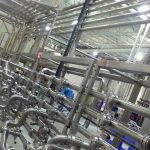 Ballast Point officials say the Botetourt County brewery will deliver its beers not just to the eastern U.S. but to Europe as well.  Ballast Point is now on a pace to produce about 200,000 barrels of beer a year at the brewery in Daleville initially – perhaps 2 million barrels at some point in the future. The bottling line can turn out 600 bottles per minute. Marty Birkel is the Ballast Point president, here today from California to cut the ribbon for the company's brewery operations.
9-21 Ballast Point-Birkel#2-WEB
The political science chairman at Hollins University calls it "one of the great tragedies of the 20th Century." Now a Ken Burns documentary – "The Vietnam War" has placed it back in the spotlight. WFIR's Gene Marrano reports: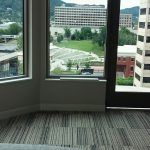 The downtown Roanoke Hampton Inn and Suites on Church Avenue celebrated its one-year anniversary today with a ribbon cutting. Director of sales Shay Bowman describes their typical customer as a business traveler; days earlier in the week are typically when they sell out all 120 rooms – but sometimes big events like concerts at Elmwood Park are the reason. "Locals" are also renting rooms at the Hampton Inn says Bowman – wedding parties are a major factor.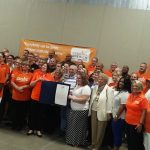 With more than a million Virginians labeled as "food insecure" its time for more people to roll up their sleeves to help out. More from WFIR's Gene Marrano:
If the so-called Graham-Cassidy health care reform bill proposed by Senate Republicans is passed by September 30th, it will move to the House, where it must be reconciled with a version already approved there. Democratic Senators and Congressman are unified so far in their opposition to the latest proposal that could repeal and replace the Affordable Care Act. 6th District Republican Congressman Bob Goodlatte said today he likes the basic concept of block grants going back to the states.
9-20 Goodlatte heaslth care for web-WEB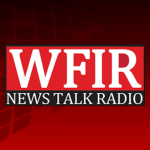 A new home-grown documentary puts the focus on creative firms that shaped corporate images and helped sell products in the valley. It has a public showing tonight as WFIR's Gene Marrano reports:
click below to hear a full length interview with Todd Marcum and Dave Perry about their documentary, "Shine"
A ceremonial ribbon-cutting tomorrow for an upgraded traffic configuration that should make life easier for many. WFIR's Gene Marrano has the story:

Saturday is a big day for one local band that has gotten national notice. WFIR's Gene Marrano has more on the latest from "My Radio":