Gene Marrano

The Gainsboro YMCA and Kroger have teamed up to offer healthy cooking and nutrition classes – starting with kids enrolled in the Y's after school program. More on "Cooking with Me" from WFIR's Gene Marrano:
A sneak peek today at "Rosie's Gaming Emporium" in Vinton – where the former Colonial Downs offtrack betting parlor used to be. More from WFIR's Gene Marrano: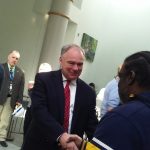 US Senator Tim Kaine was at the Salem VA Medical Center this morning, meeting with veterans and thanking staff members during "Federal Employee Appreciation Week". The Armed Services Committee member also spoke about a bill he is co-sponsoring that would improve a veteran's access to mental health care. The bill would also provide access to alternative treatments like acupuncture and yoga. The junior Democratic senator says progress is being made in providing more timely care for veterans – and he opposes the privatization of VA medical services.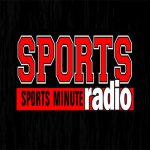 Believe it or not the Virginia Tech spring football game is less than a month away…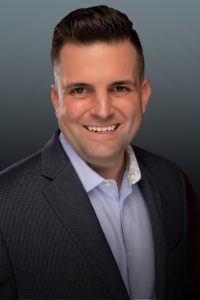 Its typically an uphill climb for Democratic supervisor candidates in Cave Spring – although Charlotte Moore did win there once with the party nomination. Now at least one candidate is seeking the party's blessing. WFIR's Gene Marrano has that story:
The owner of Wine Gourmet has formally announced his run for Cave Spring Supervisor. 33-year-old Brian Powell says he wants to move economic development projects like "Reimagine 419" in southwest County past the planning stage and into action. Powell is seeking the Democratic nomination in a district that skews Republican. No other Democrat has announced a run with the filing deadline at the end of the month. Paul Mahoney has announced his intention to run for the Cave Spring supervisor seat as a Republican. At a news conference outside the County Administration building today Powell was also critical about how the oft-delayed Cave Spring High School rebuild was handled. (George Assaid is not running for reelection this fall)
The father of slain WDBJ-7 reporter Alison Parker – killed live on-air in 2015 – wants social media platforms to clean up their acts when it comes to what they put on line. More from Andy Parker's appearance on CNN yesterday from WFIR's Gene Marrano:

Friday's bloody attack at several New Zealand mosques by a self-described White Supremacist has made many call again for inclusion and diversity – that's also the focus of a fundraiser in Roanoke later this week. More from WFIR's Gene Marrano: