Gene Marrano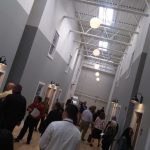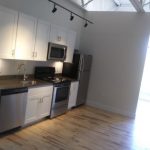 The transformation of the old William Byrd High School into The Billy Byrd apartment complex is complete. Town of Vinton and Roanoke County officials helped cut the ribbon today. There are 82 1-and-2 bedroom apartments ready to be leased says developer David Walker. Waukeshaw Development invested 12 million dollars in the project; which left many of the old high school features intact – including the gymnasium floor – in order to be eligible for historic tax credits.
Arts and Culture in the Roanoke Valley is big business that reaches into many different sectors and in fiscal year 2018 the non-profit arts industry generated 64 million dollars in local economic activity. That's what came to light in a sweeping survey conducted by "Americans for the Arts."   The arts support 1774 local jobs and 6.5 million in state and local tax revenue according to the study. The Roanoke Cultural Endowment is looking to raise 20 million dollars so it can then issue grants to local arts organizations. Shaleen Powell is executive director for the Roanoke Cultural Endowment, which commissioned that study; she says it should provide talking points when reaching out to potential donors.
On the job about two months, the new executive director for Local Colors has talked about adding new outreach programs. One example this Saturday is a "Hispanic Heritage Month" celebration as WFIR's Gene Marrano reports:
Carilion Clinic's newest rehab clinic will be geared towards athletes and "weekend warriors" when it opens next month just off 9th Street Southeast in the industrial park.  Carilion Sports Performance and Rehabilitation will occupy almost 5000 square feet inside the Lab Sports Performance facility, which also features indoor playing fields that can be utilized by soccer and lacrosse teams. Doctor Taylor Griffith is a physical therapist with Carilion: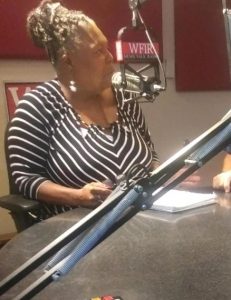 Darlene Lewis likes to say "I'm listening" in her campaign to unseat Republican 8th district incumbent delegate Joe McNamara on November 5th. She was live in-studio yesterday with WFIR's Gene Marrano:
Click below to hear the complete in-studio conversation with Darlene Lewis

UPDATE: Officials say Chaplin has returned home.
PREVIOUS: (from Bedford County Sheriff's office) Around 8:30 a.m. this morning, Bedford County 911 received a call from a female reporting her husband was missing. She advised he did not show up for work in the Town of Bedford. The caller is very concerned because he has never exhibited this type of behavior before. The man's name is Gary Chaplin, white male, age 38, 5'8", 220 pounds, blue eyes and brown hair. Chaplin should be operating a Silver GMC Envoy with Va. registration US RENI.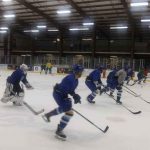 Local hockey fans rejoice – the Roanoke Rail Yard Dawgs are back on the ice. Training camp opened today at the Lancerlot ice rink in Vinton. Defenseman Travis Armstrong has been a member of the Dawgs for all or parts of their first three seasons:
Several CBD retail outlets have popped up around the valley recently – one of the newest planning to open by early November is owned by a couple not too far removed from college. More from WFIR's Gene Marrano: