Gene Marrano
The Roanoke City School system has big plans, which were laid out this morning at a joint session with Roanoke City Council. Superintendent Verletta White says that includes buying the Roanoke Times building downtown and converting it into the Central Office over the next few years. And the former William Ruffner Middle School would become a second Roanoke Technical Education center serving William Fleming High School.  Right now says White about two thirds of students who attend the current "Ro-Tech" center come from Patrick Henry High School. White and the Roanoke City School Board laid out an "equity and empowerment" program that includes curriculum and infrastructure changes.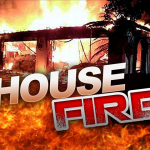 (Roanoke County, VA—May3, 2021) Roanoke County Fire and Rescue responded at about 2:00a.m (this morning) to the 2900 block of Tully Drive, in the Hollins area, for the report of a residential structure fire. First arriving crews from Station 5 (Hollins)found smoke showing from the front door of single-story home. The house was not occupied at the time of the fire and was under renovation. The fire was brought under control in about 45minutes. One firefighter was transported to the hospital as a precaution and was treated and released. No one will be displaced, as the home was not currently being occupied. We appreciate the help of the City of Roanoke Fire and EMS on this call. The Roanoke County Fire Marshal's Office says the fire is still under investigation and damage is estimated at $8000.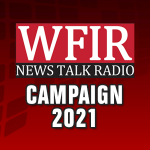 You've probably heard about – or from – the four apparent front runners seeking the Republican nomination for Governor at the statewide GOP convention on May 8th – that's this Saturday. But there are three other candidates on the ballot – including one from the Roanoke Valley. WFIR's Gene Marrano has the last of our features on the GOP Governor's race pre-convention, reporting In Depth.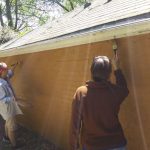 For a 20th year Faith Christian School students, faculty and staff donated volunteer hours today at two locations – painting, mulching and cleaning up. Shelly Whitaker was a project manager at Mill Mountain Zoo today, where lower school students were doing their part during the annual "Project Faith," event. More than 400 took part in Project Faith today; its also a school fundraiser and is expected to bring around $160,000.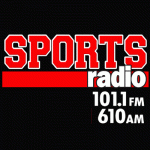 For the second time in 4 years Virginia Tech had two players taken in the first round of the NFL draft last night. Offensive tackle Christian Darrisaw went to the Minnesota Vikings with the 23rd pick; one pick before that defensive back Caleb Farley was selected by the Tennessee Titans: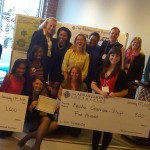 About half of the original group of entreprenuers and start-up company owners that enrolled in this year's Gauntlet Business Program didn't make it to the competition level – where an estimated 300-thousand dollars in cash and in-kind services will be awarded. But there's always next year, as WFIR's Gene Marrano reports: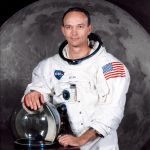 The Command Module Pilot for Apollo 11 – Michael Collins – died today at age 90. Collins piloted the space capsule in 1969 while Neil Armstrong and Buzz Aldrin landed on the surface of the moon. Collins later donated documents and memorabilia to Virginia Tech, where Marc Brodsky is an archivist. Apollo flight director Chris Kraft – who attended Virginia Tech – convinced Michael Collins to donate that collection – which is available for viewing by appointment right now. There's also a letter to Collins from Charles Lindbergh – who also spent many hours alone while flying non-stop solo to Europe.