After 20 years Botetourt County is finally in the fold as a member of the Roanoke Valley Greenway Commission – and that's where a new round of community meetings on the greenway's future will begin as WFIR's Gene Marrano reports: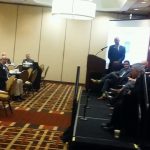 The Roanoke Regional Chamber held its annual "legislative roundup" breakfast this morning, featuring local state lawmakers. WFIR's Gene Marrano has more:
A former Reagan Administration official who now teaches at Hollins University weighs in on US-North Korea saber-rattling about nuclear weapons – and ominous statements about military action as an "option". More from WFIR's Gene Marrano:
3-20 US-Korea Wrap#2-WEB
In case you missed it: Republican candidate for governor Ed Gillespie talks about his "Cutting Taxes for all Virginians" plan live this morning on WFIR, speaking with Gene Marrano and Joey Self: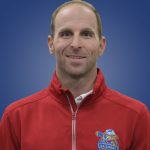 The Roanoke Railyard Dawgs were away from home for a month and didn't fare too well on the road – but they return to the Berglund Center tonight still holding on to that last playoff spot in the Southern Professional Hockey League standings.  After two home games this weekend against the Peoria Rivermen, the team that trails Roanoke by one point in the playoff chase – Columbus – is in town next weekend. Sam Ftorek is the Dawgs head coach; WFIR's Gene Marrano spoke with him yesterday:

"March Madness" is gripping the region and the nation at the Division One men's basketball level – but there's also some madness going on at the Salem Civic Center this weekend as WFIR's Gene Marrano reports:

The Roanoke County Board of Supervisors met this week to discuss the next fiscal year's budget proposal – ahead of two public hearings next week. WFIR's Lillian Boyd has the story.

Al Bedrosian will have a challenger for his Roanoke County Board of Supervisors seat in the Hollins District – retired Norfolk Southern employee Phil North will face off against Bedrosian in a June 13th primary for the Republican nomination. North says economic development will be a cornerstone of his primary campaign. He'll make a formal announcement of his candidacy this Saturday at 2-pm at the Hollins Library.

"Aging Ain't for Sissies" is the attention-grabbing title of the first segment in Carilion's new "Women's Health Series," which debuts today as WFIR's Gene Marrano reports:

Dr. Pepper Park in Roanoke kicks off its 2017 season next month – not with music, but with a major "Cornhole" tournament, as WFIR's Gene Marrano explains: