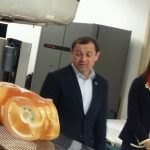 Democratic candidate for Governor Tom Periello is on an "Opportunity Tour" in the region today. Late this morning he spent time at Virginia Western Community College. While at Virginia Western, Periello talked about making two-year colleges and trade schools tuition-free if he secures the Democratic nomination in the June primary and is elected Governor in November. The former one-term Congressman is now tied with Democratic Lt. Governor Ralph Northam in the new Quinnipiac University poll – with his campaign less than 2 months old.
2-17 Periello-VWCC for web-WEB

The four Republican candidates in the June primary for governor will face off for the first time in Charlottesville tomorrow. Perhaps the least-known realizes he has some catching up to do as WFIR's Gene Marrano reports:

A larger state grant has raised the stakes for "The Gauntlet" this year – a competition for business startups. WFIR's Gene Marrano has an update:

President Trump has at least one political ally in Virginia for his tough talk on illegal aliens – more from WFIR's Gene Marrano: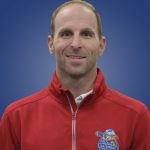 The Roanoke Rail Yard Dawgs are holding on to the last Southern Professional Hockey League playoff spot as they face off at home this weekend with the team in the standings above them. Roanoke plays the Pensacola Ice Flyers tomorrow night and Saturday at the Berglund Center. Sam Ftorek is the Dawg's head coach – hear an extended conversation below about the recent 6-game road trip and this weekend's home games:

A ticketed exhibition to be held at the Taubman Museum debuts this weekend with works from artists inspired by gardens. More from WFIR's Gene Marrano:
2-16 Taubman Impress Wrap#1-WEB
Click below for a "Longer Listen" segment featuring Della Watkins and Amy Moorefield from the Taubman Museum:

Most Democrats and even some Republicans in the Congress are calling for investigations into the Michael Flynn affair, but at least one GOP candidate for Governor disagrees. More from WFIR's Gene Marrano:
Click here  for much more from Corey Stewart (speaking with WFIR's Gene Marrano and Joey Self):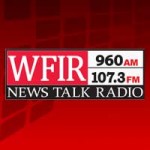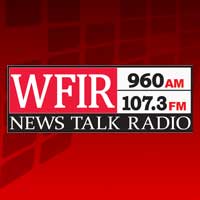 Its a highly visible problem that is not going away – the opioid addiction crisis – now Roanoke County Schools want to tackle the issue with five public forums as WFIR's Gene Marrano reports:
2-15 Opioid Meetings Wrap#1-WEB
Each meeting is open to the public and will begin at 7 p.m.
Monday, Feb. 20 – Hidden Valley High School
Tuesday, Feb. 21 – Cave Spring High School
Monday, Feb. 27 – Northside High School
Tuesday, Feb. 28 – Glenvar High School
Thursday, Mar. 2 – William Byrd High School

With passenger rail service slated to arrive by the end of the year work began yesterday on the Amtrak platform. It comes with a traffic pattern change as WFIR's Gene Marrano reports
Former WDBJ7 anchor Chris Hurst says life in the newsroom just wasn't the same after his girlfriend was fatally shot, and that is a big reason he decided to leave there to run  for the House of Delegates. WFIR's Lillian Boyd has the story