Gene Marrano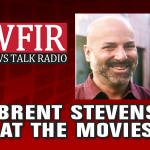 Now here's Brent Stevens from Hollins University "At the Movies"  with what's new at the historic Grandin Theatre: "Blinded by the Light":
Feeding America Southwest Virginia's Community Solutions Center on Melrose Avenue northwest in Roanoke has a new director. WFIR's Gene Marrano spoke with Cheryl Cobbs live in-studio yesterday: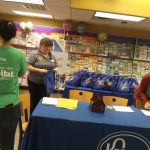 Some happy faces at the Kroger-Lakeside store this morning as the owners of Habitat for Humanity-built homes dating back to the 1980's received a special gift. More from WFIR's Gene Marrano:
Last year the Community Solutions Center in northwest Roanoke opened its doors, looking to make a positive impact in the Melrose area. Now there's a change in leadership at the Center. The new director Cheryl Cobbs joined us live in studio this morning with the outgoing Chief Impact Officer, Rick Morrison:
If your home flooded today – would you be prepared with an emergency kit? Would your insurance cover it? Have those questions answered on Saturday at Center in the Square, when Roanoke City holds its first "Prepare-athon," as WFIR's Gene Marrano reports: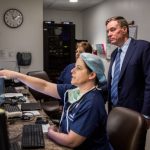 Its not perfect but lets not start all over again – that was US Senator Mark Warner's advice about the Affordable Care Act as he toured Carilion Roanoke Memorial Hospital today and then held a round table discussion with doctors and health care providers from the valley. Warner did say he does not expect health care reform to be at the top of the Senate agenda when they are back in session next month.
Cyclocross racing returns to the valley this Saturday and Sunday, with the Virginia's Blue Ridge GO Cross races at Fallon Park. WFIR's Gene Marrano spoke with the race organizers: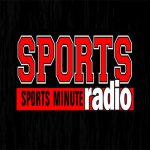 After 10 seasons with Broadway, Brad Lutz takes over the William Byrd Terriers from the legendary Jeff Highfill after almost 4 decades as head football coach. And Case Keenum may be the Washington Redskins starting quarterback now but Skins tight end Vernon Davis tells NFL network rookie Dwayne Haskins has some upside: