Central and Southwest Virginia's Morning News is the area's fastest source for urgent breaking news, local information, and reliable weather. Hit your WFIR preset as soon as you get up to hear an accurate and dependable forecast. Listen again in the car on your way to work for breaking updates and the top stories updated every 15 minutes.
Honored as 2016, 2017, and 2018 Associated Press "Best Newscast" among stations in Virginia's largest cities.
Honored as 2014, 2015, 2017 and 2018 Virginia Association of Broadcasters "Outstanding Newscast"
among stations in Virginia's largest cities.
Stay updated every morning:
ABC and FOX News updates
Top local stories at the Top, bottom, and quarter hour
Accurate and dependable weather every 5 minutes
Host Joey Self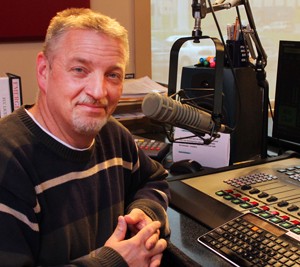 Joey is from Warsaw, VA, part of the historic "Northern Neck".  He began his broadcasting career in 1984, moving to Blacksburg in 1994 and then to Roanoke.  He is an avid News/Sports fan and loves hosting the "Roanoke Valley's Morning News" each weekday morning from 5-9.  Joey and wife Sue have two daughters.  Maggie 20 and Montgomery 11.  Joey is also involved in motorsports, doing track announcing for NASCAR events at  Martinsville Speedway and Richmond Raceway.  He also worked at Daytona International Speedway for "Speedweek 2012″,  including the Daytona 500.