Local Government, Civic Affairs and Education
An independent member of city council — who is not running this November — is endorsing almost every candidate that is in this fall's race except for the Democrats. WFIR's Ian Price has more.
Note: retiring Democratic City Council member Bill Bestpitch has also endorsed Preston Tyler.
United Way of Roanoke Valley President and CEO Abby Hamilton was back in studio with us this morning to talk about the 2023 fundraising campaign and to provide an update on several United Way initiatives. Also joining us was Kianna Price Marshall, now the Vice President of Marketing and Communications for United Way. Hear the complete conversation below.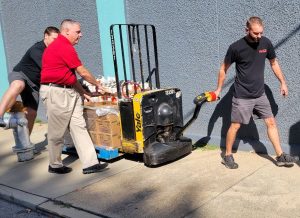 Kroger and Coca-Cola Consolidated teamed up with Straight Street, a local youth outreach ministry on Luck Avenue in Downtown Roanoke, to deliver much needed food items and school supplies to Roanoke children, this morning. Coca-Cola donated 200 backpacks, and Kroger donated non-perishable food items to fill them with. Both companies had representatives travel to the ministry to pack and deliver the backpacks. An Engagement Manager for Coca-Cola Consolidated, Wayne Tyree, says he can personally attest to the importance of programs like these; he also says that this program directly serves one of his company's values: servant leadership.
From 2020 to 2021, Virginia saw a more than 50% increase in teen driver fatalities. In over 60% of those accidents, the teens were speeding or unrestrained. Now, a statewide teen driver safety initiative is kicking off in the hopes of creating a culture of safety among teen drivers. WFIR's Emma Thomas has that story: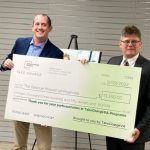 Its a little bit brighter – and more efficient – at the Roanoke Rescue Mission and at the Mission's Donation Center these days. That's due to Appalachian Power's "Take-Charge-VA Small Business Direct Install Program", which has covered 100 percent of the costs for new LED lighting at the Mission, where Kevin Berry (pictured at left with AEP's Kevin Brown) is the Community Outreach and Marketing Manager.
The TakeChargeVA program will cover 100 percent of the conversion costs for many smaller businesses and a percentage for larger ones. The AEP's conversion from fluorescent tubes to LED lighting was worth more than $13,000. Brown says the Rescue Mission and donation center energy savings over the course of a year should cover the costs of powering 7 typical residential homes.