Local Government, Civic Affairs and Education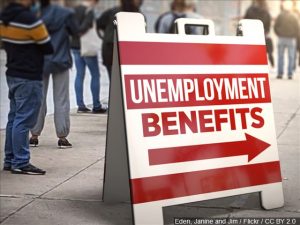 RICHMOND, Va. (AP) — Jobless workers collecting unemployment benefits will be required to report looking for work beginning in early June, the Virginia Employment Commission announced Tuesday.
The work search requirement, part of state and federal law, was suspended during the pandemic. The commission announced earlier this month that it would be reinstated, and on Tuesday gave the effective date: the week ending June 5.
"Claimants must search and report two job searches per week," commission spokeswoman Joyce Fogg wrote in an email.
The requirement will also apply to people who get Pandemic Unemployment Assistance.
Virginia Employment Commissioner Ellen Marie Hess said earlier this month that the requirement is coming back as demand for workers rises and as vaccines become more widely available.
Roanoke City will have a new Deputy City Manager this summer. Clarence Grier was most recently Deputy County Manager in Guilford County, North Carolina — the Greensboro area. According to He left that position earlier this year; according to the Guilford County-based Rhino Times, Grier was relieved of his position after a new majority took control of the county's board of commissioners. Grier will succeed Sherman Stovall, who will retire in June.
NEWS RELEASE: Clarence G. Grier has been named Deputy City Manager for the City of Roanoke.  Following the retirement of Deputy City Manager Sherman Stovall in June 2021, Grier will assume the responsibility of managing and directing City departments, public safety agencies, and programs based on general direction and policy of the City Manager and City Council.
Since 2015, Grier has served Guilford County, N.C. as Deputy County Manager, where he supervised nine departments: Animal Services, Child Support Enforcement, Emergency Services, Family Justice Center, Fleet Operations, Information Services, Purchasing, Risk Management and Minority Women Business Enterprises.  His local government experience includes service as Assistant County Manager-Chief Finance Officer for Orange County, N.C. (2009- 2015); and as Director of Finance for the Greensboro Housing Authority (2008- 2009).
Grier holds a Bachelor's degree from Campbell University (Buies Creek, N.C.) in business administration. He also is a Certified Public Accountant, an AICPA Chartered Global Management Accountant (CGMA) and an AICPA Certified Information Technology Professional (CITP).
Grier and his wife have family in Roanoke, and he secured his first job out of college here more than 30 years ago.  He was a high school and college basketball star, having been drafted by the NBA's Houston Rockets in 1987.
"Finding someone to carry on the incredible work of Sherman Stovall, who is retiring in June, was no easy task," said City Manager Bob Cowell.  "After receiving well over 100 applications and interviewing six highly qualified professionals, I feel very fortunate to have found someone of Clarence's caliber, available and interested in joining our team.  Clarence's long tenure in public service, deep understanding of public budgeting and financing, and stellar reputation helped him stand out above all the other candidates.  I am thrilled we were able to secure someone who I believe will serve the residents of Roanoke well for many years, just as Sherman has done all these past years."
"I am excited and truly honored to be provided the opportunity to return to the Star City where my career began and serve the citizens of the City of Roanoke. Roanoke is very dear to me both personally and professionally," said Clarence Grier.
(Vinton release) The Town of Vinton is pleased to announce the selection of Cody Sexton as the new Assistant Town Manager. The selection is the culmination of a comprehensive search process undertaken by the Town's leadership as a result of the promotion of Richard "Pete" Peters to Town Manager. In his position, Sexton will assist in the overall management of the day-to-day operations of the Town government and work with the Mayor, Members of Council and the Town Manager to implement their strategic vision for the community." Vinton is truly a special place and is quickly becoming one of the best places to enjoy every aspect of the high quality of life we have come to love in the Roanoke Valley," said Sexton.
Prior to coming to the Town, Sexton most recently served as the Assistant to the County Administrator in Botetourt County. In his seven years with Botetourt, he served on the County's Executive Leadership Team, was the primary media contact and general spokesperson for the County, coordinated transportation planning and projects at both the local and regional levels, and provided staff support to a number of commissions and committees. Sexton also provided leadership to the County's annual budgeting process and oversaw Central Garage operations and the security/reception staff for the County's Administration Center.

ROANOKE – Virginia Western Community College announces plans to provide a full array of in-person classes for its Fall Semester, which begins on Aug. 23, 2021. New funding from the state's G3 program, the Re-Employing Virginians (REV) campaign and other initiatives means many students can begin the education and training they need for high-demand career fields free. Open enrollment for new students begins May 10, and on April 21 for returning students at www.virginiawestern.edu.
The college will provide in-person classes with social distancing in place, adhering to guidelines from the Governor's Office, the Virginia Department of Health and the CDC. In addition, the college will also provide a mixture of online and remote learning formats along with online advising services for students who do not choose to attend on campus.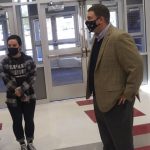 The State Superintendent of Public Schools in Virginia – Dr. James Lane – stopped by Cave Spring High School in Roanoke County for a tour this morning. Lane gets this question a lot from parents – and he said yes, the Standards of Learning tests will be taken this spring, after a hiatus in 2020. Lane also said he's been impressed while touring schools around the Commonwealth about the COVID safety mitigation measures now in place as more students return to in-person learning.
The Ronald McDonald House of Southwest Virginia in Roanoke has partnered with Virginia Tech offensive tackle Christian Darrisaw to help raise funds for the non-profit that houses visiting families while their children undergo medical treatment. The Maryland native is projected as a possible first-round pick in next month's NFL draft. Darrisaw earned 1st team All-ACC honors this past season.
March 22, 2021 — The Virginia Tech Board of Visitors has set tuition and fees for the 2021-22 academic year. Following two years of a tuition freeze that held the in-state undergraduate tuition rate level for three years in a row and an out-of-state undergraduate tuition freeze last year that held that tuition level two years in a row, the board approved a 2.9 percent increase in tuition for resident and non-resident undergraduate students for 2021-22.
"Each and every board member takes the responsibility of setting tuition and mandatory fees extremely seriously," said Ed Baine '95, chair of the Finance and Resource Management Committee. "It is very difficult to balance access and affordability to the students and families who must bear this cost with preserving the quality of a Virginia Tech degree and investing in world-class faculty and campus programs. I believe today's decision, though very challenging, strikes that balance."
Tuition and mandatory fees for Virginia undergraduate students will increase $426, to $14,175 annually, and out-of-state undergraduate tuition and mandatory fees will increase $964, totaling $33,857 annually. This includes a $90 increase in the comprehensive fee.