Local Government, Civic Affairs and Education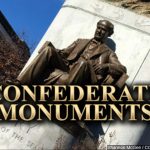 RICHMOND, Va. (AP) — A small group of demonstrators toppled a statue of a Confederate general in the former capital of the Confederacy late Saturday, following a day of largely peaceful protests in the Virginia city. The statue of Gen. Williams Carter Wickham was pulled from its pedestal in Monroe Park, a Richmond police spokeswoman said. She said she did not know if there were any arrests or damage done to the statue.
A rope had been tied around the Confederate statue, which has stood since 1891, The Richmond Times-Dispatch reported, adding that someone urinated on the statue after it was pulled down. Photos and video from the newspaper showed the what appeared to be red paint splashed or sprayed on the statue. In 2017, some of Wickham's descendants urged the city to remove the statue.  Last week, Gov. Ralph Northam announced that a state-owned statue of former Confederate Gen. Robert E. Lee would be removed from its perch on the famed Monument Avenue "as soon as possible."
United Way of Roanoke Valley has announced recipients of the COVID-19 Community Response Fund "Phase 2" donations. The special fund drive was created to address issues associated with the coronavirus pandemic. United Way President and CEO Abby Hamilton was live on WFIR this morning – she says Phase 2 will address specific needs over the next few months. Hear the complete conversation below:
The complete list of COVID-19 Community Response Fund Phase 2 recipients:
Boys & Girls Clubs of SWVA: $30,000 for feeding and youth development programs supporting 2,000 children and parents in need of summer care.
TAP:$23,400 to support emergency needs of TAP's Domestic Violence Services, VA CARES, and the Homeless Employment and Learning Program, helping clients struggling with paying rent and buying food, baby supplies and medications.
Bradley Free Clinic:$10,000 for dental care personal protective equipment (PPE) for staff and volunteers reopening the dental clinic for waiting-listed patients.
Lake Christian Ministries:$10,000 in financial assistance for Franklin County residents to prevent homelessness, address household utilities, and support job readiness and placement.
Blue Ridge Legal Services: $6,000 for civil legal assistance to low-income residents facing critical legal issues as a result of COVID-19.ARCH Roanoke:$5,500 to support
Bethany Hall with emergency services related to recovery support and in-patient substance abuse treatment for women in need.Community Youth Program:$5,000 for personal and tutoring support for families of 4th-8thgraders with limited access to food, work and summer care.
Family Service of Roanoke Valley:$5,000 for providing mental health services for residents in crisis, offering brief, solution-focused counseling.
YMCA of Virginia's Blue Ridge:$5,000 to provide childcare to the children of essential personnel during their work hours.
Heavenly Manna Food Bank:$5,000 for emergency food/meal assistance and hygiene supplies for 1,500 residents served in Franklin County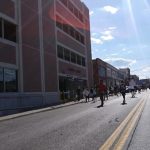 On Sunday Roanoke Mayor Sherman Lea had his turn at the podium to discuss the weekend's protests in Roanoke – peaceful for the most part – over the death of George Floyd. Other city council members spoke yesterday as WFIR's Gene Marrano reports: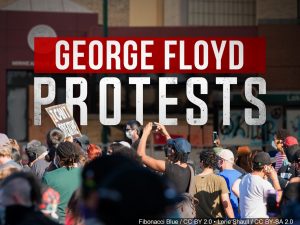 Residents and Roanoke City officials are reacting to demonstrations over the weekend stemming from the death of George Floyd. WFIR's Clark Palmer has that story.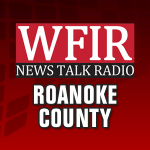 The 419 Town Center Plan in southwest Roanoke County designed to "Reimagine" the commercial spaces around Tanglewood Mall was always meant to start with fixing the roads – and that gets underway this summer. WFIR's Gene Marrano has the story:
After 13 years Dr. Rita Bishop will retire as the Superintendent of Roanoke City Public Schools on July 1st. After an extensive search and input from local residents, her successor is waiting in the wings. WFIR's Gene Marrano has the story:
Roanoke City Schools have announced a new superintendent who comes to the area from the 25th largest school district in the country. WFIR's Ian Price has more on Verletta White:
In between all-day meetings with city officials after being announced as the new Roanoke City Public Schools superintendent – as of July 1st, Verletta White tells WFIR that student, teacher and staff safety is her top priority if and when students return to the classroom this fall. This is personal as well for White, who is relocating from the Baltimore area – she lost her brother-in-law to the coronavirus.
NEWS RELEASE: ROANOKE, VA – May 26, 2020: Today, at their monthly meeting, the Roanoke City School Board appointed Verletta White as the incoming Superintendent of Roanoke City Public Schools. This announcement closes out a nine-month process that included soliciting feedback from the community on the background, experience, interpersonal skills and attributes they wanted in a new superintendent, conducting a national search to find the ideal candidate, and ultimately selecting Ms. White.
"We believe we have hit the jackpot," Board Chair Mark Cathey said. "Verletta White was an exceptionally strong candidate and we were delighted that she applied for this position. She has served as interim superintendent of a large and successful urban and suburban school district. She is a mother, a teacher, a principal, and an inspirational organizational leader. In her nearly 30-year career, she has continuously demonstrated excellence in curriculum, personnel, and fiscal management. And she came with glowing recommendations from a wide variety of stakeholders who all championed her work and her positive impact on children."
Superintendent White is relocating to Roanoke from Baltimore, Maryland where she has served in a variety of progressive roles over the course of her career including teacher, principal, assistant superintendent, executive director of professional development, chief academic officer and interim superintendent of the 25th largest school district in the country. She will begin her term on July 1, 2020, replacing Superintendent Dr. Rita Bishop who has held that role for the last 13 years.
All community members are invited to begin learning more about Superintendent White by visiting the "Meet the new Superintendent" website.
"The Board would like thank our partners at McPherson & Jacobson, our Executive Search Firm, as well as every member of the community, most especially our teachers, administrators, parents and students, who took the time to participate in one of our 11 focus groups or complete an electronic survey. The input of hundreds of citizens helped inform, direct, and ultimately validate our selection process. Accordingly, we are all thrilled about this match," Cathey added.
"I couldn't be more excited to serve this beautiful community. I am excited to meet all of my new colleagues and to start partnering for the benefit of all of Roanoke City's wonderful children," incoming Superintendent White said.
A Libertarian candidate running for a seat on Roanoke City Council says he wants to make life easier for small business owners and low income residents. WFIR's Clark Palmer has that story.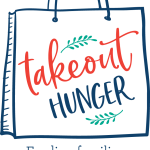 The "Takeout Hunger" program that is delivering weekly hot family meals sent another 1800 to local homes last Friday. After today's delivery there are two weeks left to go in the program. An update from WFIR's Gene Marrano:
With local district courts reopening this week that also meant dozens of eviction hearings were on the docket. More than a dozen executives also send a letter to the courts, asking those proceedings to be halted for now. More from WFIR's Gene Marrano: