Local Government, Civic Affairs and Education
At Freedom Plaza this morning across  from the municipal building in Roanoke, the Blue and Yellow flag of Ukraine was raised in solidarity with the eastern European country now under attack from Russia. Members of the local Ukrainian community were on hand for the flag raising ceremony as well.  Roanoke Mayor Sherman Lea:
As many expected, former Roanoke City Council member Anita Price is back on the dais – to serve the remaining 9 months left on the term of ex-Council member Robert Jeffrey Jr. Price was sworn in today after Council voted on a resolution to choose her over the five other candidates who stepped forward.  Price will NOT run again for another term; all City Council members voted "yes" except for Bill Bestpitch, who voted "present." Anita Price takes her place on City Council again at tonight's 7pm meeting.
Maynard Keller has announced his candidacy for Roanoke City Council on the Republican ticket. Keller, who did not secure a Council seat when he ran in 2020, stated today he does not feel the current Roanoke City Council has listened to its citizens' concerns – adding that its legislative agenda is "not conducive to prosperity and lifting up our most vulnerable citizens."
(Keller Press release) April 12, 2022— Roanoke, Virginia — Maynard Keller has announced his candidacy for Roanoke City Council on the Republican ticket.  "I will run on a solid constitutional conservative platform for Roanoke City," Keller said. "Our rights are granted to us through the US Constitution and are non-negotiable. I feel that the current Roanoke City Council has not listened to its citizens' concerns and its legislative agenda is not conducive to prosperity and lifting up our most vulnerable citizens."
Keller says his platform includes:
SAFE Roanoke: Fully fund and staff the Roanoke City Police and Roanoke City Fire Department. Keller proposes that the City of Roanoke raise starting pay for offices to $55,000 per year and provide the best tools available like bullet proof vests and firearms.
Keller would also like to see the City of Roanoke become part of the Virginia Retirement System. Now, the City of Roanoke has its own pension plan, making it harder for experienced first responders in surrounding communities to join the ranks of the City of Roanoke.
SMART Roanoke: Keller believes that Roanoke City residents deserve a school board that is elected by its citizens and not appointed by its City Council. Keller also believes that school curriculums should be transparent, and parents have a say in their child's health and learning decisions. Keller would also like to see a greater focus on the trades and workforce developmen
AFFORDABLE Roanoke: When elected, Keller will propose Truth in Taxation, a plan that sets your real estate taxes to be either lesser of your assessed value or the Social Security cost of living adjustment for the previous year.
For businesses, Keller would like to eliminate the Business Professional Occupational License Tax. This is a tax on gross revenue, whether or not the business actually makes a profit. "This tax is unfair and counterproductive," Keller said.
ACCESSIBLE Roanoke: Sidewalks and roads need repaving — and in the case of sidewalks, created. Keller proposes that city engineers review every street at least once per year and that every street have a published repaving schedule for citizens to access.
ACCOUNTABLE Roanoke: Keller will propose "Ballot Equity" that will require City Council to appoint the runner-up to fill all vacancies on City Council and the Mayor's Office. "No more favoritism and stacking the Council to fulfill the power grabs of run-away elected officials," Keller said. "Government is of the people, by the people, and for the people. Our current city council has forgotten that."
Keller and his family have lived in Northwest Roanoke since 1994. Maynard is a business owner, a CERTIFIED FINANCIAL PLANNER™, faith leader, and volunteer. He has diverse interests and has served on numerous commissions, committees, and task forces.
The first of three "sculptures" made from discarded plastic and other materials that Clean Valley Council volunteers picked up mostly along the Roanoke River was unveiled at Mill Mountain Zoo this morning. 4th graders at the Roanoke Academy for Math and Science created it. Clean Valley Council will hold its spring volunteer cleanup along the Roanoke River this weekend. There's still time to sign up and the C-V-C will supply all of the equipment and trash bags needed. The City-funded Art to Rescue the River project will include two more sculpture unveilings at the Zoo on April 23. Deena Sasser with Clean Valley Council says younger students aren't always aware about the impact of plastic litter:
Roanoke Rescue Mission CEO was live in studio this morning to talk about the Three E's – Entry, Establish and Empower program that debuts today:
(from Roanoke Rescue Mission) Monday, April 4th, 2022, The Rescue Mission will officially kick off an updated residential structure in its Men's Shelter and Women and Children's Center. This update was born out of conversations with guests, staff, and community members who have helped the Rescue Mission as it works to serve all who come to its doors.
This will expand services available to those who come to the Mission for just one night and those who wish to spend more time focusing on healing and recovery, all while keeping an eye on the future for each guest.
At the Mission, the update is called the "Three E's", which stands for Entry, Establish, and Empower. Details of each program phase is included on the second page of this release.
Each phase is covered in short below:
Entry Phase: For those who are looking for basic services (shelter, shower, food, medical care).
Establish Phase: For guests looking for deeper services. Entry phase services plus:
1) Case Management
2) Classes & Coaching
3) Chapel & Spiritual Direction
Empower: This is for aftercare and high level services for guests who require long term coaching and/or contact but who are ready for life outside of the Mission such as transitional housing. This phase is coming soon.
The Rescue Mission of Roanoke is proud to offer this critical new phase as a way to reach more individuals and families in our community who are struggling. While many of these services were previously offered at the Rescue Mission, we have shifted them to make sure that all feel welcome at the Rescue Mission and that all can be served at the Rescue Mission.  Press interested in interviews with staff or guests are asked to reach out to Kevin Berry before coming to the Rescue Mission.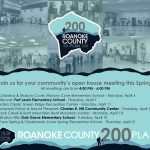 No matter what part of Roanoke County you might live or own a business in, there is a draft plan in the works for the "community vision" going forward. And now County officials wants to hear from people in all 5 districts, as WFIR's Gene Marrano reports:
Scheduled meetings this month:
All seven open house style meetings are from 4:00 p.m. – 6:00 p.m.
1. Catawba and Masons Cove: Masons Cove Elementary School – Monday, April 4
2. Glenvar: Fort Lewis Elementary School – Thursday, April 7
3. Peters Creek: Green Ridge Recreation Center – Monday, April 11
4. Bonsack/Vinton and Mount Pleasant: Charles R. Hill Community Center (Vinton) – Thursday, April 14
5. Back Creek and Bent Mountain: Bent Mountain Center – Monday, April 18
6. Windsor Hills: Oak Grove Elementary School – Tuesday, April 19
7. Cave Spring and Clearbrook: Cave Spring Elementary School – Thursday, April 21