Clark Palmer
Roanoke Fire-EMS crews are responding to a structure fire this morning in the 100 block of 10 and a half Street Southeast. Authorities say a large column of smoke can be seen from miles away. Units on scene marked it a 2 alarm fire. We will provide updates when they become available.
From Glenn Youngkin Twitter: "I am prepared to lead, excited to serve and profoundly humbled by the trust the people have placed in me. Virginians have made it clear that they are ready for a political outsider with proven business experience to bring real change in Richmond..To the love of my life, my amazing wife of nearly 27 years, Suzanne – I am eternally grateful for your support. It has been incredible to have her, our four children and our extended family alongside me on this journey…. Lastly, a word of heartfelt thanks to all of the extraordinary people who worked so hard for this win. Your dedication and support means more than you will ever know. Now, let's get to work for our beloved Commonwealth!"
From the Pete Snyder campaign:"While certainly would have preferred a W, I send my heartfelt congratulations to
@glennyoungkinon a tremendous race + deserved win. He + the ticket have my 100% support. Grateful to
@Bursonsnyder+ entire team. Love you all + our big family that is the VA GOP. #openourschools"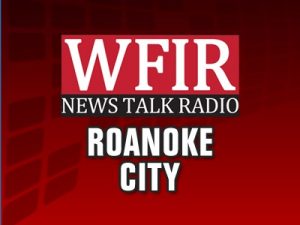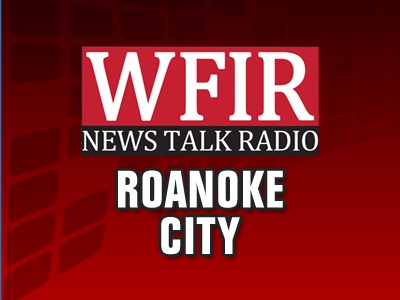 On June 15, 2020, the City of Roanoke Auditing Report concerning On-Street Parking found a potential issue in which parking citations were issued in place of a warning in certain situations. In order to address the situation the City of Roanoke, in partnership with Lancor Parking who operates the PARK Roanoke program, has established a refund program.
Anyone who believes they may have incorrectly received a citation in place of a warning between January 1, 2017, and March 25, 2020, can submit a claim to PARK Roanoke through September 1, 2021. If a claim is found to be eligible, a refund for the total amount of the citation, any fees associated with the citation and compounded interest, will be issued.
Individuals can request a refund by visiting www.parkroanoke.com and clicking on the banner that says: WARNING CITATION REFUND: CLICK HERE TO INQUIRE ABOUT ELIGIBILITY. Please allow up to 10 business days for a reply regarding eligibility. If you qualify, allow three to six weeks for the refund to be processed. Refunds will only be eligible for specific first-time violations including parking within a designated loading zone, parking or stopping in a no-parking zone, and for exceeding timed parking. A full list of eligible violations can be found here.
To ensure this issue is resolved going forward, PARK Roanoke has implemented the following steps:
Completed Full Software upgrade to the TickeTrack System.

Created New SCOFFS that accurately identify warning tickets vs. citations.

Periodic spot audits conducted by management.

Reviewing Current City Code.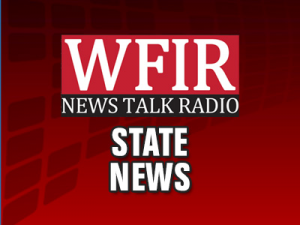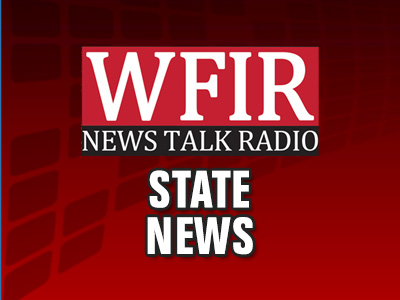 Virginia Republicans selected their nominee for Attorney General during the party's convention which began over the weekend. WFIR's Clark Palmer has that story.
Richmond, VA – Tonight, Jason Miyares won the Republican nomination for Attorney General. He will appear as the Republican Attorney General candidate on the November 2nd general election ballot.
Miyares attended elementary and high school in Virginia Beach, graduating with a Bachelor's in Business Administration from James Madison University and is a graduate of the College of William & Mary School of Law, where he served on the Honor Council. He is the Past President of Cape Henry Rotary where he was a Paul Harris Fellow, Past Chairman of the Hampton Roads Young Republicans, Founding Member of the Hampton Roads Federalist Society, Member of the Virginia Beach Bar Association, and a Member of Galilee Episcopal Church. He lives in Virginia Beach, with his wife Page Atkinson Miyares, an owner and broker at Atkinson Realty, a third-generation family owned business in the North End, their three daughters and their very lovable Golden Retriever, Buckley.
RPV Chairman Rich Anderson offered the following comment:
"I want to congratulate Jason on his victory this evening. Running for Attorney General of the Commonwealth of Virginia is no easy task, and this is a critical first step.
"I would also like to thank Chuck Smith, Jack White, and Leslie Haley for stepping up to the plate and participating in this convention. It gives me great hope for the future of the Republican Party of Virginia to see so many quality Republican candidates running for office.
"It is now time for Republicans to unite behind our nominee. It's time to take back Virginia!"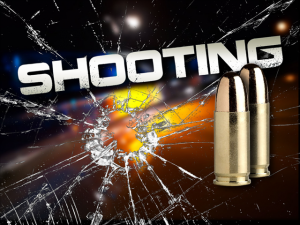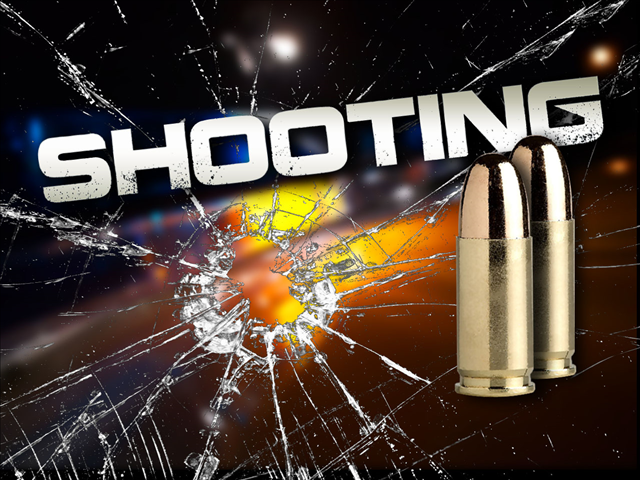 (from Roanoke PD 5-12) We regret to inform you that the victim of this incident has succumbed to his injuries. He has been identified as Alvin Kasey, 40 of Roanoke.
On May 9, 2021 at approximately 2:40 a.m., Roanoke Police were notified of a person with a gunshot wound outside of a business in the 4300 block of Williamson Road NE. Responding officers located an adult male lying in a parking lot with what appeared to be a serious gunshot wound. RoanokeFire-EMS transported the man to Carilion Roanoke Memorial Hospital for treatment.No suspects were located on scene and no arrests have been made at this time. This is an ongoing investigation. Anyone with information about this incident is asked to call (540)344-8500 and share what you know. You can also text us at 274637; please begin the text with "RoanokePD" to ensure it's properly sent. Both calls and texts can remain anonymous.
RICHMOND, Va. (AP) — Counting commenced Sunday afternoon at a hotel in Richmond to tabulate the votes cast by tens of thousands of Virginia Republicans a day earlier in the party's nominating contest for governor and other statewide offices.
The several dozen people managing the hand-counting effort began their work with the attorney general contest, John March, a spokesperson for the Republican Party of Virginia said.
March said it's a possibility that at least the attorney general nominee could be declared Sunday. He said the governor's race would be counted second, followed by the lieutenant governor's race.
Officials have warned it may take multiple days to finish the counting, which was complicated by the ranked-choice voting method used, as well as a proportional representation system awarded each city and county.
The GOP opted, after a bitter, drawn-out fight, to hold what it called an unassembled convention on Saturday. Because pandemic restrictions ban mass gatherings, delegates cast ballots Saturday at nearly 40 polling sites statewide.
The Republican candidates for attorney general are: Leslie Haley, a law firm partner and elected official in Chesterfield County; state Del. Jason Miyares; Chuck Smith, a former U.S. Navy JAG commander; and Jack White, a minister, Army veteran and former clerk for U.S. Supreme Court Justice Samuel Alito Jr.
Democrats will choose their nominees for statewide offices in a primary June 8. In that party's nominating contest for attorney general, state Del. Jay Jones is challenging incumbent Mark Herring.
The Washington Post reported that the start of Sunday's vote-counting was briefly delayed after a housekeeper entered the ballroom where the ballots were stored and snapped tamper-proof tape that had been used to seal the room. That set off a frenzy to investigate and review video to make sure nothing was amiss, according to the newspaper
FALLS CHURCH, VA – Conservative Republican business leader and candidate for Virginia governor Glenn Youngkin today announced the endorsement of Oklahoma Governor Kevin Stitt, a Second Amendment and pro-life champion who, just like Youngkin, stepped away from a very successful business career to run for governor as a conservative outsider.
In a video message to Virginia Republicans, Stitt says, "I truly believe Glenn Youngkin is the best chance Republicans have of winning Virginia this November," and urges voters to "rank Glenn as your first choice May 8th."
Calling Glenn a "good Christian man and a great leader," Stitt highlighted Youngkin's support for religious liberty and "successful business background."
"He's also a strong supporter of the Second Amendment. Glenn won't let the Democrats take away your guns or force taxpayers to fund abortion," says Stitt.
"Governor Stitt is a fellow businessman and conservative outsider who has stood up for the right to life and the right to keep and bear arms. He's also done an excellent job getting Oklahoma's economy moving – which is exactly what I will do here in Virginia when I'm governor. I'm so very grateful to have Governor Stitt's support," said Youngkin. "Our momentum heading into Saturday's election is just incredible – we are really feeling it on the ground as we unite Republicans across Virginia. We are bringing together an army of voters who will stop liberal Terry McAuliffe, end the Democrats' vice grip on Richmond, and rebuild Virginia into the best place in America to live, work, and raise a family."
Stitt's endorsement comes as conservative momentum builds behind Youngkin, the only true conservative outsider who can win among the Republican candidates in the field.
On Sunday, U.S. Senator Ted Cruz announced his endorsement of Youngkin. Cruz will join Youngkin on the campaign trail at select events in Virginia this week.
Youngkin – who pledged to not accept a salary as governor – was endorsed by conservative radio icon Hugh Hewitt, recently endorsed by the conservative group Middle Resolution PAC, and won straw polls conducted by the Liberty University College Republicans and the Virginia Faith and Freedom Coalition.
As CBS News in Charlottesville recently reported, election observers believe that if there's any Republican that can beat liberal Terry McAuliffe in November, it's Glenn Youngkin.
The full transcript of Governor Stitt's message to Virginian Republicans is below:
Hi, my name is Kevin Stitt and I'm the Governor of Oklahoma.
There's an important election coming up in Virginia on May 8th.
Republicans will choose their candidate for Virginia governor. I hope every conservative will rank Glenn Youngkin as their first choice.
I've gotten to know Glenn, and let me tell you, he's a good Christian man and a great leader.
Glenn is a conservative who will open churches, protect religious freedoms. He's also a strong supporter of the Second Amendment.
Glenn won't let the Democrats take away your guns or force taxpayers to fund abortion.
Virginia needs someone with a successful business background who knows how to create jobs and deliver results.
I truly believe Glenn Youngkin is the best chance Republicans have of winning Virginia this November.
I'm proud to support Glenn Youngkin, and if you want Republicans to win again, I hope you will rank Glenn as your first choice May 8th.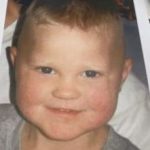 (Update 4:30PM 5/3) Two year old Noah Trout in Giles County was found safe earlier today and now Giles County Sheriff Kyle Helton says a suspect has been charged in the apparent kidnapping. Nancy Renee Fridley,44 of Clifton Forge has been charged with abduction and felony child endangerment. No motive has been established yet according to Helton, who credited the FBI and a Virginia State Police team with locating Noad, apparently in good health..
(Update 2-pm 5/3) A two year old Giles County boy has been found safe according to the Sheriff's Office. Noah Trout was in the hands of FBI Agents and VSP Tactical Team members as of 2pm. More details at a press conference later today. Noah was reportedly taken yesterday from a church in the Ripplemead area.
Previous: From the Giles County Sheriff's Office: We have received information identifying a discrepancy in Noah Trout's clothing description. Noah's shirt was changed prior to going to church and is similar to the one below, except in royal blue. For those media partners who are helping us push this information to the public, please update previous posts.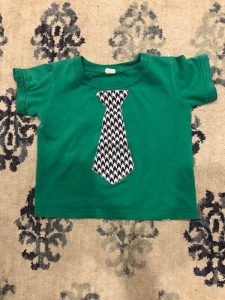 Previous: The Virginia State Police and the Virginia Missing Children Clearinghouse has issued an AMBER Alert on behalf of the Giles County Sheriff's Office, for a child abduction that occurred on May 2, 2021 at 1200 hours.
The child is believed to be in extreme danger and was last seen at Big Stony Creek Road, Ripplemead, VA.
Abducted is Noah Gabriel Trout, White, Male, Blond hair, Blue eyes, 2 years old, 2 foot 9 inches tall, weighing 33 lbs, Last seen wearing a gray shirt with a orange jacket.
The suspect has not been identified but is possibly wearing a blue jacket, blue jeans, black tennis shoes and a black beanie.
Possibly in a dark colored SUV or Van.
For further information contact the Giles County Sheriff's Office at 540-921-3842 or visit Twitter.com/VSPalerts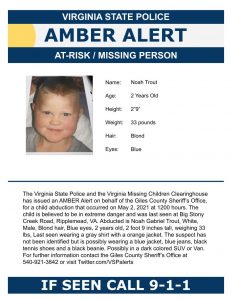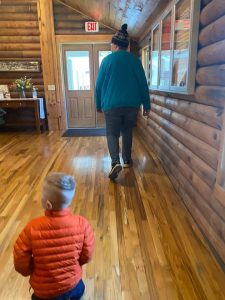 From Giles County Sheriff's Office: In reference to the abduction of 2 year-old Noah Trout, we have confirmed that this is a photo of Noah being led from the church by the suspect female. If you recognize this female, then please contact our office at 540-921-3842.