State and National Government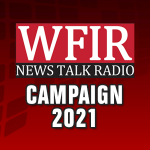 (AP) Former Del. Winsome Sears led a field of six candidates seeking the Republican nomination for lieutenant governor in Virginia after a first round of balloting in a GOP nominating convention [today]. Sears served a single term representing parts of Hampton Roads in the House of Delegates, when she became the first Black Republican woman to serve in the General Assembly after her election in 2001. She now lives in the Winchester area.
After a first round of ballots was counted Tuesday, Sears led with 32%, followed by former Fairfax County Del. Tim Hugo with 23% and Virginia Beach Del. Glenn Davis at 20%. More than 30,000 delegates cast ballots Saturday at what the party is calling an unassembled convention. Delegates ranked the candidates from first choice to last on the ballots they submitted.
From Glenn Youngkin Twitter: "I am prepared to lead, excited to serve and profoundly humbled by the trust the people have placed in me. Virginians have made it clear that they are ready for a political outsider with proven business experience to bring real change in Richmond..To the love of my life, my amazing wife of nearly 27 years, Suzanne – I am eternally grateful for your support. It has been incredible to have her, our four children and our extended family alongside me on this journey…. Lastly, a word of heartfelt thanks to all of the extraordinary people who worked so hard for this win. Your dedication and support means more than you will ever know. Now, let's get to work for our beloved Commonwealth!"
From the Pete Snyder campaign:"While certainly would have preferred a W, I send my heartfelt congratulations to
@glennyoungkinon a tremendous race + deserved win. He + the ticket have my 100% support. Grateful to
@Bursonsnyder+ entire team. Love you all + our big family that is the VA GOP. #openourschools"
FALLS CHURCH, Va. (AP) —Glenn Youngkin, a political newcomer who campaigned as a conservative, Christian outsider, edged closer to becoming Virginia's Republican gubernatorial nominee as ballot-counting continued Monday night with Youngkin still short of a majority needed to clinch the nomination.
More than 30,000 delegates cast ballots Saturday at what the Republican Party of Virginia is calling an "unassembled convention" to choose their nominees for governor, lieutenant governor and attorney general.
With no candidate garnering a majority after the first round, the winner will be determined in part by whom delegates listed as their second and third choices among the seven candidates vying for the spot.
Under the ranked-choice voting system implemented by the party, the votes of the last-place candidate, former Roanoke Sheriff Octavia Johnson, were redistributed to the six remaining candidates based on whom those delegates designated as their second choice.
The process is repeated in subsequent rounds until a candidate gains a majority.
After five rounds of counting Monday, Youngkin had 42% of the weighted vote, followed by businessman Pete Snyder at 33% and state Sen. Amanda Chase at 25%, according to returns provided by the party.
Youngkin, a former CEO of The Carlyle Group investment firm, is making his first run for public office. He lent his campaign more than $5 million and spent more than any other candidate through March 31, according to data from the Virginia Public Access Project. He campaigned as a "conservative Christian outsider" and highlighted his business experience.
The party began counting ballots in the attorney general race on Sunday. Delegate Jason Miyares won a close race after three rounds of balloting over hard-right candidate Chuck Smith.
Smith's surprisingly strong showing was interpreted by some as a good sign for Chase, a hard-right gubernatorial candidate who has been censured in the General Assembly in a bipartisan vote and is most closely associated with former President Donald Trump.
Chase, though, sat in third place after the fifth round of balloting. She has suggested she might run as an independent if she feels like the nomination process was unfair, particularly if Snyder wins the nomination.
Democrats will choose their nominee next month in a state-run primary. Former governor Terry McAuliffe is the front-runner in a field of five candidates.
Virginia bars incumbent governors from seeking reelection, so Democratic Gov. Ralph Northam is barred from seeking a second term this year.
Virginia is the only state with an open-seat gubernatorial contest this year; the race is being closely scrutinized as an early signal of each party's political strength heading into the 2022 congressional elections.
Republicans have not won a statewide race in Virginia since 2009. But Republicans have some hope of ending their drought this year; since 1973, only once has the party controlling the White House gone on to win the governor's race in Virginia the next year.
The convention was open to Virginia voters who pre-registered as delegates. People who had voted in past Democratic primaries were allowed to participate if they renounced their earlier Democratic votes and promised to support the Republican nominees in November.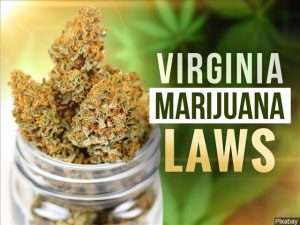 Less than two months remain now before Virginia becomes the first southern state to legalize marijuana possession, and AAA is expressing a particular concern about marijuana users who also use alcohol. Its research finds that in some other states already have similar laws on the books like Colorado and Washington, traffic fatalities have noticeably risen.  AAA Mid-Atlantic Spokesperson Martha Mead says of particular concern: people who use both marijuana and alcohol are more likely to speed, drive aggressively, text while driving and intentionally run red lights. WFIR's Evan Jones has more: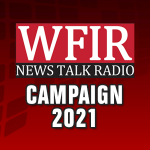 You've probably heard about – or from – the four apparent front runners seeking the Republican nomination for Governor at the statewide GOP convention on May 8th – that's this Saturday. But there are three other candidates on the ballot – including one from the Roanoke Valley. WFIR's Gene Marrano has the last of our features on the GOP Governor's race pre-convention, reporting In Depth.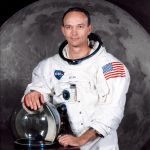 The Command Module Pilot for Apollo 11 – Michael Collins – died today at age 90. Collins piloted the space capsule in 1969 while Neil Armstrong and Buzz Aldrin landed on the surface of the moon. Collins later donated documents and memorabilia to Virginia Tech, where Marc Brodsky is an archivist. Apollo flight director Chris Kraft – who attended Virginia Tech – convinced Michael Collins to donate that collection – which is available for viewing by appointment right now. There's also a letter to Collins from Charles Lindbergh – who also spent many hours alone while flying non-stop solo to Europe.
The Republican statewide convention to choose the party's nomination for the Governor's race this November takes place on May 8. GOP State Senator Amanda Chase – who has made a name for herself at the national level – is considered one of the front runners. As part of our candidate series, she spoke recently with WFIR's Gene Marrano- and here is a "Longer Listen":
Roanoke Delegate Sam Rasoul has a big fund-raising lead – and an early polling advantage — as he runs for Lieutenant Governor. But Governor Northam's endorsement of a primary opponent may show us just how much such big-name endorsements can make a difference.  As of March 31st, Rasoul had raised almost$1.3 million, more than a half million more over any of his June primary opponents. And a recent Wason Center Poll from Christopher Newport University also has numbers in his favor: Poll Research Director Rebecca Bromley-Trujillo says Rasoul's 12% showing among Democrats compared to everyone else's 2% or less. But on Monday, Governor Northam endorsed another delegate, Haya Ayala, and as WFIR's Evan Jones reports, this may become a good test on whether these endorsements carry political weight when it counts: