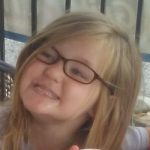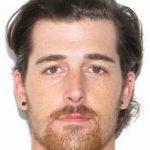 UPDATE From State Police: Virginia State Police has just been notified that Kimberly Long was safely located in the Rockingham County/Harrisonburg area…and Joel Long taken into custody without incident. For any additional information, you will have to contact the Smyth County Sheriff's Office – as they are the lead investigative agency on the abduction.

Both the Bedford and Franklin County Sheriff's offices are enrolling residents in upcoming citizen police academies. Through these academies, residents get a taste of the life-and-death decisions deputies have to make every day. WFIR's Denise Allen Membreno has the story.

The Bradley Free Clinic is expanding its services to the area's working uninsured women. The new Women's Health Program offers primary care, access to specialists and wellness screenings as well as education and counseling on women's health issues including contraception. More from WFIR's Denise Allen Membreno:
UPDATE: Statement from Morgan Griffith's office: At this time, all inquiries are being directed to US Capitol Police.
(From Fox News) — The gunman who opened fire on congressmen at a Virginia baseball field on Wednesday had a list of Republican names in his pocket at the time of the incident, Fox News has confirmed. The handwritten list was found in a van belonging to James Hodgkinson by the FBI, and the lawmakers named on the list are known to be conservative members associated with the Freedom Caucus:
Reps. Scot DesJarlais (R-TN), Trent Franks (R-AZ), Jeff Duncan (R-SC), Jim Jordan (R-OH), Mo Brooks (R-AL) and Morgan Griffith (R-VA).
Lt. Gov. Ralph Northam called for unity as the Democratic party heads into the fight to keep the governor's mansion, and the man he defeated says he fully supports his party's nominee. Northam defeated Tom Perriello in Tuesday's voting 56-44%. As WFIR's Denise Allen Membreno reports, Northam says he's the candidate to keep Washington politics out of the Commonwealth.
There are reports of a 16-year-old girl missing out of Roanoke. The AWARE Foundation reports Sarah Bradbury hasn't been seen since last Wednesday. She's described as 5'3″, about 140 pounds, with brown hair, and hazel eyes. She's said to have a tattoo on her left hand and a tattoo on her right forearm. Click here to see the original post from the AWARE Foundation.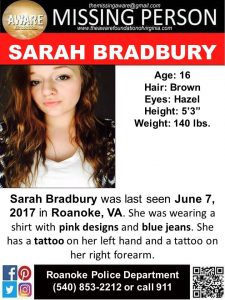 UPDATE:From Virginia State Police: Mr. William Frierson, missing from Sussex County, has been safely located. The Senior Alert is cancelled.
From Virginia State Police:Missing from Sussex County on May 31, 2017, from the Wakefield, Virginia. Mr. Frierson suffers from a cognitive impairment and physical safety may be in danger.  He is driving a 2008 Lincoln mkz, Silver in color, bearing Virginia License plate WUH 7926.  If located please notify local law enforcement.Age:  80 Years Hgt:  5'09" Wgt:  155 Clothing:  Khakis pants, unknown other clothing Date Missing:  May 31, 2017 Investigating Law Enforcement Agency: Sussex County Sheriff's Department 434-246-5000
From Virginia State Police: A Richmond man is now in custody following an overnight search by local, state and federal law enforcement across the Metro-Richmond region. The State Police and U.S. Marshals apprehended Travis A. Ball, 27, of Richmond, Va., at a residence in Northumberland County shortly after 6 a.m. Saturday (May 27). He was taken into custody without further incident.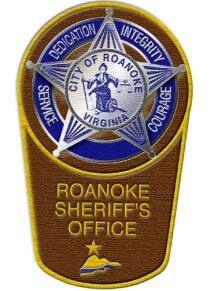 From the Roanoke City Sheriff's Office:The Roanoke City Sheriff's Office and the Roanoke City Police Department are investigating the death of an inmate. On Tuesday, May 23, 2017 at 6:38 PM a Roanoke City Sheriff's Deputy found Inmate Roy Wayne Foley unresponsive and hanging in his cell by his bed sheet. Immediately, deputies initiated CPR and called Jail Medical Staff and 911. Medical staff responded to the cell and administered CPR and AED (automated external defibrillator). EMS responded to the Roanoke City Jail and administered lifesaving procedures that were unsuccessful. Mr. Foley was pronounced dead at 7:10 PM. The incident remains under investigation at this time. Mr. Roy Wayne Foley was processed into the Roanoke City Jail on May 22, 2017. He was being held without bond on multiple charges; 4 counts Grand Larceny, 4 Probation Violations, 2 counts Failure to appear in court, Forging public record, Statutory burglary of dwelling, Good behavior/suspended sentence violation, and Felony possession of a firearm.

UPDATE: The Amber Alert for a missing 8 month old girl from Hampton has been terminated. Authorities say the alert for Chloe Johnson – who has been missing for more than a week- was terminated yesterday , but there is no word on whether she was found safe or the whereabouts of her mother Keir.