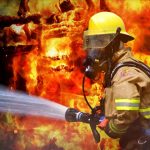 From the City of Salem: The Salem Fire & EMS Department responded to a structure fire at 814 Yorkshire St. this morning at approximately 7:04 a.m. Four people were home at the time of the fire and all were able to escape without injury. The first units arrived within five minutes of receiving the call and found heavy smoke coming from the back of the house. The residence did sustain fire and smoke damage, but the fire was contained to the kitchen and it was under control within 10 minutes of the first engine 's arrival. Approximately 21 personnel from the Salem Fire & EMS Department (Truck 1, Engine 2, Engine 3, Medic801, Medic 802, Medic 803, Battalion 1 & Fire Medic 1) responded to the call. The Salem Fire Marshal's Office has determined that the fire was accidental in nature and the damage estimate is $30,000. The displaced residents of the home are being assisted with housing through their insurance company.
From the Montgomery County Sheriff's Office: Our office received a 911 call early Saturday morning stating that an individual had been stabbed at a residence on Cattle Creek Path (Mountain Creek Mobile Home Community) in Elliston, VA. Deputies responded to the scene where they located 24 year old Christian G. Colwell deceased from what appeared to be a stab wound. Investigators from our office were called and responded to the scene. Following the preliminary investigation Colwell's girlfriend, 21 year old, Taylor A. Stevers was arrested and charged with 2nd Degree Murder. She is currently being held without bond at the Southwest Virginia Regional Jail. The preliminary investigation indicates that the stabbing was a result of a domestic argument that had been going on between Colwell and Stevers. The investigation is on-going, no further information is available at this time.
From Wheeler Broadcasting at WFXR-TV: (Roanoke and Lynchburg, VA)  Thursday morning on WFXR News Good Day Virginia, on WWCW and K92, Star Country, Q99, the Vibe, WFIR, and WLNI as well as the teams community online and social media networks will present the Virginia Gives Back a 26- hour Red Cross Hurricane Harvey Relief Community phone, online and in person fund raising drive to raise critical funds for ongoing American Red Cross Relief efforts in Texas.  Starting at 7am, the combined power of the broadcasters and their digital properties will engage the public to make a contribution.  The Red Cross, Chambers and other community organizations will also join forces to help raise dollars for relief efforts.  Donations can be made in person, by phone, by text or through various online websites.
The community is encouraged to help:
Visit: Red Cross Virginia Gives Back Donation Sites
Call: 540-512-9099 from 7am-11pm on Thursday 8/31 and 7-9am Friday 9/1 and a member of the phone bank can take your donation
Click: virginiafirst.com, k92radio.com, 949starcountry.com, q99fm.com,virginiagivesback.com or redcross.org to make a donation of any size
Text: REDCROSS to 90999 and donate $10 through your wireless provider
According to recent updates, the threat from Hurricane Harvey is far from over as rescue and relief efforts will be a long term Red Cross commitment that started last week before the first drop of rain from the storm.  Getting help in some areas will be challenging for some time due to devastating floodwaters and closed roads. This is a heartbreaking and challenging situation for those in the storm's path and the American Red Cross is working around the clock to provide safe shelter and comfort for the hundreds of thousands of people impacted by this disaster. The Red Cross has mobilized hundreds of trained Red Cross disaster relief workers, truckloads of kitchen supplies as well as tens of thousands of ready-to-eat meals to support this response effort.  Trailers full of shelter supplies including cots and blankets—enough to support more than 20,000 people have already arrived in Texas.
From Governor McAuliffe's office: Governor Terry McAuliffe today issued Executive Order Number 67 temporarily halting issuance of permits and prohibiting demonstrations at the Lee Monument until new emergency regulations have been approved and implemented by the Virginia Department of General Services.
Governor McAuliffe determined that following the events of the Unite the Right rally on August 12th in Charlottesville, and subsequent deaths of three individuals, to develop a comprehensive set of fair and consistent rules to both protect first amendment rights and prevent threats to public safety. The Governor believes that this suspension is necessary to give state and local officials breathing room to make thoughtful and informed decisions on managing the new reality of the potential for civil unrest.
"In spite of weeks of preparation, the city of Charlottesville was the target of an act of domestic terrorism that cost one woman her life, and had a helicopter accident lead to the deaths of two state troopers," said Governor McAuliffe. "In the aftermath of this tragedy, several groups have requested permits to hold similar-styled events at the Lee Monument in Richmond. State and local officials need to get ahead of this problem, so that we have the proper legal protections in place to allow for peaceful demonstrations, but without putting citizens and property at risk. Let me be clear, this executive order has nothing to do with infringing upon first amendment rights. This is a temporary suspension, issued with the singular purpose of creating failsafe regulations to preserve the health and well-being of our citizens and ensuring that nothing like what occurred in Charlottesville happens again."
From the FBI: Following the events that occurred in Charlottesville, Virginia, the weekend of August 11-August 13, 2017, many citizens have proactively contacted law enforcement to provide information and video captured of possible criminal activities and persons during that time frame.  Due to the volume of information that is being shared, the FBI established a tip-line and link for those who wish to voluntarily submit any photos, video or information surrounding these events.
Tip-Line Information:      1-800-CALL FBI  (1-800-225-5324)
Select the option for "Recent Events in Charlottesville, Virginia"
Digital media tips webpage – https://www.fbi.gov/charlottesville
The Civil Rights Division, the United States Attorney's Office for the Western District of Virginia and the Richmond Division of the FBI appreciate the assistance that has been provided thus far and encourages continued cooperation with law enforcement.
The Richmond FBI Field Office, the Civil Rights Division, and the US Attorney's Office for the Western District of Virginia have opened a civil rights investigation into the circumstances of the deadly vehicular incident that occurred earlier Saturday morning. The FBI will collect all available facts and evidence, and as this is an ongoing investigation we are not able to comment further at this time."

Mill Mountain Zoo is hosting its summer "Brew at the Zoo" this upcoming weekend. Visitors will be able to enjoy the zoo animals, live music, and beverages from Twin Creeks Brewing Company. WFIR Intern Reporter Madison Everett has more:
The Department of Justice is investigating the deadly car attack  in Charlottesville this past weekend, looking into possible terrorism and civil rights charges against James Fields, Junior, who allegedly drove the car into a group of counter-protesters. WFIR Intern Reporter Madison Everett has the story:
From Roanoke City: The location for the peace and solidarity vigil on Sunday, Aug. 13, has been moved to the parking lot of First Baptist Church – Gainsboro. Citizens are invited to join Mayor Sherman Lea and members of Roanoke City Council, as well as leaders of the faith community at 6 p.m., for a time to remember and pray for those who were injured and killed at the rally in Charlottesville on Saturday, and for healing in that community. It will also be an opportunity to affirm Roanoke's commitment to be an inclusive community and to stand united together.er.

Roanoke County Parks and Recreation will host another "Artisan Saturday" this weekend at Explore Park. The free event will give visitors the chance to see demonstrations on pottery, musical instruments, and woodworking. WFIR Intern Reporter Madison Everett has the story:

Health Focus of Southwest Virginia is hosting the 43rd annual Salem Distance Run and Walk this Saturday. It helps raise money for the non-profit organization that gives scholarships to future health care professionals. And a noted distance runner will be there, as WFIR Intern Reporter Madison Everett  reports: