Web Staff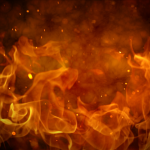 News release:  Roanoke County Fire & Rescue responded at 11:42 p.m., on Wednesday, May 8 to the 2800 block of East Ruritan Road (Bonsack area), for the report of a barn structure fire. First arriving crews from Botetourt County and Roanoke City found heavy fire with the structure fully involved. Units from Vinton also responded. The Roanoke County Fire Marshal's Office has determined the structure to be a total loss, with an estimated damage of $90,000.00. The investigation is ongoing.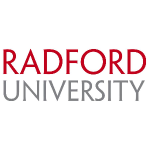 News release: As the campus and the community prepare to celebrate the Class of 2019, Radford University is revising the Spring 2019 Commencement schedule for Saturday, May 11, 2019, due to severe inclement weather. The local weather forecast is calling for strong storms this Friday and 100 percent chance of rain on Commencement Saturday.
The following scheduling modifications are being made to provide the best possible Commencement experience for all Highlanders, in light of the impending weather. The 11 a.m. Commencement Ceremony to be held outside on Moffett Lawn is cancelled, and individual college ceremonies will be held as outlined below.
| | | |
| --- | --- | --- |
| Time | College | Location |
| 11 a.m. | Davis College of Business and Economics | Dedmon Center |
| 11:30 a.m. | Artis College of Science and Technology | Bondurant Auditorium |
| 1 p.m. | College of Education and Human Development | Dedmon Center |
| 1:30 p.m. | College of Visual and Performing Arts | Bondurant Auditorium |
| 3 p.m. | College of Humanities and Behavioral Sciences | Dedmon Center |
| 3:30 p.m. | Waldron College of Health and Human Services | Bondurant Auditorium |
The Commencement speaker, Randal J. "R.J." Kirk, will provide remarks at the 11 a.m. ceremony, which will be available through a live stream on the Radford University website.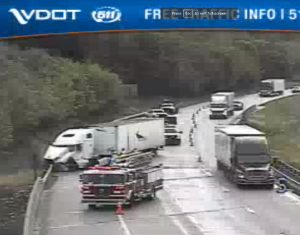 An accident on Interstate 81 in Botetourt County looks likely tie up northbound traffic for a while. It's at milemarker 162 near Buchanan, and a VDOT traffic cam shows a tractor trailer into a guardrail and blocking the right hand lane. Expect growing northbound slowdowns between Troutville and Buchanan. As of 6:05 pm, VDOT traffic cameras now show the backups reaching the Troutville Rest area at milemarker 158.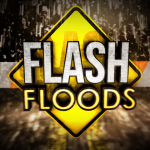 The National Weather Service in BLACKSBURG has issued a
* Flash Flood Warning for…Northwestern Bedford County and Southeastern Botetourt County.
* Until 1000 PM EDT Thursday
* At 358 PM EDT, Doppler radar indicated thunderstorms producing heavy rain across the warned area. Flash flooding is expected to begin shortly.
* Some locations that will experience flooding include…Peaks Of Otter Recreation Area…Peaks Of Otter Summit…and Lithia.
UPDATE from State Police: Per the Falls Church Police Department, Mr. Nguyen was safely located. The Virginia Senior Alert has been cancelled.
PREVIOUS:  THE VIRGINIA STATE POLICE HAS ISSUED A SENIOR ALERT ON BEHALF OF THE CITY OF FALLS CHURCH POLICE DEPARTMENT ON 05/01/2019 AT 8:43 AM. THE CITY OF FALLS CHURCH POLICE DEPARTMENT IS LOOKING FOR TAM T. NGUYEN, A/M, 73 YEARS OF AGE, WEIGHT 135, HEIGHT 5′ 6″, WITH BROWN EYES, BLACK HAIR. UNKNOWN CLOTHING DESCRIPTION.
HE IS BELIEVED TO BE DRIVING A TAN TOYOTA SIENNA, LICENSE PLATE VIRGINIA VRL-7214.
HE IS BELIEVED TO BE IN DANGER AND WAS LAST SEEN ON 04/30/2019, AT 1900 HOURS, LAST SEEN IN THE 300 BLOCK OF JAMES STREET IN FALLS CHURCH VIRGINIA.
ADDITIONAL INFORMATION: THE MISSING SENIOR SUFFERS FROM A COGNITIVE IMPAIRMENT AND MAY NEED MEDICATION, HIS DISAPPEARANCE POSES A CREDIBLE THREAT TO HIS HEALTH AND SAFETY. HE MAY NEED MEDICAL ATTENTION.
UKNOWN DIRECTION OF TRAVEL FOR SENIOR COULD POSSIBLY BE HEADING TO FLORIDA.
PLEASE CONTACT THE CITY OF FALLS CHURCH POLICE DEPARTMENT, LIEUTENANT SONYA RICHARDSON AT 703-241-5050 IF LOCATED.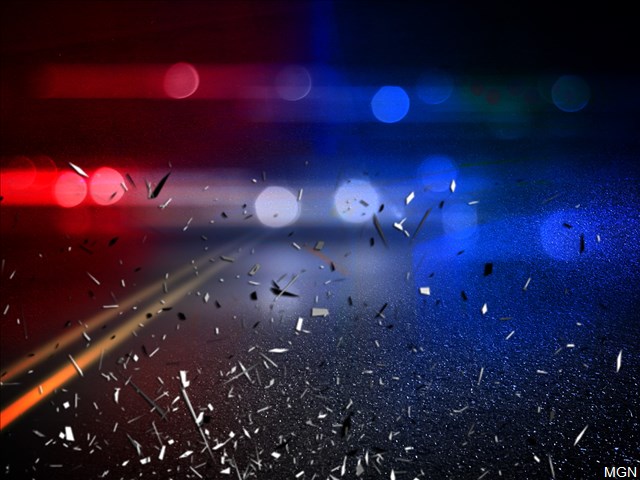 Drugs and alcohol may have been a factor in a fatal crash that closed Catawba Valley Drive on Saturday in Roanoke County after a pickup truck ran off the left side of the road and struck a tree. Authorities say 39-year-old Eddie Meadows, of New Castle, VA was not wearing a seatbelt and died in the hospital as a result of his injuries.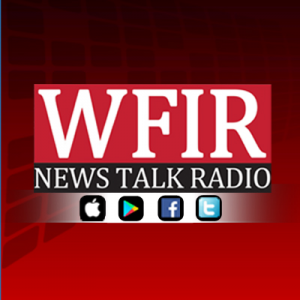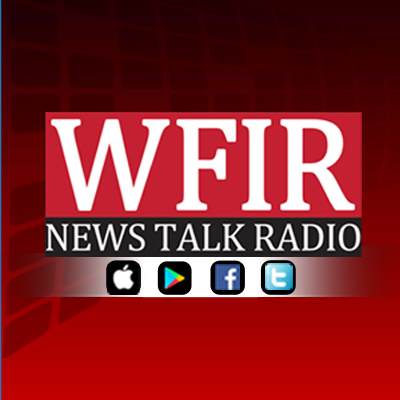 State Police say the operator of a farm tractor has died from his injuries after a tractor trailer plowed into his tractor as it attempted to turn from US 221 onto Centerville Road in Bedford County. The victim is identified as 75-year-old Ralph Reynolds Junior. Troopers say the rig tried to pass the tractor yesterday in a no passing zone, and charges are pending.
From State Police: Virginia State Police Senior Trooper M.D. Mayhew is investigating a two vehicle crash which resulted in a fatality.  The crash occurred Tuesday (Apr 23) at 4:35 p.m. on Route 221, two tenths of a mile north of Route 671 in Bedford County. A AGCO model 5960A was traveling north on Route 221, when it attempted to make a left turn and was struck by a 2019 Peterbilt tractor trailer, which was also traveling north and attempted to pass the tractor in a no passing zone. The driver of the farm machinery was identified as Ralph Edward Reynolds, Jr., 75, of Bedford, Va.  Mr. Reynolds was transported to Lynchburg General Hospital, where he later died. The driver of the tractor trailer was not injured. Charges are pending.
Roanoke County is preparing for the next big step in plans to make Explore Park a destination for both residents and visitors. The "Help Wanted" sign is out for "aerial adventure guides at Treetop Quest", set to open this summer. More from WFIR's Evan Jones.
News release: The new Treetop Quest aerial adventure attraction opens at Explore Park on July 1, and Roanoke County is hiring dozens of new "aerial adventure guides" to make it happen. These positions will help facilitate course operation and ensure participant safety as guests soar through the trees on zip-lines, traverse cargo nets, balance on tightropes and encounter other challenging obstacles.Multiple part-time positions are now available with pay ranging from $12 to $14 per hour. Even if you have no prior challenge course experience, we'll show you the ropes! The course will operate daily from July 1 to August 12 and weekends only throughout the fall. A full-time program supervisor for Explore Park's outdoor recreation amenities will also be hired within the coming weeks.With safety at the forefront, Treetop Quest at Explore Park will use a continuous belay system, providing a cutting-edge experience for both participants and course guides alike. This equipment makes it impossible for guests to detach while traveling throughout the course, while allowing for children as young as age four to enjoy the attraction.
From the National Weather Service: The National Weather Service in BLACKSBURG has issued a
* Flash Flood Warning for… Pulaski County in southwestern Virginia… Eastern Wythe County in southwestern Virginia… Carroll County in southwestern Virginia… The City of Galax in southwestern Virginia… Eastern Grayson County in southwestern Virginia…
* Until 830 PM EDT Friday
* At 227 PM EDT, Doppler radar indicated thunderstorms producing heavy rain across the warned area. Up to two inches of rain have already fallen. Flash flooding is expected to begin shortly.
* Some locations that will experience flooding include… Pulaski… Galax… Hillsville… Dublin… and Fries. Additional rainfall amounts of one to two inches are possible in the warned area.
Turn around, don`t drown when encountering flooded roads. Most flood deaths occur in vehicles. When it is safe to do so, please send your reports of flooding, including mudslides or flooded roads, to the National Weather Service by calling toll free at 1…8 6 6…2 1 5…4 3 2 4. Reports and pictures can also be shared on the National Weather Service Blacksburg Facebook page and on Twitter.
PREVIOUS: VDOT reports US 220 has re-opened south of Rocky Mount, where an apparent tornado touched down this morning, bringing trees across the roadway and extensively damaging at least one home.  State police, the sheriff's office, and local fire and rescue personnel are all assembled in the area. So far, we have no reports of deaths or serious injuries.
The Franklin County Animal Shelter says today's tornado damaged its facility, but everyone is safe. The shelter is closed for the rest of the day.
This comes as a Tornado Watch is in effect until 5:00 pm today for the follow areas of Virginia: Alleghany; Amherst; Appomattox; Bath; Bedford; Bland; Botetourt; Buckingham; Campbell; Carroll; Charlotte; City of Buena Vista; City of Covington; City of Danville; City of Galax; City of Lexington; City of Lynchburg; City of Martinsville; City of Radford; City of Roanoke; City of Salem; Craig; Floyd; Franklin; Giles; Grayson; Halifax; Henry; Montgomery; Patrick; Pittsylvania; Pulaski; Roanoke; Rockbridge; Wythe.
A tornado watch means conditions are favorable to development of tornadoes.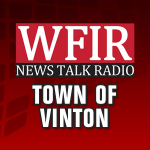 UPDATE FROM VINTON POLICE: The deceased man found in the Vinton Lakeside Plaza parking area has been identified as Mr. Clayton Howard Thompson, age 43, of Vinton.  Foul play is not suspected in his death, and preliminary findings indicate he died of natural causes.
PREVIOUS: On April 19, 2019, at 1:43 AM, the Vinton Police Department was dispatched to 901 Hardy Road (Lakeside Plaza) for a man laying down in the parking lot and not breathing.  The Vinton First Aid Crew responded and determined the man was deceased.  A representative of the medical examiner's office responded to the scene, and the body was subsequently transported to the Office of the Chief Medical Examiner on Northside Drive in Roanoke to determine a cause and manner of death.  Preliminary findings indicate the man had been shopping in the Lakeside Plaza Kroger prior to his being found unresponsive in the parking area.  The identity of the man is being withheld until next of kin can be notified.