State and National Government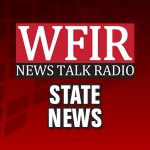 The Republican State Senator who chairs the Virginia Crime Commission has cancelled the meeting scheduled for next week. Mark Obenshain says this week's elections — and the comments that followed from Governor Northam – combine to make any meeting impractical. Northam has indicated the action he wants on gun laws will come next winter, when Democrats will hold majorities in both houses. The General Assembly charged the commission in July to develop recommendations on Virginia gun and public safety laws, and Obenshain says that report will be delivered in coming days. So far, the special session on gun laws that was set to resume November 18 remains scheduled.
NEWS RELEASE:  Senator Mark D. Obenshain (R-Rockingham), Chairman of the Virginia Crime Commission, today announced the cancellation of the Commission's meeting scheduled for Tuesday, November 12. "For reasons both practical and pragmatic, the Crime Commission will not meet on Tuesday," Senator Obenshain said.  "The results of Tuesday's elections, coupled with recent comments from Governor Northam regarding the fate of the legislation we've been reviewing, makes holding a meeting impractical."
According to accounts from multiple media outlets, Governor Ralph S. Northam (D), at a meeting of his cabinet on Wednesday, responded to questions concerning the ongoing Special Session by stating, "I suspect most of the work will be done in January."
"Commission staff has been working diligently on its report, which will be released in the coming days," Obenshain announced.  "But as Governor Northam has made clear he is preparing a legislative package relating to these issues for when the General Assembly convenes two months from today, it would not be pragmatic for the Commission to continue its deliberations on these issues at this point."
Governor Northam led Blue Wave cheers on Tuesday night and his party will control both chambers in the General Assembly come January. WFIR's Gene Marrano spoke with Roanoke Democratic Delegate Sam Rasoul on the shift from Republican control:
Roughly nine months after almost having to go underground because of the "Blackface" scandal, Governor Ralph Northam is taking a victory lap in the wake of the Democrat's wins across the state. WFIR's Rob Ruthenberg has this report.
With Democrats now in control of the General Assembly it won't be business as usual in Richmond. WFIR's Ian Price has more:
Click below to hear our extended conversation about yesterday's "blue" election from WFIR political analyst Bob Denton: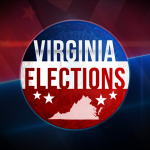 Virginia Democrats will take full control of the statehouse for the first time in more than two decades, and Governor Northam quickly made it clear he plans to make sweeping changes in statewide laws and policies. WFIR's Evan Jones has the story:
11-06 General Assembly Wrap1-WEB
RICHMOND, Va. (AP) — Virginia Democrats are taking full control of the statehouse for the first time in more than two decades. Democrats won majorities in both the state House and Senate in Tuesday's legislative election. This is the third election in a row that Virginia Democrats have made significant gains since President Donald Trump was elected. The win will give Democrats control of the legislature and governorship for the first time in 26 years. Democrats have pledged to pass new gun restrictions and raise the minimum wage once in power. Virginia is the only state with legislative elections this year where partisan control was up for grabs. Much of the contest centered on how voters feel about Trump and his possible impeachment.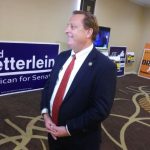 8th district Republican delegate Joe McNamara earned his first full 2-year term to the General Assembly tonight after winning a special election last November. McNamara topped Democrat challenger Darlene Lewis. Before the General Assembly session reconvenes in January,  Before it was confirmed that Democrats had flipped both the House of Delegates and State Senate – with the Governor's mansion they now control all three branches of state government for the first tie since 1993 – McNamara looked ahead to that possibility: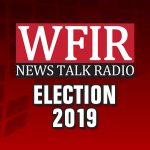 Tens of millions of dollars have poured into the relatively small number of General Assembly races considered most in play — and most likely to determine which party or parties control the Virginia legislature for the next two years. And as WFIR's Evan Jones reports, those races are getting plenty of attention from both national parties, which look upon the results as a possible bellwether of next year's presidential election:
RICHMOND, Va. (AP) — President Donald Trump is tweeting support for Republican candidates in Virginia ahead of the state's highly watched legislative elections. Trump urged Virginia voters via Twitter to use Tuesday's election to "send a signal to D.C." by supporting candidates who support gun rights, lower taxes and other GOP priorities. The Sunday and Monday tweets are Trump's first public comments on the election that is widely viewed as a referendum on how voters feel about the president and his possible impeachment. Virginia is one of only four states holding legislative elections this year and the only one where Democrats have a chance of flipping control of the state house. Voter antipathy toward Trump has powered Democratic gains in the last two election cycles in Virginia.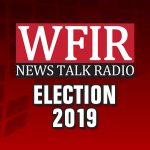 There is now just one day to go before election day, and while candidates handle last-minute campaigning, local elections officials will spend a busy day getting things set up for tomorrow. The voting machines are all programmed, and today is the day they actually head to their respective voting precincts. WFIR's Evan Jones has more: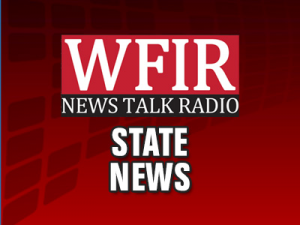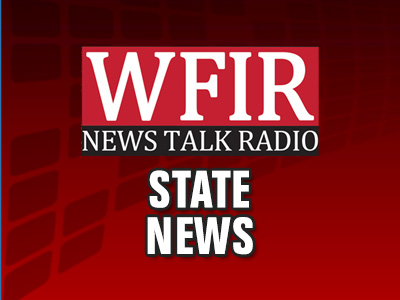 ROANOKE, Va. (AP) — U.S. Attorney Thomas Cullen is under consideration for a federal judgeship to fill a vacancy in U.S. District Court in Roanoke.Cullen has been U.S. Attorney for the Western District of Virginia since March 2018.The Roanoke Times reports that Virginia's U.S. senators — Mark Warner and Tim Kaine — asked for an assessment of Cullen from the State Bar of Virginia. The State Bar rated Cullen as "highly qualified" for a district judgeship by a 6-0 vote.The Democratic senators had no immediate comment on their next step. They had recommended two other candidates to the White House, but neither was picked.Cullen has had several high-profile cases during his tenure, including criminal prosecutions related to the Unite the Right white nationalist rally in Charlottesville in August 2017.