Local Government, Civic Affairs and Education
Its time once again for the Rescue Mission of Roanoke's Drumstick Dash 5K run or walk – thousands of people moving their feet so others can eat. Live in studio this morning Rescue Mission CEO Lee Clark and Race Director Molly Bullington with Blue Ridge Racing talked about the Dash – and about getting ready for the annual free Thanksgiving luncheon at the Rescue Mission:
Roanoke County Public Schools hope a $250,000 grant will help provide another layer of safety and security. Like virtually all school systems, Roanoke County has undertaken a number of safety-related steps in the last ten years or so, some of them quite visible, others less so. Now comes one that's been on the wish list for much of that time in hopes of better integrating radio communications with Roanoke County Police. More from WFIR's Evan Jones: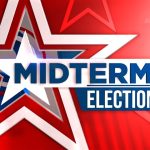 An election poll worker at the Peters Creek precinct says voters got some incorrect information in the mail on where to cast their ballot today. Its NOT at William Fleming High School on Ferncliff Avenue Northwest – but at the Fleming auxiliary gym on Ordway Drive – one street over. There are signs along Hershberger directing voters to the correct precinct polling station.