Local Government, Civic Affairs and Education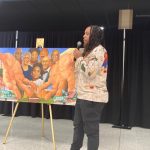 In an attempt at healing today for those who lived or had relatives that resided in what was known as "Tank Town" – the Gainsboro African-American neighborhood that was displaced by urban renewal and the Roanoke Civic Center project in the late '60s. A giant mural called "The Heart of  Gainsboro," that depicts 7 people with ties to the area now appears on an outside wall near the Berglund Center rear entrance.  Local artist Bryce Cobb (pictured) interviewed former Tank Town residents before painting The Heart of Gainsboro on an over-sized canvas, the image was then digitized and "printed" in large scale outside on a wall. One of those featured is Joseph Simms: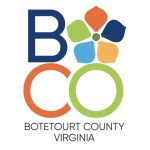 Botetourt County Supervisor Dr. Richard Bailey delivered the State of the County Address this morning at the Greenfield Center, when he said more broadband installation underway with the help of state grants will be a key to future growth.  A new circuit courthouse and history museum in Fincastle, enhanced library & recreation programs and a new 26-mile scenic trail that has one end in Eagle Rock are among the upcoming highlights for Botetourt County in 2023.