Gene Marrano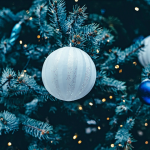 Carriage rides on opening night, street performers and carolers in Victorian garb, roasted chestnuts – and dogs in Santa suits. That can only mean Dickens of a Christmas in downtown Roanoke is back, as WFIR's Gene Marrano reports: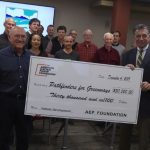 The Roanoke Valley Greenways Commission will be revamping its website to make it more attractive and user-friendly. That costs money and today American Electric Power awarded Pathfinders for Greenways $30,000 to cover that cost. Larry Jackson with AEP in Roanoke presented Pathfinders with a "big check". The Greenways Commission also wants public feedback about its greenways.org website. You can fill out a short survey about that online.
Some may recall December 4 – today – as the promised date for the completion of the 10th Street northwest Roanoke paving project. But its not quite done and Jason Bond with VDOT says blame it in part on bad weather. Bond says VDOT is reducing their payment to the contractor for missing today's deadline. The paving and utility replacement project has tested the patience of many local residents in the northwest community around 10th Street.
Vinton is now a "go to" town – no longer a "go THROUGH" town. That was the word from Mayor Brad Grose this morning as he gave the annual State of the Town address. More from WFIR's Gene Marrano:
You could even say Roanoke attorney Tom Ashton is taking money out of his own pocket, but in his recently published book, "Virginia Family Law for Non-Lawyers" he advises potential clients to do some of the groundwork ahead of time. More from WFIR's Gene Marrano: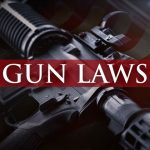 The Roanoke County Board of Supervisors is now hearing from members of the public at its afternoon meeting before it considers a "Second Amendment Sanctuary Resolution" as some other localities have enacted.  The all-Republican Board of Supervisors  heard from local Republican delegates Chris Head and Joe McNamara, who led off the public comments section by affirming their support for such a resolution.  Acting County Attorney Peter Lubeck told the board it would be appropriate to pass a resolution confirming its commitment to the Constitutional right to bear arms:
The vast majority of citizens speaking voiced support for such a resolution, including Gary Flora:
Among those opposed to the resolution: Janet Scheid, a former Roanoke County employee and a current Vinton Town Council member:
Close to two dozen Virginia counties have passed similar resolutions in recent weeks. Roanoke City leaders say there will be no such action from City Council.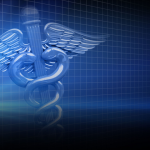 For a 9th year high school students and college undergraduates can explore health care education options at "Within Reach," at the Virginia Tech-Carilion School of Medicine. Its tonight as WFIR's Gene Marrano reports:
The Roanoke Community Garden Association is a small non-profit founded over a decade ago – providing venues around where those in under served areas and "food deserts" can grow their own produce. WFIR's Gene Marrano with more on a fundraiser this Thursday: