Local Government, Civic Affairs and Education

A unique way to raise money for the Prevention Council of Roanoke County's efforts to combat substance abuse: on Sunday wedding dresses – many that have been stored for decades in a warehouse – will be sold "as is" during an event at Black Dog Salvage's "Stone House" from 2 to 6-pm. Melissa Palmer with Chocolate Paper is one of the organizers: The $5 dollar on Sunday comes with wedding cake samples and yes, chocolate. You can watch Melissa Palmer open one of those storage boxes featuring a vintage wedding dress that will be for sale by visiting the WFIR News Facebook page.
A third candidate has entered the race to represent Cave Spring on the Roanoke County Board of Supervisors. Stan Seymour joins Republican Paul Mahoney, and Democrat Brian Powell in vying for the seat. Seymour owns local Bojangle's franchises. He's now involved in a zoning dispute with his residential neighbor – the Wildlife Center of Southwest Virginia – and with Roanoke County. Seymour, who will run as an independent in November, says he wants to be an advocate for responsive and transparent local government.  He also ran as an independent unsuccessfully 8 years ago.
The co-founder of the Hope Center on 11th Street northwest Roanoke – former City Council candidate Grover Price – has relocated with his family to Phoenix Arizona. Price said today the Hope Center will remain open, with a variety of organizations working to help children and families in that neighborhood. He says the center made an impact. Price also says the Cup of Hope Cafe he still owns on Tazewell Avenue Southeast remains open. Price's mother Darlene has also relinquished her role with the Hope Center and just announced a run for the House of Delegates.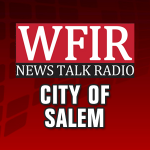 The path now seems clear for Salem City Council to enact the first property tax increase since 1988. City officials say the hike is vital in funding long-sought renovations to Salem High School. With Monday's public hearing and initial vote now done, all that remains is final approval a week from Monday. WFIR's Evan Jones has more: