AP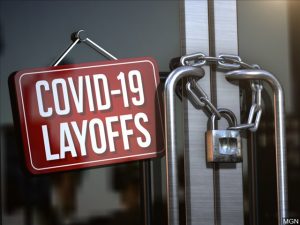 RICHMOND, Va. (AP) — A federal report shows jobless claims in Virginia spiked by nearly a factor of 20 as parts of the economy slowed or shuttered in the face of the coronavirus pandemic.
The report released Thursday shows that 46,885 Virginians filed unemployment claims for the week ending March 21. That's about 18 times higher than the previous four-week rolling average of 2,645 claims.
The increase is even sharper than the nation as a whole, where a spike of 3.28 million jobless claims jumped 14 times above the previous four-week rolling average.
Many businesses have closed or drastically curtailed their business in the wake of state and federal orders that mandate or encourage people to stay home to stop the spread of coronavirus.
More than 450 Virginians have tested positive for coronavirus, according to the most recent count Thursday from the Virginia Department of Health. For most people, the new coronavirus causes mild or moderate symptoms, such as fever and cough that clear up in two to three weeks. For some, especially older adults and people with existing health problems, it can cause more severe illness, including pneumonia and death.
The vast majority of people recover.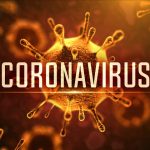 ALEXANDRIA, Va. (AP) — Officials in Alexandria are warning patrons at one of the city's most popular bars about exposure to the coronavirus. The Alexandria Health Department says a person who spent extensive time at Murphy's Grand Irish Pub has tested positive for the virus. The city is asking people who were at the bar at the same time as the individual to self-quarantine and contact the city for further guidance.
The individual was at Murphy's on Tuesday, March 10 from 6 p.m. to 2 a.m., Saturday March 14 from 11 a.m. to 6 p.m. and Sunday March 15 from 10 a.m. to 6 p.m. The health department did not specify whether the individual was an employee or patron.
Murphy's said on its Facebook page that it will be closed through Sunday and will be deep cleaned and sanitized. A call to the pub went unanswered Thursday morning.
The exposure times occurred before Virginia Gov. Ralph Northam's March 17 order requiring restaurants and bars to adhere to a limit of 10 customers.
Since then, Alexandria has seen good compliance with the new restrictions, said Craig Fifer, the city's spokesman. Only one restaurant had its operating permit suspended for a day after being found in violation shortly after the restrictions took effect. City officials have investigated six other complaints since March 17 and found all of those establishments were in compliance.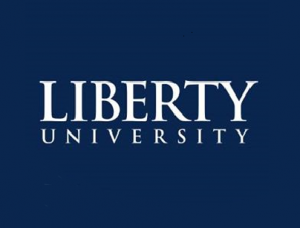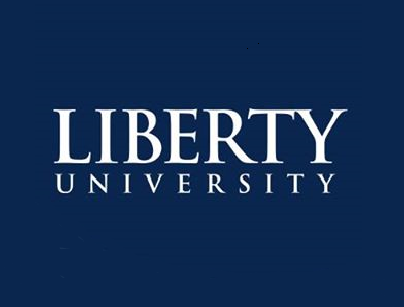 RICHMOND, Va. (AP) — Officials in Lynchburg were fielding complaints Tuesday about the hundreds of students that have returned from their spring break to Liberty University, where President Jerry Falwell Jr. has welcomed them back amid the coronavirus pandemic.
"We could not be more disappointed in the action that Jerry took in telling students they could come back and take their online classes on campus," Lynchburg City Manager Bonnie Svrcek told The Associated Press.
As college campuses across the country began announcing campus closures earlier this month, Liberty, which is among the nation's largest and most prominent evangelical institutions, initially planned to continue on-campus instruction. But last week, after Virginia Gov. Ralph Northam restricted gatherings of more than 100, Liberty said it would transition most classes online.
Liberty spokesman Scott Lamb said about 1,100 students were back on campus as of Tuesday morning.
The university said it is providing safe and reliable accommodations and taking extra steps to ensure students' health, including extra sanitizing measures and changes to on-campus dining.
Falwell, one of President Donald Trump's earliest and most ardent supporters, has speculated on Fox News that coronavirus may have been the work of North Korea.
The virus causes only minor flu-like symptoms in most people, who recover in a matter of weeks. But it is highly contagious and young people who show no symptoms can infect others. It can cause severe illness or death, particularly among the elderly and people with underlying health problems, and severe cases are already stressing the health care system's capacity to respond.
Svrcek said the city has fielded concerned phone calls.
"People are saying, 'This is terrible. What can you do?'" she said.
Dr. Kerry Gateley, a regional health director for the Virginia Department of Health', said his office had also received calls from worried citizens and parents of Liberty students.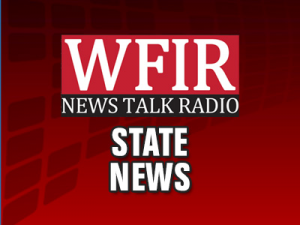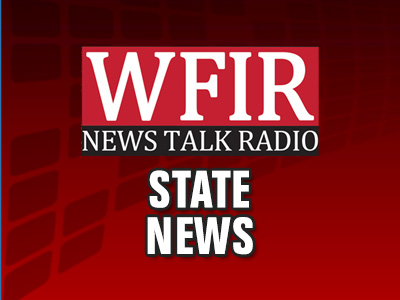 RICHMOND, Va. (AP) — Two weeks ago, Virginia lawmakers approved legislation to allow developers to build five large casino resorts around the state in what supporters have long hoped will be a dramatic economic boost to struggling areas. Virginia is one of the few states in the country where casinos are currently banned.
But those plans could be in serious doubt amid the coronavirus pandemic, which forced nearly every commercial casino in the country to close just a matter of days after lawmakers voted.
While huge swaths of the economy are being hurt by the virus, the cash-dependent casinos' pain has been particularly acute.
Stock prices of major casino operators have cratered, including those vying to move to Virginia, raising questions about whether the industry will be able to finance the gleaming casino resorts that lawmakers have envisioned, even if they can afford the $15 million licensing fee the state plans to charge. Lobbyists for casinos and hotels are are now desperately pressing the federal government for massive bailouts.
"Gaming employees, their families, and communities are bearing the brunt of this economic standstill and will continue to suffer if Congress and the administration don't take immediate action," said Bill Miller, president of the American Gaming Association.
Pro-casino backers in Virginia said there is no time to panic, and there is still time for the industry to rebound before Virginia could be impacted. Potential operators in Virginia still have to clear a voter referendum in November in cities slated to get casinos, and then a state vetting process before licenses are awarded and construction can begin.
"We have time on our side," said state Sen. Louise Lucas, who has spent two decades trying to convince her colleagues to legalize casinos. "I'm the eternal optimist."
Some of the proposed casinos in Virginia are also backed by wealthy private investors who may be better able to weather an economic downturn than publicly traded casino companies.
And would-be casino operators said none of their plans have changed.
"Caesars will continue to pursue a gaming license in Virginia and hopes to build and operate a casino in Danville," said Richard Broome, a spokesman for gaming giant Caesars Entertainment.
David Schwartz, a gambling expert at the University of Nevada Las Vegas, said it's impossible to predict the near future for the casino and hotel industry and how that might impact Virginia.
"Long-term, casino gaming is a dependable enough bet in Virginia that it might not be difficult to raise money to fund it, but short-term, operators may prioritize stabilizing their existing operations," Schwartz said.
The next step in legalizing casinos in Virginia rests with Gov. Ralph Northam, who may try to amend the legislation. If he does make changes, lawmakers would vote on them during a one-day legislative session currently scheduled for late April.
Some would-be casino developers have complained that the current legislation does not mandate a competitive bidding process for casino licenses, something Northam could try to address.
"In light of the current environment and new risks we are facing, it is even more imperative" that there be more competition for casino licenses, said developer Steve Johnson, who has pitched an alternate proposed casino in the Bristol area than the one backed by state and local officials there.
Currently three of the five cities allowed to have casinos — Norfolk, Bristol and Portsmouth — already have either formal or informal agreements with potential casino operators in place. Danville is considering proposals from seven different would-be operators. And at least two entities — the Pamunkey Indian Tribe and the owners of Colonial Downs, the state's only horse track — have expressed interest in a potential Richmond casino, though others may emerge.
The Northam administration hasn't said specifically whether the governor will try to change the casino bill. But Secretary of Finance Aubrey Layne said the coronavirus will force the state to take a closer look at both casinos in general and city-specific agreements. He said no one, including lawmakers, has considered the coronavirus' long-term impact on whether gamblers will still be willing to spend time and money on crowded casino floors.
"Certainly, there's going to have to be some additional scrutiny," Layne said. "They're not the panacea everybody thinks they are."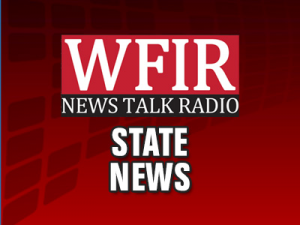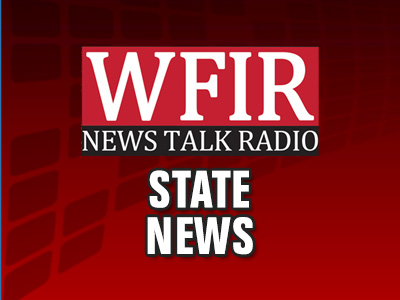 Police in Richmond sought on Saturday information about a homicide in which a 16-year-old youth died.
Richmond police said officers were called about a shooting reported on the city's east side and found the male teenager inside a convenience store. He had collapsed there after being shot Thursday evening outside the retailer, police said in a news release.
The teenager, whose name was not released at his family's request, was pronounced dead about 20 minutes after the initial call. No charges have been filed.
A male adult inside the store at the time was also shot. He was taken to a hospital with a non-life threatening injury, according to the Richmond Police Department.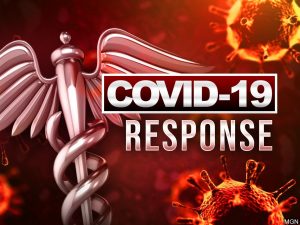 RICHMOND, Va. (AP) — Virginia health officials have eased COVID-19 testing criteria for doctors and nurses treating coronavirus patients and for nursing home and long-term care home residents, Gov. Ralph Northam announced on Saturday.
Northam also said the state was seeking more health-related supplies. A shipment of protective gear for health-care workers was distributed Friday, he said.
Health care workers "are literally are front line of defense, and they need our support and our protection," the governor said at a news conference.
The lower testing thresholds were announced as Virginia health officials said the number of positive cases for the new coronavirus in the state was now over 150, an increase of nearly 40 from Friday. There have been two reported deaths. Nationwide, the deaths exceed 250.
To address the anticipated surge in individuals needing care, Northam said he had issued an executive order that would give nursing homes and hospitals more flexibility to add beds. Currently they must comply with Virginia's certificate of need laws to expand capacity, so the order will reduce the red tape to do that, he said.
Positive cases in Virginia have already been reported at two long-term care facilities and at a skilled nursing and rehabilitation center.
For most people, the new coronavirus causes only mild or moderate symptoms, such as fever and cough. For some, especially older adults and people with existing health problems, it can cause more severe illness, including pneumonia.
Virginia's public schools and about 20 percent of the state's licensed day cares are closed. Northam warned that owners of movie theaters, gyms and other establishments subject to a 10-customer cap set in an emergency order can face misdemeanors and the loss of their business licenses if they don't comply.
Attorney General Mark Herring issued an opinion late Friday making clear that Virginia law lets local governments and other public bodies conduct meetings electronically when a meeting's purpose is to address an emergency.
But government leaders should delay electronic action on items that aren't essential to the emergency response, and they still must comply with accountability measures like proper public notice and access, roll-call votes and recorded minutes, Herring said.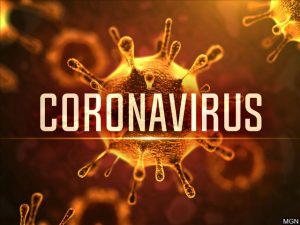 RICHMOND, Va. (AP) — Gov. Ralph Northam on Sunday banned all public gatherings of more than 100 people statewide and ordered a two-week shutdown of municipal offices in an area of southeast Virginia that has been hit by a cluster of coronavirus cases, including the state's first death from the virus.
Northam made the announcement after meeting with local officials in the Peninsula Health District, where eight people have tested positive for the virus, including one man in his 70s who died of respiratory failure caused by the virus. The peninsula covers Williamsburg, Newport News, Poquoson, James City County and York County.
"This is a very fluid and dynamic situation. We have not mandated a quarantine, but we are strongly encouraging and urging people to avoid public gatherings of any kind," he said.
For people who live in the peninsula district, Northam said: "If you are planning an event with several people, you should cancel it — period."
Local officials said municipal buildings throughout the district will be closed through March 30, but said local governments will continue to provide essential services, including police and fire response, and trash collection.
Dr. Thomas Franck, director of the Peninsula Health District, said officials have traced more than 200 contacts of people who have tested positive for the virus in the district and will continue to trace others "to ensure self-quarantine is taking place and to identify additional cases of the virus in the community."
Local officials urged people in the district to avoid gatherings of more than 50 people.
For most people, the new coronavirus causes only mild or moderate symptoms, such as fever and cough. For some, especially older adults and people with existing health problems, it can cause more severe illness, including pneumonia.
The vast majority of people recover from the new virus. According to the World Health Organization, people with mild illness recover in about two weeks, while those with more severe illness may take three to six weeks to recover.
The outbreak has caused more than 5,800 deaths out of 156,000 cases worldwide.
In a news release, the Virginia Department of Health and the Peninsula Health District reported the death of the man, who had been hospitalized.
"On behalf of the entire Commonwealth, we express our deepest sympathy for the family and loved ones of the patient who died, as well as the families of everyone who has been affected by this outbreak," said State Health Commissioner M. Norman Oliver.
In a statement, U.S. Rep. Rob Wittman said the death occurred in James City County. Health officials said they are reaching out to all identified contacts of people who have tested positive for coronavirus and giving them instructions on how to protect themselves and others.
Gov. Ralph Northam said he was "deeply saddened" to learn that a Virginia resident has died from the virus.
Virginia has reported 41 people have tested positive for the virus so far. Northam has declared a state of emergency, closed K-12 schools across the state for the next two weeks, restricted visitors at nursing homes and correctional facilities, and canceled large events.
"This is a public health crisis—we must all treat it as such," Northam said in a news release.
He urged residents to avoid large gatherings, work at home if possible, and stay home if they are sick.
For most people, the new coronavirus causes only mild or moderate symptoms, such as fever and cough. For some, especially older adults and people with existing health problems, it can cause more severe illness, including pneumonia.
The vast majority of people recover from the new virus. According to the World Health Organization, people with mild illness recover in about two weeks, while those with more severe illness may take three to six weeks to recover.
The outbreak has caused more than 5,600 deaths out of 149,000 cases worldwide.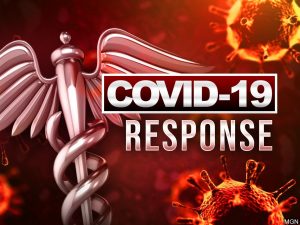 WASHINGTON (AP) — The House approved legislation early Saturday to provide direct relief to Americans suffering physically, financially and emotionally from the coronavirus pandemic. Passage came after President Donald Trump had declared the outbreak a national emergency, freeing up money and resources to fight it, and threw his support behind the congressional aid package.
From the Rose Garden, Trump said, "I am officially declaring a national emergency," unleashing as much as $50 billion for state and local governments to respond to the crisis.
Trump also announced a range of executive actions, including a new public-private partnership to expand coronavirus testing capabilities with drive-through locations, as Washington tries to subdue the new virus whose spread is roiling markets, shuttering institutions and disrupting the lives of everyday Americans.
But he denied any responsibility for delays in making testing available as his administration has come under criticism for being too slow to respond.
Trump said, "I don't take responsibility at all" for the slow rollout of testing.
As the House prepared to vote late Friday, Speaker Nancy Pelosi trumpeted the hard-fought package that will provide free testing, sick pay for workers, enhanced unemployment benefits and bolstered food programs.
"We did what we said we were going to do: Put families first," said Pelosi, flanked by Democratic lawmakers, including many freshmen. The House passed the bill after midnight on a bipartisan vote, 363-40. It now goes to the Senate.
Trump's tweet of approval instilled fresh energy in the measure, all but ensuring that wary Republicans would join with a robust vote.
"I encourage all Republicans and Democrats to come together and VOTE YES!" Trump wrote, "Look forward to signing the final Bill, ASAP!" On Saturday morning, he praised both parties: "Good teamwork between Republicans & Democrats as the House passes the big CoronaVirus Relief Bill. People really pulled together. Nice to see!"
The crush of late-day activity capped a tumultuous week in Washington as the fast-moving virus left ordinary Americans suddenly navigating self-quarantines, school closures and a changed way of life.
The White House was under enormous pressure, dealing with the crisis on multiple fronts as it encroached ever closer on the president.
Trump has been known to flout public health advice — and was eagerly shaking hands during the more than hour-long afternoon event — but acknowledged he "most likely" will be tested soon after exposures to individuals who have tested positive for the virus. The White House physician indicated later his interactions were low-risk and testing is not necessary.
Still, Trump said officials don't want people taking the test unless they have certain symptoms. "We don't want people without symptoms to go and do that test," Trump said, adding, "It's totally unnecessary."
Additionally, Trump took a number of other actions to bolster energy markets, ease the financial burden for Americans with student loans and give medical professionals additional "flexibility" in treating patients during the public health crisis.
"Through a very collective action and shared sacrifice, national determination, we will overcome the threat of the virus," Trump said.
Central to the aid package from Congress, which builds on an emergency $8.3 billion measure approved last week, are the free testing, sick pay and family leave provisions.
Providing sick pay for workers is a crucial element of federal efforts to stop the rapid spread of the infection. Officials warn that the nation's healthcare system could quickly become overwhelmed with gravely sick patients, as suddenly happened in Italy, one of the countries hardest hit by the virus.
The ability to ensure paychecks will keep flowing — for people self-quarantining or caring for others — can help assure Americans they will not fall into financial hardship. The legislation also offers three months of paid family and medical leave. Small and mid-sized employers will be reimbursed through tax credits.
Pelosi negotiated the deal with Treasury Secretary Steven Mnuchin in days of around-the-clock negotiations with cross-town phone calls, even as Trump was speaking at the White House.
Voting in the Senate is not yet set, with senators out of town for the weekend. But Senate Leader Mitch McConnell canceled a plan recess week and senators were scheduled to return Monday. He said he expects most senators will want to "act swiftly."
Both Mnuchin and Pelosi, who said she did not speak directly to Trump during the negotiations, promised a third coronavirus package will follow soon, with more aggressive steps to boost the U.S. economy, which economists fear has already slipped into recession.
The financial markets closed on an upswing after one of the worst nosedives since the 1987 downturn.
For most people, the new coronavirus causes only mild or moderate symptoms, such as fever and cough. For some, especially older adults and people with existing health problems, it can cause more severe illness, including pneumonia.
The vast majority of people recover. According to the World Health Organization, people with mild illness recover in about two weeks, while those with more severe illness may take three to six weeks to be over it.
Trump said he was gratified that Brazilian President Jair Bolsonaro tested negative for the virus, after the pair sat next to each other for an extended period of time last weekend at Trump's Mar-a-Lago club. A senior aide to Bolsonaro tested positive.
The White House physician said in a memo late Friday that Trump was also exposed to a second guest at the club dinner, "sharing the table with the president," who has since tested positive for the virus. Still despite the incidents, the physician said Trump had only "LOW risk" interactions and testing "is not currently indicated."
Trump's daugher, Ivanka Trump, worked from home Friday after meeting with Australian Home Affairs Minister Peter Dutton, now in isolation at a hospital after testing positive for the coronavirus. White House spokesman Judd Deere said she was evaluated by the White House Medical Unit.
Attorney General William Barr, who also met with the Australian official, stayed home Friday, though he "felt great and wasn't showing any symptoms," according to his spokeswoman Kerri Kupec.
Several lawmakers, including some close to Trump, have also been exposed to people who tested positive for the virus, and are self-isolating.
Among them are Republican Sens. Lindsey Graham and Rick Scott, who were at Trump's club on the weekend. Graham announced Friday that he also met with the Australian official who has now tested positive. And GOP Sen. Ted Cruz of Texas, who had previously isolated himself after a potential exposure at a conservative conference in Washington, said Friday he met with a Spanish official and is now self-quarantining.
Hospitals welcomed Trump's emergency declaration, which they and lawmakers in Congress had been requesting. It allows the Health and Human Services Department to temporarily waive certain federal rules that can make it harder for hospitals and other health care facilities to respond to an emergency.
The American Medical Association said the emergency declaration would help ensure America's health care system has sufficient resources to properly respond to the ongoing outbreak.
Dr. Anthony Fauci, infectious disease chief at the National Institutes of Health, said more tests would be available over the next week, but warned, "We still have a long way to go."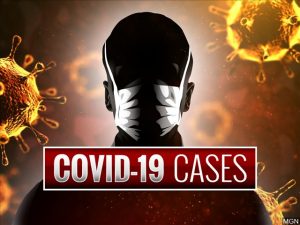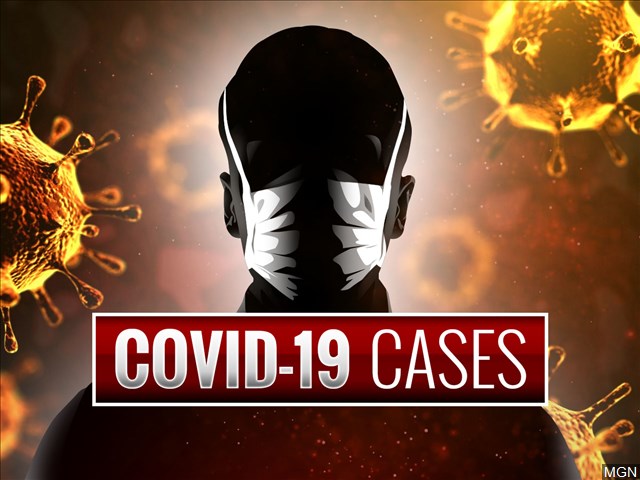 RICHMOND, Va. (AP) — Virginia Gov. Ralph Northam declared a state of emergency Thursday in response to the coronavirus pandemic, as the state's number of confirmed cases grew to 17.
Northam advised all Virginians to avoid large gatherings "for the time being." He said he was canceling all state conferences and large events for the next 30 days and urged local governments and private organizers to follow suit. He also announced new restrictions on travel for state workers.
"The situation is fluid, and it is changing rapidly," Northam said at a press conference with other state officials and top lawmakers.
"Virginians should know that we have longstanding plans in place to deal with pandemics. We have trained for them and we are ready for this," Northam said.
Virginia has 17 "presumptive positive" cases of COVID-19, the illness caused by the virus, according to the latest figures from the Department of Health.
Dr. Lilian Peake, the state epidemiologist, said at the press conference that there is so far no sign of "community spread" of the virus, meaning cases where it's unclear how the patient acquired it.
For most people, the virus causes only mild or moderate symptoms, such as fever and cough. But for some, it can cause more severe illness, including pneumonia. The vast majority of people who contract it recover within weeks.
Thursday's announcement from Northam came as colleges, public school districts and workplaces around the commonwealth were re-evaluating their protocols.
A cascade of Virginia colleges began announcing Wednesday that they were canceling on-campus instruction, at least temporarily. They included the University of Virginia, William & Mary, James Madison University, Virginia Commonwealth University and Longwood University, where a student tested positive for COVID-19.
Some public school districts in Virginia have announced temporary closures so that teachers can prepare for the possibility of implementing distance learning. Chesterfield County schools said they would be closed to students Friday, and Fairfax County schools were to be closed Monday.
Some large private employers, including Capital One, encouraged employees to work from home.