AP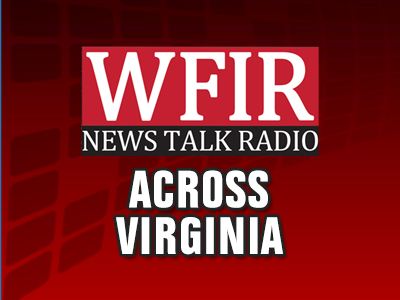 DINWIDDIE, Va. (AP) — Three students and a teacher were taken to hospitals Wednesday after a fire broke out during a demonstration in a Virginia high school chemistry classroom, officials said.
When the fire broke out in the classroom at Dinwiddie High School, the fire alarm was pulled and all students were evacuated from the building, Dinwiddie County Public Schools officials said in a statement.
A teacher was taken to a local hospital and three students were taken to VCU Medical Center, officials said. Officials didn't release details of their conditions. One student was treated at the scene and released.
The cause of the fire is under investigation, officials said.
Students were dismissed early and Thursday will be an asynchronous learning day, officials said.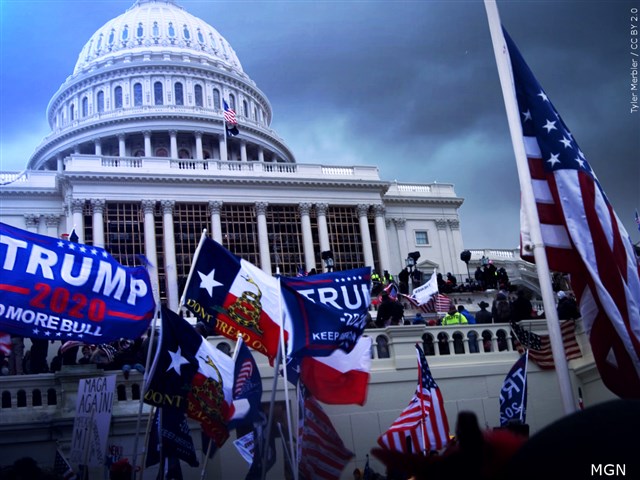 WASHINGTON (AP) — A member of the Oath Keepers who traveled to Washington before the Jan. 6 attack on the U.S. Capitol testified Wednesday about a massive cache of weapons the far-right extremist group stashed in a Virginia hotel room.
Taking the stand in the seditious conspiracy case against Oath Keepers founder Stewart Rhodes and four associates, Terry Cummings showed jurors an AR-15 firearm and an orange box for ammunition that he contributed to the so-called quick reaction force the Oath Keepers had staged at the hotel outside of Washington in case they needed weapons.
"I had not seen that many weapons in one location since I was in the military," said Cummings, a veteran who joined the Oath Keepers in Florida in 2020.
Prosecutors have said teams of Oath Keepers guarded the arsenal of firearms and were prepared to rush them into the hands of extremists in the capital if needed.
The alleged teams and the cache of weapons are a central piece of the Department of Justice's case against Rhodes and four associates charged with seditious conspiracy in the Jan. 6 attack. Members of the Oath Keepers stashed the firearms just outside Washington district limits, given the capitol's tougher gun laws.
Authorities have alleged the teams and the stockpile of arms were designed to get weapons into Oath Keepers' hands quickly if they were needed to support a plot to stop the transfer of power from Republican Donald Trump to Democrat Joe Biden.
Cummings' testimony came in the second week of the trial that is expected to last several weeks. The others on trial are Thomas Caldwell of Berryville, Virginia; Kenneth Harrelson of Titusville, Florida; Jessica Watkins of Woodstock, Ohio; and Kelly Meggs of Dunnellon, Florida.
Defense lawyers have not denied the existence of the quick reaction teams but noted that they were never deployed on Jan. 6. They have accused prosecutors of falsely portraying them as an invasion force.
Defense lawyers have said the Oath Keepers often set up quick reaction forces for events, but insist they were defensive forces only to be used to protect against violence from antifa activists or in the event Trump invoked the Insurrection Act. They are not facing any gun charges for bringing the weapons to Virginia.
Rhodes' lawyers have said they will argue that cannot find him guilty of seditious conspiracy because all the actions he took before Jan. 6 were in preparation for orders he anticipated from Trump under the Insurrection Act, which gives presidents wide discretion to decide when military force is necessary.
Cummings told jurors that he traveled to Washington on Jan. 6 with other Oath Keepers to be part of a VIP security detail for Trump's rally at the Ellipse. He said he saw it as an opportunity to "express my First Amendment rights" and see a sitting president speak, which he had never done.
Cummings said his understanding was the quick reaction forces "would potentially be used not as an offensive situation, but more as a show of force."
Cummings said he was part of a group that acted as a security team for a VIP at Trump's rally before the riot. Cummings and other Oath Keepers left before Trump's speech was finished and went toward the Capitol.
He recalled Meggs talked about entering the Capitol – something Cummings didn't think was a good idea. He then split off to find a bathroom, and when he returned the group was gone. The group entered the Capitol while he was away, he said. Up to an hour later, Cummings rejoined fellow Oath Keepers from Florida, and eventually Rhodes appeared as well.
Cummings said he did not hear any talk about plans to storm or attack the Capitol, though he also said he wasn't in a position of leadership. He has not faced criminal charges, was subpoenaed to testify for the government and acknowledged on the stand that he has contributed to the legal defense fund of some of the defendants.
Authorities have said that Meggs and the Florida Oath Keepers on Jan. 5 brought gun boxes, rifle cases and suitcases filled with ammunition to the Virginia hotel that served as the home for the quick reaction force. Another team from Arizona brought weapons, ammunition, and supplies to last 30 days, according to court papers. A team from North Carolina had rifles in a vehicle parked in the hotel lot, prosecutors have said.
Prosecutors have described surveillance footage that they say shows Oath Keepers rolling bags, large bins and what appears to be at least one rifle case into the hotel.
Over several days in early January, Rhodes spent $15,500 on guns, including an AR-platform rifle, magazines, mounts, sights and other equipment, prosecutors have said. Caldwell, in one message, suggested getting a boat to ferry "heavy weapons" across the Potomac River into the Oath Keepers' "waiting arms."
A former Oath Keeper from North Carolina last week described setting up a quick reaction force for the "Million MAGA March" in Washington on Nov. 14, 2020, in case Trump invoked the Insurrection Act. Thousands of Trump supporters that day gathered at Freedom Plaza along Pennsylvania Avenue in Washington to rally behind Trump's false election claims.
The former Oath Keeper, John Zimmerman, told jurors that the Oath Keepers stashed at least a dozen rifles and several handguns in his van parked at Arlington National Cemetery to serve as the quick reaction force on that occasion. He said they never took the guns into Washington.
___
Associated Press writer Alanna Durkin Richer in Boston contributed to this report.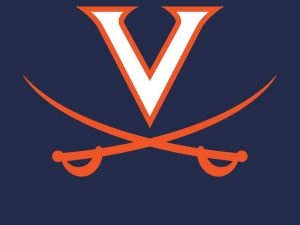 CHARLOTTESVILLE, Va. (AP) — Brock Doman proved an able replacement for injured Malik Cunningham, throwing for one touchdown, running for another and leading Louisville to a 34-17 victory at Virginia on Saturday.
Domann overcame a slow start — his first completion was to former teammate Anthony Johnson, now a Virginia defensive back — and evoked thoughts of Cunningham when he took off on a 44-yard run for a tying touchdown.
"That even tricked me," Louisville strong safety M.J. Griffin, who also started, said. "I didn't even think he had the ball honestly."
Domann found out he was starting on Sunday, but even with a week to prepare, said it took him awhile to get settled.
"I was in my own way in the first quarter," he said after finishing 17 for 30 for 275 yards with two interceptions. "As much as you want to prepare for your first start, you need to get out of your own way. Once I did that, this team was amazing."The Cardinals (3-3, 1-3 Atlantic Coast Conference) were without Cunningham, who had started a school-record 40 consecutive games, as he remained sidelined by a concussion sustained last week against Boston College.
Brennan Armstrong threw for a touchdown and ran for one for the Cavaliers (2-4, 0-3), but also helped kill Virginia's first quarter momentum when he fumbled the ball away and threw a pair of interceptions.
Virginia coach Tony Elliott said Armstrong is trying to do much at times and needs others to come along, but Armstrong said that wasn't the problem.
"I don't really feel like I'm trying to play outside the offense, but I mean I'm just making mistakes also with trying to play and make plays," he said.
Virginia led 10-0 and had the crowd roaring when the fumble was lost.
"That was really huge right there because if they were to score, it would have been 17-0," Griffin said. He also had one of the Cardinals' two interceptions.
Trevion Cooley and Jahwar Jordan ran for touchdowns for Louisville, with Jordan's making it 34-17 with 11:03 left and sending fans streaming out.
Those who stayed saw Mike Hollins stopped on a fourth-and-1 try from the Cardinals' 5 with just over 8 minutes left on a call that was initially ruled a first down, but overturned on review, all but sealing Virginia's loss.
The road victory surely helped Cardinals coach Scott Satterfield, rumored to be on the hot seat. The victory also ended a remarkable nine-game losing streak for Louisville in games they led or at least tied in the fourth quarter.
"I don't know about me. I do know they showed up and supported Brock," Satterfield said, praising how the offense and defense both got better.
Virginia finished with six rushing yards.
THE TAKEAWAY
Louisville: With two weeks to get Cunningham back, the Cardinals at least don't have to worry about Domann. He overcame his slow start, completed many clutch passes and may have surprised himself with the long TD run.
Virginia: The Cavaliers continually made things hard of themselves in key spots. Armstrong's fumble at the Louisville 18 came with them ahead 10-0 and driving for a third consecutive score. Sure-handed Keytaon Thompson had two drops in three plays to kill their ensuing drive, and with the Cardinals going backwards on penalties, Anthony Johnson's pass interference call in the end zone gave them a first-and-goal at the 2. Cooley ran it in from there.
UP NEXT
The Cardinals have a week off, then are at home against Pittsburgh.
Virginia has a week off, then plays at Georgia Tech on a Thursday night.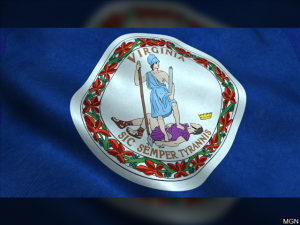 RICHMOND, Va. (AP) — A federal appeals court on Friday denied a request to rehear a case that found that gender dysphoria is a condition covered by the Americans with Disabilities Act.
In August, a three-judge panel of the Richmond-based 4th U.S. Circuit Court of Appeals became the first federal appellate court in the country to find that the landmark federal law protects people with gender dysphoria, a condition that causes anguish and other symptoms as a result of a disparity between a person's gender identity and their assigned sex at birth.
The decision came in the case of Kesha Williams, a transgender woman who sued the Fairfax County sheriff in Virginia for housing her in a jail with men under a policy that inmates must be classified according to their genitals.
In her lawsuit, Williams said that she was harassed and that her prescribed hormone medication was repeatedly delayed or skipped, violating the Americans with Disabilities Act.
A federal judge granted a motion by the sheriff's office to dismiss the lawsuit, but the 4th Circuit panel reversed that ruling, finding there is a distinction between gender identity disorder and gender dysphoria.
The modern diagnosis of gender dysphoria "affirms that a transgender person's medical needs are just as deserving of treatment and protection as anyone else's," Judge Diana Gribbon Motz wrote in the opinion.
On Friday, the 4th Circuit rejected a request from the sheriff's office for the full court of 15 judges to rehear the case.
The sheriff's office did not immediately respond to a phone message seeking comment, and attorneys for the sheriff's office did not respond to an email.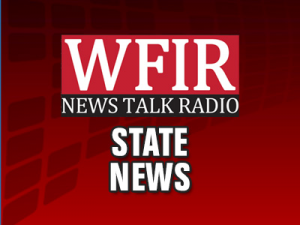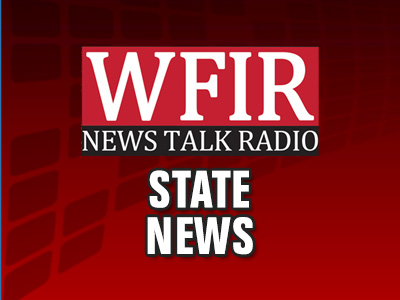 FALLS CHURCH, Va. (AP) — The head of a Virginia company accused of exploiting immigration detainees seeking bail has now been charged with defrauding the brother of Florida school shooter Nikolas Cruz.
The Augusta County Sheriff's Office said Mike Donovan, the CEO of Nexus Services in Verona, Virginia, was arrested Wednesday after being indicted on fraud charges. The indictment states that the victim is Zachary Cruz, 22, who for several years has lived with Donovan and his spouse, Richard Moore, in Fishersville.
Moore, who is a part owner and executive with Nexus, and three others are also facing charges along with Donovan.
Donovan denies that Cruz has been defrauded. He said the charges are retaliation for efforts he has undertaken to expose corruption in the sheriff's office and hold it accountable for two police shootings last year.
"I want to go to a jury. I will call witnesses and expose these people," Donovan said in a phone interview Thursday.
Donovan and Moore took Zachary Cruz in nearly four years ago. Donovan said he became acquainted with Zachary Cruz after learning he was facing $500,000 bail on a trespassing charge for skateboarding at the high school where the shootings occurred.
After getting to know him, they offered him a home in Virginia and Donovan said he considers Cruz to be part of the family.
"When you see what he's gone through, and what he's been able to accomplish, it's pretty inspiring," Donovan said.
He said he's offended by authorities' suggestion that Zachary Cruz is mentally incapable of making his own decisions.
A search warrant affidavit filed in May 2021 states that Shenandoah Valley Social Services launched an investigation last year after receiving a report that Zachary Cruz was being financially exploited by Donovan and Moore.
The affidavit alleged that Cruz lacked the mental capacity to make his own financial judgements, even though he is an adult, and that a $428,000 inheritance he received after his mother's death was transferred into other accounts.
Donovan said federal prosecutors investigated those allegations and exonerated him. He said that at this point, the inheritance money is spent and that Donovan and Moore are essentially supporting Cruz financially with a weekly stipend.
The county sheriff's office did not return a call Thursday seeking comment.
Cruz could not be reached for comment Thursday. His attorney, Amina Matheny Willard, who also represents Donovan, denied that Cruz has been victimized by his new family.
Last year the Consumer Financial Protection Bureau and three states, including Virginia, sued Donovan and his company, alleging that a subsidiary — Libre by Nexus — has exploited immigrant detainees by charging excessive fees to get them released on bail while they await hearings. That lawsuit is ongoing.
Donovan has vociferously defended his conduct. He says his company has helped tens of thousands of immigrants avoid prolonged detention while they await adjudication in a broken immigration system.
Zachary's older brother, Nikolas Cruz, pleaded guilty last year to fatally shooting 14 students and three staff members at Parkland, Florida's Marjory Stoneman Douglas High School in 2018.
A sentencing trial is currently ongoing to determine whether Nikolas Cruz will receive the death penalty. Defense lawyers have argued that Nikolas Cruz suffered brain damage because his birth mother drank during pregnancy.
Zachary Cruz is two years younger and has the same birth mother. Both were adopted and grew up together in Parkland. Testimony during the trial has highlighted the boys' unstable family life.
Zachary Cruz had been listed as a defense witness but was not called to testify.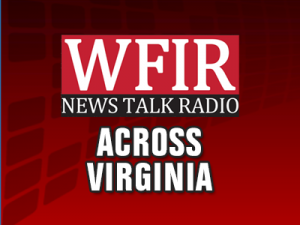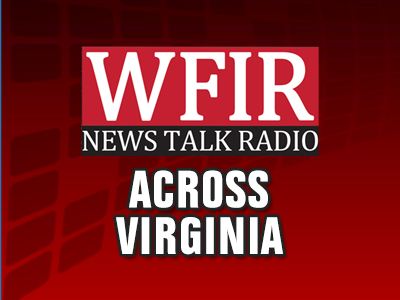 RICHMOND, Va. (AP) — A lawsuit against a Virginia town that alleges its police department has operated in a way that led to unlawful racial discrimination and violated individuals' constitutional rights can move forward, a judge ruled Thursday.
The Office of the Attorney General initially brought the lawsuit against the small southeastern Virginia town of Windsor in December, after an investigation prompted by a 2020 traffic stop involving two Windsor police officers and Caron Nazario, an Army lieutenant.
Video of the incident showed the officers drawing their guns, pointing them at Nazario, who is Black and Latino, and using a slang term to suggest he was facing execution before pepper-spraying him and knocking him to the ground. The video led to widespread outrage when it surfaced months later, after Nazario sued the two officers.
A judge on Thursday heard arguments in the state's lawsuit before denying an attempt from the town to have the case dismissed, TV station WVEC reported.
"We are pleased with the Court's ruling today and have no further comment," Victoria LaCivita, a spokesperson for Miyares, said in a statement to The Associated Press.
While the lawsuit was initially filed in the waning days of Democratic Attorney General Mark Herring's term, Miyares — a Republican who took office in January — has continued to pursue it.
Miyares filed an amended complaint in August that substantially revised the claims made in the case. The lawsuit alleges the town's police department "has engaged in a pattern or practice of conduct" that has deprived individuals of their rights, privileges or immunities under the First, Fourth and Fourteenth amendments to the U.S. Constitution. It also says the department policed in a way that unlawfully discriminated on the basis of race, color or national origin.
In court documents, the town has said the state's lawsuit refers only to one incident, Nazario's traffic stop, and doesn't establish that the town engaged in a pattern or practice of conduct that deprived individuals of their rights.
Attorneys for the town did not immediately respond to an emailed request for comment on Thursday's ruling.
Isle of Wight NAACP members told the TV station they were pleased to see Miyares push forward with the case.
"It is good to know that it is not about parties," said Valerie Butler, president of the Isle of Wight NAACP.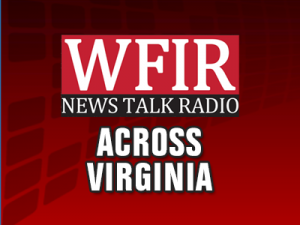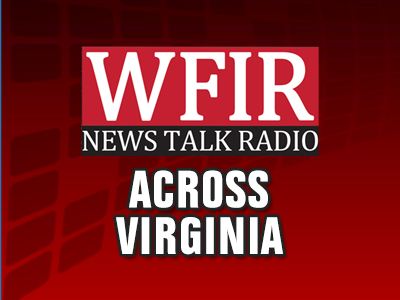 McLEAN, Virginia (AP) — The CIA has revealed a model of Ayman al-Zawahri's safe house, used to brief President Joe Biden about the al-Qaida leader's whereabouts before the agency killed him in a drone strike in Afghanistan.
Shortly after al-Zawahri's death, White House officials released a photo showing Biden talking to CIA Director William Burns with a closed wooden box on the table in front of them. Now, the contents of the box — a model depicting a white-walled home with at least five stories and three partially obscured balconies — are on display at the CIA Museum inside the agency's Virginia headquarters.
The museum is closed to the public and access is generally limited to the agency's employees and guests. The CIA allowed journalists to tour the museum, newly refurbished in time for the agency's 75th anniversary, as part of a broader effort to showcase its history and achievements.
Most of the exhibits took years or decades to declassify. The al-Zawahri model home is the rare artifact that had been used by intelligence officers just weeks beforehand.
Al-Zawahri was killed in late July, nearly a year after the U.S. withdrawal from Afghanistan ending a two-decade war in which the CIA had a central role. The agency sent the first American forces two weeks after the Sept. 11, 2001, terrorist attacks. Two decades later, it pulled out intelligence assets and assisted in the chaotic evacuation of thousands of Americans and Afghan allies.
The Biden administration has said the strike shows it retains what it calls an "over-the-horizon" counterterrorism capacity in Afghanistan. Opponents of the administration and some analysts question whether al-Zawahri's presence in a Kabul neighborhood suggests extremist groups like al-Qaida or the Islamic State are growing stronger under the Taliban, who now rule the country.
The strike was particularly meaningful for the CIA, which lost seven employees in trying to find al-Zawahri, a key plotter of the Sept. 11 attacks who was then al-Qaida's second-in-command.
They were killed when a Jordanian doctor who pretended to have information about al-Zawahri carried out a 2009 suicide bombing at a base in Khost, Afghanistan. The doctor was working for al-Qaida.
On display near the model of al-Zawahri's home are seven stars honoring the CIA employees slain at Khost. The stars were previously part of a memorial in Afghanistan that was taken down as the U.S. withdrew.
Other newly revealed artifacts include concept drawings for the fake film created as part of a 1980 operation to rescue American diplomats from Iran, the subject of the 2012 movie "Argo" starring Ben Affleck. There are also crew uniforms and other items from the Glomar Explorer, the Howard Hughes-built ship that served as cover for a 1970s mission to surface a sunken Soviet submarine carrying nuclear-armed ballistic missiles. (The story on the front page of the Los Angeles Times exposing the operation is reproduced on a nearby museum wall.)
The museum also includes some information on the agency's darker moments, including its role in the ultimately false assertions that Iraq had weapons of mass destruction prior to the 2003 U.S. invasion, as well as the exposure and execution of several key spies the U.S. had in the Soviet Union.
Janelle Neises, the museum's deputy director, says a running agency joke about the collection is that for most people, it's "the greatest museum you'll never see."
The CIA wants to use its history to engage more with the public, albeit on the narrow terms one might expect of an intelligence service. The number of annual visitors to the museum, for example, is classified. Among the known guests are U.S. lawmakers, officers from other law enforcement and intelligence agencies, and foreign officials.
But CIA employees post about some of the museum's roughly 600 exhibits on social media. The agency also recently started a podcast with Burns, the CIA director, as its first guest.
A primary goal of the museum is to reinforce lessons from the agency's successes and failures for the current workforce, Neises said. Some CIA veterans who served in the missions depicted in the museum donated artifacts to the collection. But the agency is now hiring officers in their twenties who are too young to remember the Sept. 11, 2001, attacks.
"The idea here is as you're going to lunch or as you're going to a meeting, leave 10 minutes early, leave 20 minutes early, and just take the time to look at one section and really learn about your history," Neises said.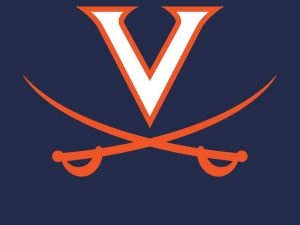 SYRACUSE, N.Y. (AP) — Andre Szmyt knocked in five field goals, including the 31-yard game-winner with just over a minute left, and Syracuse held off Virginia's second-half comeback to beat the Cavaliers 22-20 on Friday night.
Syracuse led 16-0 at halftime, but Virginia recorded three second-half touchdowns to take a 20-19 lead with just under six minutes remaining in the game. The Orange (4-0, 2-0 Atlantic Coast Conference) have won their first four for the first time since 2018 and got this one despite committing their first four turnovers of the season.
"We're really fortunate to come out with the win, we're excited about that," Syracuse coach Dino Babers said. "The play was not perfect, that's for sure. But the record is."
Syracuse drove to the winning field goal with help from a critical facemask penalty on a third-and-7 play from the Syracuse 41 that was called on a sack of Shrader. That moved the ball into Virginia territory and a 12-yard scramble by Shrader after the Cavaliers' sixth sack moved the Orange into position for the winning kick.
"Once they scored the touchdown, I kind of knew that it might come down to a field goal," Szmyt said. "And we executed."
Brennan Armstrong was 19 of 38 for 138 yards and a 4-yard touchdown to Lavel Davis Jr. with 5:51 remaining to put Virginia up 20-19.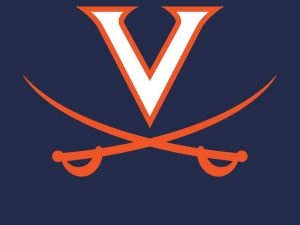 CHAMPAIGN, Ill. (AP) — Chase Brown rushed for 146 yards on 20 carries, Tommy DeVito threw for 196 yards and two scores and the Illinois defense stifled Virginia's once-potent attack to lead the Fighting Illini to a 24-3 victory on Saturday. Things looked dicey for Illinois (2-1) after DeVito threw an interception on his first pass attempt of the day and when Brown fumbled after a first-down run.
However, a dominant defense cleared the path to victory as the Illini held Virginia (1-1) to 1 of 16 on third-down conversions. "This was a big statement to me about where we were a year ago to where we are now," Illinois coach Bret Bielema said. "Obviously, they've got new coaches and everything, but the majority of a lot of there players were there, some of ours are back and I wanted to see where we are as a program."
Brendan Farrell put Virginia ahead in the first quarter with a 42-yard field goal for the Cavaliers' lone score. Virginia's Tony Elliott shouldered the blame for a "rough day at the office" in his first loss and first road trip as a head coach.
Hopefully this will be the catalyst that sparks us to make sure that we don't take anything for granted," Elliott said. "I also said last week, especially after halftime of the (Richmond win) offensively, 'Don't look at the stats.' We have a lot of room to improve, we've got to get better and can we handle success? Offensively, we did not handle success well."
Bailey and safety Kendall Smith intercepted Armstrong twice in the fourth quarter to halt a pair of Virginia drives.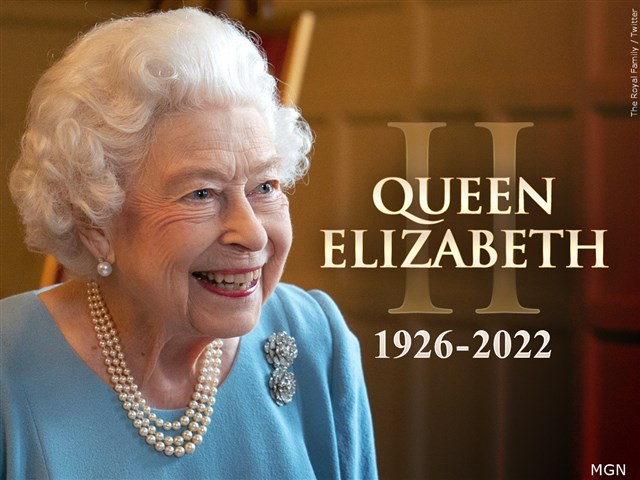 A librarian for Virginia Tech's Arlington center who also studies British royalty believes that Queen Elizabeth II will be remembered fondly by many, not only in the United Kingdom but also worldwide. Marlene Koenig notes that the 70-year reign of Queen Elizabeth II, who died at her home in Balmoral, Scotland today, included major social and technological changes, as well as the shrinking of the British Empire:
LONDON (AP) — Queen Elizabeth II, Britain's longest-reigning monarch and a rock of stability across much of a turbulent century, died Thursday after 70 years on the throne. She was 96.
The palace announced she died at Balmoral Castle, her summer residence in Scotland, where members of the royal family had rushed to her side after her health took a turn for the worse.
A link to the almost-vanished generation that fought World War II, she was the only monarch most Britons have ever known.
Her 73-year-old son Prince Charles automatically becomes king, though the coronation might not take place for months. It is not known whether he will call himself King Charles III or some other name.
The BBC played the national anthem, "God Save the Queen," over a portrait of her in full regalia as her death was announced, and the flag over Buckingham Palace was lowered to half-staff as the second Elizabethan age came to a close.
The queen's life was indelibly marked by the war. As Princess Elizabeth, she made her first public broadcast in 1940 when she was 14, sending a wartime message to children evacuated to the countryside or overseas.
"We children at home are full of cheerfulness and courage," she said with a blend of stoicism and hope that would echo throughout her reign. "We are trying to do all we can to help out gallant soldiers, sailors and airmen. And we are trying, too, to bear our own share of the danger and sadness of war. We know, every one of us, that in the end all will be well."
Since Feb. 6, 1952, Elizabeth reigned over a Britain that rebuilt from war and lost its empire; joined the European Union and then left it; and transformed from industrial powerhouse to uncertain 21st century society. She endured through 15 prime ministers, from Winston Churchill to Liz Truss, becoming an institution and an icon — a fixed point and a reassuring presence even for those who ignored or loathed the monarchy.
She became less visible in her final years as age and frailty curtailed many public appearances. But she remained firmly in control of the monarchy and at the center of national life as Britain celebrated her Platinum Jubilee with days of parties and pageants in June 2022.
The same month she became the second longest-reigning monarch in history, behind 17th-century French King Louis XIV, who took the throne at age 4. On Sept. 6, 2022, she presided at a ceremony at Balmoral Castle to accept the resignation of Boris Johnson as prime minister and appoint Truss as his successor.
When Elizabeth was 21, almost five years before she became queen, she promised the people of Britain and the Commonwealth that "my whole life, whether it be long or short, shall be devoted to your service."
It was a promise she kept across more than seven decades.
Despite Britain's complex and often fraught ties with its former colonies, Elizabeth was widely respected and remained head of state of more than a dozen countries, from Canada to Tuvalu. She headed the 54-nation Commonwealth, built around Britain and its former colonies.
Through countless public events, she probably met more people than anyone in history. Her image, which adorned stamps, coins and banknotes, was among the most reproduced in the world.
But her inner life and opinions remained mostly an enigma. Of her personality, the public saw relatively little. A horse owner, she rarely seemed happier than during the Royal Ascot racing week. She never tired of the companionship of her beloved Welsh corgi dogs.
But in 1936, when she was 10, Edward VIII abdicated to marry twice-divorced American Wallis Simpson, and Elizabeth's father became King George VI.
Princess Margaret recalled asking her sister whether this meant that Elizabeth would one day be queen. "'Yes, I suppose it does,'" Margaret quoted Elizabeth as saying. "She didn't mention it again."
Elizabeth was barely in her teens when Britain went to war with Germany in 1939. While the king and queen stayed at Buckingham Palace during the Blitz and toured the bombed-out neighborhoods of London, Elizabeth and Margaret spent most of the war at Windsor Castle, west of the capital. Even there, 300 bombs fell in an adjacent park, and the princesses spent many nights in an underground shelter.
On the night the war ended in Europe, May 8, 1945, she and Margaret managed to mingle, unrecognized, with celebrating crowds in London — "swept along on a tide of happiness and relief," as she told the BBC decades later, describing it as "one of the most memorable nights of my life."
At Westminster Abbey in November 1947 she married Royal Navy officer Philip Mountbatten, a prince of Greece and Denmark whom she had first met in 1939 when she was 13 and he 18. Postwar Britain was experiencing austerity and rationing, and so street decorations were limited and no public holiday was declared. But the bride was allowed 100 extra ration coupons for her trousseau.
The couple lived for a time in Malta, where Philip was stationed, and Elizabeth enjoyed an almost-normal life as a navy wife. The first of their four children, Prince Charles, was born on Nov. 14, 1948. He was followed by Princess Anne on Aug. 15, 1950, Prince Andrew on Feb. 19, 1960, and Prince Edward on March 10, 1964.
In February 1952, George VI died in his sleep at age 56 after years of ill health. Elizabeth, on a visit to Kenya, was told that she was now queen.
Her private secretary, Martin Charteris, later recalled finding the new monarch at her desk, "sitting erect, no tears, color up a little, fully accepting her destiny."
"In a way, I didn't have an apprenticeship," Elizabeth reflected in a BBC documentary in 1992 that opened a rare view into her emotions. "My father died much too young, and so it was all a very sudden kind of taking on, and making the best job you can."
Her coronation took place more than a year later, a grand spectacle at Westminster Abbey viewed by millions through the still-new medium of television.
Prime Minister Winston Churchill's first reaction to the king's death was to complain that the new queen was "only a child," but he was won over within days and eventually became an ardent admirer.
In Britain's constitutional monarchy, the queen is head of state but has little direct power; in her official actions she does what the government orders. However, she was not without influence. She once reportedly commented that there was nothing she could do legally to block the appointment of a bishop, "but I can always say that I should like more information. That is an indication that the prime minister will not miss."
The extent of the monarch's political influence occasionally sparked speculation — but not much criticism while Elizabeth was alive. The views of Charles, who has expressed strong opinions on everything from architecture to the environment, might prove more contentious.
She was obliged to meet weekly with the prime minister, and they generally found her well-informed, inquisitive and up to date. The one possible exception was Margaret Thatcher, with whom her relations were said to be cool, if not frosty, though neither woman ever commented.
The queen's views in those private meetings became a subject of intense speculation and fertile ground for dramatists like Peter Morgan, author of the play "The Audience" and the hit TV series "The Crown." Those semi-fictionalized accounts were the product of an era of declining deference and rising celebrity, when the royal family's troubles became public property.
And there were plenty of troubles within the family, an institution known as "The Firm." In Elizabeth's first years on the throne, Princess Margaret provoked a national controversy through her romance with a divorced man.
In what the queen called the "annus horribilis" of 1992, her daughter, Princess Anne, was divorced, Prince Charles and Princess Diana separated, and so did Prince Andrew and his wife, Sarah. That was also the year Windsor Castle, a residence she far preferred to Buckingham Palace, was seriously damaged by fire.
The public split of Charles and Diana — "There were three of us in that marriage," Diana said of her husband's relationship with Camilla Parker Bowles — was followed by the shock of Diana's death in a Paris car crash in 1997. For once, the queen appeared out of step with her people.
Amid unprecedented public mourning, Elizabeth's failure to make a public show of grief appeared to many to be unfeeling. After several days, she finally made a televised address to the nation.
The dent in her popularity was brief. She was by now a sort of national grandmother, with a stern gaze and a twinkling smile.
Despite being one of the world's wealthiest people, Elizabeth had a reputation for frugality and common sense. She was known as a monarch who turned off lights in empty rooms, a country woman who didn't flinch from strangling pheasants.
A newspaper reporter who went undercover to work as a palace footman reinforced that down-to-earth image, capturing pictures of the royal Tupperware on the breakfast table and a rubber duck in the bath.
Her sangfroid was not dented when a young man aimed a pistol at her and fired six blanks as she rode by on a horse in 1981, nor when she discovered a disturbed intruder sitting on her bed in Buckingham Palace in 1982.
The image of the queen as an exemplar of ordinary British decency was satirized by the magazine Private Eye, which called her Brenda. Anti-monarchists dubbed her "Mrs. Windsor." But the republican cause gained limited traction while the queen was alive.
On her Golden Jubilee in 2002, she said the country could "look back with measured pride on the history of the last 50 years."
"It has been a pretty remarkable 50 years by any standards," she said in a speech. "There have been ups and downs, but anyone who can remember what things were like after those six long years of war appreciates what immense changes have been achieved since then."
A reassuring presence at home, she was also an emblem of Britain abroad — a form of soft power, consistently respected whatever the vagaries of the country's political leaders on the world stage. It felt only fitting that she attended the opening of the 2012 London Olympics alongside another icon, James Bond. Through some movie magic, she appeared to parachute into the Olympic Stadium.
In 2015, she overtook her great-great-grandmother Queen Victoria's reign of 63 years, seven months and two days to become the longest-serving monarch in British history. She kept working into her 10th decade, though Prince Charles and his elder son, Prince William, increasingly took over the visits, ribbon-cuttings and investitures that form the bulk of royal duties.
The loss of Philip in 2021 was a heavy blow, as she poignantly sat alone at his funeral in the chapel at Windsor Castle because of coronavirus restrictions.
And the family troubles continued. Her son Prince Andrew was entangled in the sordid tale of sex offender businessman Jeffrey Epstein, an American businessman who had been a friend. Andrew denied accusations that he had sex with one of the women who said she was trafficked by Epstein.
The queen's grandson Prince Harry walked away from Britain and his royal duties after marrying American actress Meghan Markle in 2018. He alleged in an interview that some in the family -– but pointedly not the queen -– had been less than welcoming to his wife.
She enjoyed robust health well into her 90s, although she used a cane in an appearance after Philip's death. In October 2021, she spent a night in a London hospital for tests after canceling a trip to Northern Ireland.
A few months later, she told guests at a reception "as you can see, I can't move." The palace, tight-lipped about details, said the queen was experiencing "episodic mobility issues."
She held virtual meetings with diplomats and politicians from Windsor Castle, but public appearances grew rarer. The queen withdrew from fixtures of the royal calendar, including Remembrance Sunday and Commonwealth Day ceremonies, though she attended a memorial service last March for Philip at Westminster Abbey.
Meanwhile, she took steps to prepare for the transition to come. In February, the queen announced that she wanted Charles' wife Camilla to be known as "Queen Consort" when "in the fullness of time" her son became king. It removed a question mark over the role of the woman some blamed for the breakup of Charles' marriage to Princess Diana in the 1990s.
May brought another symbolic moment, when she asked Charles to stand in for her and read the Queen's Speech at the State Opening of Parliament, one of the monarch's most central constitutional duties.
Seven decades after World War II, Elizabeth was again at the center of the national mood amid the uncertainty and loss of COVID 19 — a disease she came through herself in February.
In April 2020 — with the country in lockdown and Prime Minister Boris Johnson hospitalized with the virus — she made a rare video address, urging people to stick together.
She summoned the spirit of World War II, that vital time in her life, and the nation's, by echoing Vera Lynn's wartime anthem "We'll Meet Again."
"We should take comfort that while we may have more still to endure, better days will return. We will be with our friends again. We will be with our families again. We will meet again," she said.