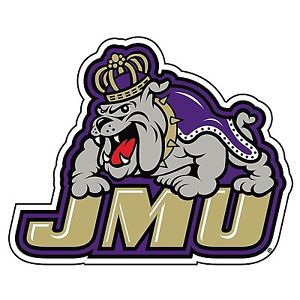 HARRISONBURG, Va. (AP) — Facing its toughest test of the season, and with its offense suddenly struggling, No. 25 James Madison relied on its defense to win for the first time as a ranked team.
Jordan McCloud threw for three touchdowns and ran for another, and the Dukes stretched their winning streak to 11 with a tense 30-27 victory over Old Dominion on Saturday night.
"We didn't get much done on offense in the fourth quarter," Dukes coach Curt Cignetti said. "And the defense really rose to the occasion. So, you know, they were whipping them up front. And that was the key at the end. You know, we relied on our defense and they got it done."
Earlier, McCloud put them in position, hitting Reggie Brown from 49 and 21 yards and Elijah Sarratt from 3 yards for the Dukes (8-0, 5-0 Sun Belt), who led 30-17 and then had to hold on when the Monarchs finally got their running game going and had a chance to go ahead.
"We had to really earn that one, that's for sure," Cignetti said. "So whether you win 73 to 3 or 3 to 2, they all count as one. And, you know, we're getting everybody's best shot."
The Monarchs (4-4, 3-2) ended James Madison's 10-game streak of games holding opponents to fewer than 100 net rushing yards, finishing with 138 on 42 attempts.
Trailing 30-24 early in the fourth quarter, the Monarchs had a first-and-goal from the Dukes 4, but two runs lost 2 yards, and quarterback Grant Wilson barely escaped a sack on third down and threw into the end zone on the run. The ball was caught by a diving Javon Harvey, but he was ruled out bounds and a review confirmed the call. Old Dominion settled for a field goal.
"I just told them we have to go back and you have to invest and use this pain as fuel. It should hurt," Monarchs coach Ricky Rahne said.
The close call almost put the Dukes in danger of a repeat of last season, when they broke into the AP poll at No. 25 and promptly lost their next three games.
Old Dominion also had another chance while trailing 30-27, but on a 4th-and-11 play from the Monarchs 46 with less than two minutes left, Wilson's pass for Isiah Paige over the middle was well defended and fell incomplete.
Wilson was 24 for 34 for 264 yards with touchdowns of 58 yards to Dominic Dutton and 10 yards to Harvey.
McCloud finished 27 for 40 for 340 yards and was intercepted twice. Brown caught nine passes for 143 yards and Sarratt caught eight for 139.
THE TAKEAWAY
Old Dominion: The Monarchs try to speed things up on offense and did it effectively at times, including on their second and third touchdown drives, but JMU came into the game leading the country with an average of 4.86 sacks, and Wilson felt plenty of pressure when ODU was forced to be more deliberate.
James Madison: The Dukes came into the game leading the country in rushing defense, allowing 36 yards per game, and put that dominance on display early before the Monarchs had runs of 12, 11 and 36, 13 and 21 yards on consecutive scoring drives in the third quarter.
UP NEXT
Old Dominion: Hosts Coastal Carolina next Saturday.
James Madison: At Georgia State next Saturday.