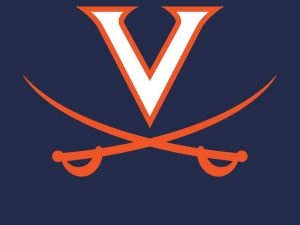 BOSTON (AP) — Liam Connor kicked a 42-yard field goal with 2:11 remaining and Boston College rallied with 20 points in the second half to beat winless Virginia 27-24 on Saturday.
Thomas Castellanos threw for 183 yards and two touchdowns as he and the Eagles (2-3, 1-2 ACC) overcame a dreadful first half and many of their own mistakes to hold off the Cavaliers (0-5, 0-2).
Lewis Bond caught seven passes for 104 yards and a touchdown and Pat Garwo ran for 87 yards and a score for the Eagles, who trailed 21-7 at halftime after gaining just 120 yards of offense in the first two quarters.
"We knew we came out slow. We knew we had to pick it, especially me," Castellanos said.
Castellanos and the offense regrouped in the second half, rushing for 162 yards after gaining only 41 on the ground in the first half. The Eagles scored 17 unanswered points before Virginia briefly tied it on a field goal with 7:10 left to play.
Tony Muskett returned from a shoulder injury and threw for 247 yards and three scores, including a 39-yard heave to the end zone where Malachi Fields leaped between two defenders and grabbed the ball for a Virginia touchdown.
Muskett finished 22 of 34 with one interception. He was also sacked five time as Boston College's defense helped overcome the Eagles' offensive woes, holding Virginia to 46 yards of offense in the second half.
The Eagles took their first lead on a 33-yard touchdown pass from Castellanos to Bond with 1:04 left in the third quarter. Bond was already outside two defensive backs when he caught the ball in the flat and turned upfield with nobody to touch him.
Bond also helped set up the Eagles' first touchdown with a 34-yard reception, breaking through twice after the Cavaliers appeared to have him stopped before finally getting him out of bounds at the 6 late in the second quarter.
"I feel like I have to break those tackles in order to stay on the field because that's what I bring to the team," said Bond, who had career highs in catches and yards.
UVA outgained BC 267 yards to 120 in the first half and forced two turnovers, both interceptions on passes from Castellanos. Josh Ahern caught the second and returned it 17 yards to the Boston College 37-yard line, helping set up an 18-yard touchdown pass from Muskett to Washington that put the Cavaliers up 14-0 early in the second quarter.
"You can't take your foot off the gas. You can't become complacent," Virginia coach Tony Elliott said.
SCARY MOMENT
The game was interrupted for about 10 minutes early in the fourth quarter after Boston College receiver Ryan O'Keefe collided helmet-to-helmet with Virginia defensive back Malcom Greene. O'Keefe gave a thumbs-up just before the gurney he was strapped to reached the tunnel after spending about 10 minutes motionless on the field. Boston College said O'Keefe was taken to Massachusetts General Hospital with a neck injury but there were no further updates.
SLOW STARTERS
Boston College's offense started slowly once again, a trend players said needs to stop. The Eagles' first touchdown on Saturday capped a 65-yard scoring drive, which accounted for more than half of their 120 yards of offense in the first two quarters.
"I feel like we could be such a great offense but we just shoot ourselves in the foot so much. It's something that we've just got to keep working through," Bond said. "As you can see, when we're on we're on. We just can't take that long to get on."
THE TAKEAWAY
Virginia: The Cavaliers dominated much of the first half behind Muskett, who missed the previous three weeks with a shoulder injury suffered in the season opener against Tennessee. But the Cavs' offense struggled through the second half and had no rushing threat, gaining just 59 yards on 29 attempts.
Boston College: The Eagles hurt themselves with turnovers, two interceptions in the first half and two fumbles in the second half that allowed Virginia to stay close. The injury to O'Keefe could also be costly.
UP NEXT
Virginia: Hosts William and Mary next Saturday.
Boston College: Visits Army next Saturday.
by Taboola
Suggested For You