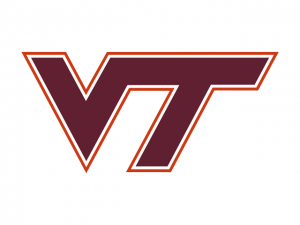 BLACKSBURG, Va. (AP) — Kyron Drones threw three touchdowns passes and rushed for two more scores to lead Virginia Tech to a 38-21 victory over Pittsburgh on Saturday night.
Drones completed 12 of 19 passes for a career-high 228 yards and rushed for 41 yards for the Hokies (2-3, 1-0 Atlantic Coast Conference), who snapped a three-game losing streak and halted a three-game skid to the Panthers. Virginia Tech also ended a nine-game losing streak to Power 5 opponents.
"We've battled each and every week and fought back in games," Virginia Tech coach Brent Pry said. "We've been there. It's a group that understands. We talked a lot this week about making our plays in the moment and doing the job that we can do. It doesn't have to be a magic show. Just do your job and the plays will come, and I think they did that tonight."
The Hokies scored two touchdowns in the second quarter to break a 7-all tie and never trailed after that. Drones scored on a 2-yard run with 13:07 left in the first half and then threw a 12-yard touchdown pass to Bhayshul Tuten with 21 seconds left in the half to give the Hokies a 21-7 lead.
Tuten rushed for 109 yards for Virginia Tech, which finished with 427 yards of offense.
Phil Jurkovec threw for 235 yards and two touchdowns to lead the Panthers (1-4, 0-2), who have lost four straight. He completed just 11 of 22 passes, was sacked four times, and fumbled.
"They made more plays than we did," Pittsburgh coach Pat Narduzzi said. "We didn't make enough plays today. … We'll evaluate where we are. We've got an open week to check it out, but it's not up to the Pitt standards, (or) my standards. Just extremely disappointed in the effort today."
TAKEAWAYS
Pittsburgh: Missing three starters on the offensive line because of injuries, the Panthers couldn't run the ball against one of the ACC's worst rush defenses — the Hokies were 13th in the league, allowing 212.5 yards per game. The Panthers, who rushed for just 38 yards, need to find some answers on offense during an upcoming bye week, especially with a tough late-season schedule looming.
"Offensively, we didn't do anything," Narduzzi said. "We had two explosive plays, but other than that, I didn't feel it at all. We'll gather in the open week, do a major self-scout, figure out where we are and what we have to do to right the ship."
Virginia Tech: The Hokies' offense has been sputtering all season and for much of coach Brent Pry's tenure but ran on all cylinders against Pittsburgh. The Hokies amassed more than 400 yards for just the third time in Pry's 16 games as the coach.
TOUGH START
Pittsburgh had suffered just one losing season in Narduzzi's prior eight seasons at the helm, but the Panthers are off to their worst start since he became the coach before the 2015 season. In 2017, they started the season 1-3 and finished 5-7. He said the team's current situation marked the biggest challenge of his career.
"No question about it," he said. "There's no doubt about it. We haven't been in this position. Every week is a challenge. We've just got to take it. It's what we did. It's how we're playing right now."
BIG PLAY JAY
Pittsburgh cut Virginia Tech's lead to 28-21 late in the third quarter on a fumble return for a touchdown and had momentum, but the Hokies came up with their biggest play of the game when Drones found Jaylin Lane for a 53-yard touchdown with 3:27 left in the third. That pushed the Hokies' lead to 35-21, and they never looked back.
"It was great to see Jay make that play," Pry said. "And boy, that was timely. We had some adversity hit. Kyron stepped up and delivered the ball. I don't know what the issue was with the coverage, but he (Lane) was pretty wide open, and he knew what to do with it. That was a big play in the game."
UP NEXT
Pittsburgh: The Panthers host Louisville on Oct. 14.
Virginia Tech: The Hokies play at Florida State on Saturday.