Across Virginia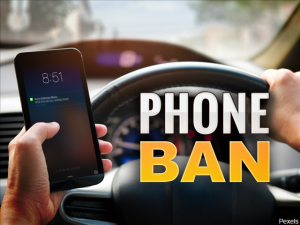 RICHMOND, Va. (AP) – Virginia Gov. Ralph Northam is trying to revive an effort to ban motorists from holding cellphones while driving. Northam announced Tuesday he's adding a proposed amendment to legislation that would bar drivers from holding a cellphone while driving in a highway work zone. The governor's amendment would broaden the ban to all roads in Virginia. Lawmakers in the House and Senate both passed a version of a "hands-free driving" bill earlier this year but could not agree on compromise language in a final product. The legislature will return April 3 to take up Northam's vetoes and amendments. State law already makes it illegal to text or email on a cellphone while driving.
State wildlife officials are hopeful a relatively new pair of peregrine falcons will take up nesting atop a downtown Richmond building where a webcam is positioned. But even if they do not, the bird's resurgence in Virginia is a story in its own right. WFIR's Evan Jones has more:
Click here to see the DGIF peregrine falcon Richmond webcam.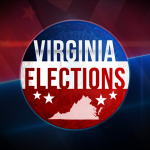 Roanoke County Elections officials are working to reduce the lines at some of the busiest voting precincts — but they need more workers to accomplish that. So they are looking for more elections officers. Among the requirements: you must be a registered voter and be able to work a long day. More from WFIR's Evan Jones:
03-25 Election Officers Wrap-WEB
Click here for full information from Roanoke County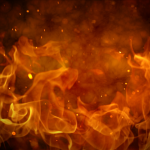 From the National Weather Service: Special Weather Statement For Increased Fire Danger.  Carroll-Floyd-Roanoke-Patrick-Franklin Counties, including the cities of Galax, Floyd, Roanoke,
Strong winds, coupled with low humidity, will pose an increased risk of brush fires this afternoon and evening. The driest conditions are expected along and just east of the Blue Ridge Parkway from Roanoke Virginia, into portions of western North Carolina. A wind advisory is also in effect for wind gusts of 35 to 50 mph, so if new fire starts occur, they will be hard to control. Burning of any type is discouraged today, even during the evening. A strong cold front is expected to cross the area this evening which will enhance the winds through the late evening hours.
This special weather statement targets areas which have received little or no precipitation for the last 5 days. Wetting rain has fallen east of Highway 220 in both Virginia and North Carolina
which will help mitigate fire danger in the central and eastern parts of the Mid-Atlantic. The mountains, west of the Blue Ridge have received little or no precipitation, however cloud cover, in
addition to cooler temperatures and higher humidity, should help limit fire concerns for the High Country of North Carolina, and the Highlands of Virginia and West Virginia.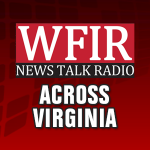 RICHMOND, Va. (AP) _ A recent state report has found that Virginia's pension fund is in a worse position to handle a market meltdown than it was before the Great Recession. That's despite a 10-year bull market and pension reform efforts by lawmakers to make the fund more resilient. The Virginia Retirement System's recent "stress test" predicts that a market crash or several years of lower-than-expected returns would add billions to the plan's current unfunded liabilities. The impact of such hits would leave lawmakers with limited and painful options, like slashing services or raising taxes to meet required contribution levels or underfunding the pension plan and leaving higher costs for future generations to pay off.
If you are heading north this afternoon from Roanoke or Lynchburg toward Charlottesville, be advised it has been snowing in some higher elevations, including those around Wintergreen Resort and Afton Mountain.   There is accumulating snow in places, and visibility is quite limited as well.
From the National Weather Service:
Winter Storm Warning
Areas Affected: Central Virginia Blue Ridge; Northern Virginia Blue Ridge
NWS Baltimore/Washington (Washington D.C., Central Maryland, Northern Virginia, Eastern West Virginia)
…WINTER STORM WARNING IN EFFECT UNTIL 10 PM EDT THIS EVENING…
* WHAT…Heavy snow. Additional snow accumulations of up to six inches.
* WHERE…Northern Virginia Blue Ridge and Central Virginia Blue Ridge.
* WHEN…Until 10 PM EDT this evening.
* ADDITIONAL DETAILS…Plan on slippery road conditions. The hazardous conditions could impact the evening commute.
A Winter Storm Warning for snow means severe winter weather conditions will make travel very hazardous or impossible. If you must travel, keep an extra flashlight, food and water in your vehicle in case of an emergency. When venturing outside, watch your first few steps taken on steps, sidewalks, and driveways, which could be icy and slippery, increasing your risk of a fall and injury.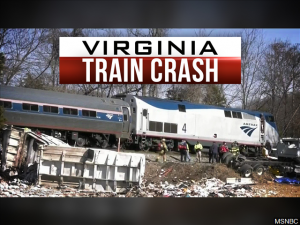 CROZET, Va. (AP) – Federal investigators say a trash truck driver was likely under the influence of marijuana and anti-seizure medication when his vehicle was struck by an Amtrak train carrying Republican lawmakers in Virginia last year. The National Transportation Safety Board issued its final report on the accident Thursday. The crash killed a passenger in the truck and injured a congressman and others on the train. The NTSB said the probable cause was the truck driver's decision to enter a railroad crossing with the gates down and his inaction after encountering obstacles on the tracks. The NTSB said his decisions were "most likely due to his impairment." The driver was charged locally on involuntary manslaughter and DUI. A judge threw out blood evidence. A jury acquitted the driver of manslaughter last month.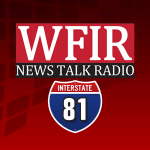 A Giles County school bus carrying Narrows High School students to a band competition ran into the back of a tractor-trailer this morning on Interstate 81 near Bristol. State Police say three students were taken to a nearby hospital for treatment as a precaution – no serious injuries reported. State Police have charged the bus diver with following too closely.
From State Police: At 10 a.m., Virginia State Police Trooper B.S. Davis responded to a two-vehicle crash on Interstate 81 at the 12 mile marker in Washington County. Traffic in the southbound travel lanes of I-81 had slowed when a Giles County Public Schools bus failed to slow down in time and rear-ended the truck in front of it. Eight of high school students on board the school bus complained of minor injuries. Five were treated by medics at the scene. Three were transported to Bristol Regional Medical Center as a precautionary measure. A Washington County Public Schools bus responded to the scene to transport the remaining students off the interstate. The driver of the school bus, Jonathan M. Spade, 40, of Pearisburg, Va., was wearing a seat belt and was not injured in the crash. Spade was issued a traffic summons for following too closely. The drive of the truck, a 63-year-old Roanoke man, was not injured in the crash. The crash remains under investigation.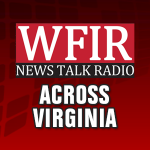 VIRGINIA BEACH, Va. (AP) – Authorities in Virginia say a Virginia Beach woman has once again been found to be in possession of dozens of dead animals. The Virginian-Pilot reports authorities responding to the home Monday found more than 100 dead animals, 24 live cats and a live dog. Animal Control Supervisor Meghan Conti says the dead animals had been stored in freezers or in a plastic container in the garage, where they decomposed beyond recognition. This isn't the first time so many dead creatures were found at a home belonging to Lisa D. Ross, who wasn't immediately reached for comment. In 2009, Ross' son was linked to a plot to kill high school students. Authorities searching her home for weapons found 120 cats, half were dead. Similar discoveries happened again in 2012 and 2013.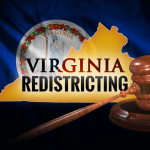 Virginia Democratic and Republican leaders must now wait for a Supreme Court decision on whether 11 House of Delegates districts shall be redrawn for the November elections. That decision could have a major impact on which party controls the House next year. WFIR's Evan Jones has more.