Evan Jones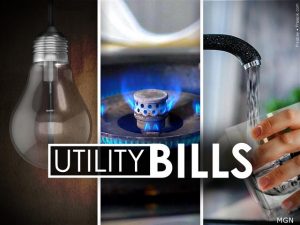 It may not be very cold outside right now, but the home heating season is not all that far away, and if you heat with natural gas, be prepared to see noticeably higher bills this winter. At Roanoke Gas Company, President and CEO Paul Nester says early estimates project overall rates rising 20% per cent over last winter. The main reasons include higher prices for natural gas supplies, lower national inventories, and significant continuing hurricane impacts. WFIR's Evan Jones has more:
Spot market prices for natural gas are about double what they were last winter. Nester says thanks to large hedge purchases some time ago, RGC's cost will be about 50% more than a year ago, increases that are passed directly to customers. However, overall home bills are expected to be less than that — about 20% higher — because the cost of natural gas is just one component of your overall bill.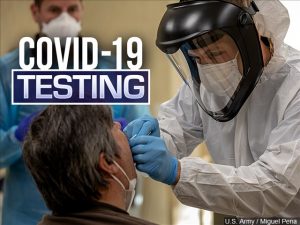 New drive-through COVID testing sites begin operating Tuesday in the Roanoke Valley in efforts to help slow the spread — and its impacts on health care providers. With local cases surging, and more COVID patients requiring treatment, the Virginia Department of Health hopes more drive-through testing will catch more cases more quickly. The drive-through COVID testing is set for Tuesdays at the Salem Civic Center, 4:00 to 7:00 pm. That begins Tuesday, and starting next week at Fincastle Baptist Church, every other Monday from 3:00 to 6:00 pm. More from WFIR's Evan Jones:
NEWS RELEASE: (ROANOKE, VA) – As demand for COVID testing has continued to increase, Roanoke City and Alleghany Health Districts (RCAHD) has worked with the Central Office of the Virginia Department of Health (VDH) to identify opportunities to offer free COVID-19 testing at select locations over the next several weeks.
In the past week, as RCAHD has continued to see a surge in local COVID-19 cases, emergency departments and urgent care centers have been challenged to meet the demand for testing while trying to serve residents who need medical attention. All counties in Virginia are currently at a high level of transmission of COVID-19.
"We hope that these sites will supplement the network of existing testing sites, including pharmacies and doctor's offices, to help address the recent surge in demand for testing," said Mary Kate Bowser, DNP, RCAHD Nurse Manager.
"We have worked to provide these additional testing locations to accommodate our residents and to help our hospital emergency rooms, urgent care centers, and rescue squads focus on the care of people who are ill." said Bowser.
The new drive-thru community testing sites which can accommodate 100 people per event will be held beginning on Tuesday, September 14 at:
Salem Civic Center Parking Lot A on Tuesdays: 9/14, 9/21, 9/28, 10/5 and 10/12 from 4-7pm.
Dabney S Lancaster Community College on Thursdays: 9/16, 9/30, 10/14 and 10/28 from 4-7pm.
Fincastle Baptist Church on Mondays: 9/20, 10/4 and 10/18 from 3-6pm.
Additional local sites will be added as locations are secured. For an up-to-date list of all testing locations, visit https://www.vdh.virginia.gov/coronavirus/covid-19-testing-sites/.
While vaccination is the most effective strategy to end the pandemic, testing remains an important tool to help identify and monitor trends in COVID-19 infection. VDH recommends that the following people be tested for COVID-19:
People with symptoms or signs of COVID-19, regardless of vaccination status.
People who have been referred for COVID-19 testing by their healthcare provider or the state/local health department.
Most people who have had close contact with someone known or suspected to have COVID-19.

Fully vaccinated people should be tested 3-5 days following a known exposure to someone with suspected or confirmed COVID-19, even if you don't have symptoms.
People who are not fully vaccinated should be tested immediately after an exposure and again at 5-7 days following exposure if the first test is negative.
People who tested positive for COVID-19 within the past 3 months and recovered do not need to get tested after exposure as long as they do not have symptoms.

People who participate in activities that are higher risk for COVID-19 exposure (e.g., travel, attending large events where social distancing is not possible, or being in crowded indoor settings).
People who plan to travel or who have recently returned from travel, with some exceptions for fully vaccinated people.
People who are not fully vaccinated and who plan to visit people at high risk of developing severe COVID-19.
For more information about COVID-19 testing call (877) 829-4682, 8 a.m.-6 p.m., Monday-Saturday.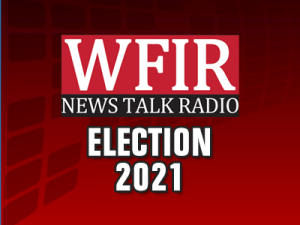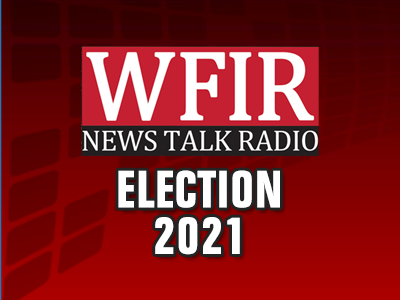 In case you are wondering how close we might be to election day, consider this: in-person early voting begins a week from tomorrow in Virginia, and area elections officials are already sending out ballots. Many of the voting procedures adopted for the first time in Virginia last year remain the same this time around; they include providing more than six weeks of early voting to all voters. You can request a ballot on line or in person at your city or county's voter registration office. Elections officials expect a busy turnout through November 2nd, as WFIR's Evan Jones reports: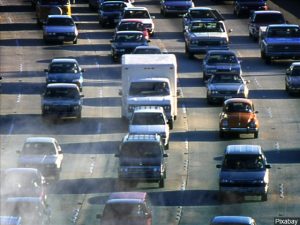 If you lease a vehicle — and your lease is coming to an end — you may have an unusual opportunity to sell it at a sizable profit. Thanks to the unexpected surge in used car prices, many leased vehicles are now worth far more than their predicted value when the lease was written, on average more than 31% higher, everything from subcompact sedans to muscle cars. It means you may have the option to purchase your end-of-of lease vehicle at the previously-agreed-to price, then resell it for thousands of dollars more, often many thousands. More from WFIR's Evan Jones:
Click here to read the full iSeeCars.com report.
Leased Cars to Buy Back and Sell for the Highest Profit  – iSeeCars Study

Rank

Vehicle

$ Market Value Increase Over Predicted Value

% Market Value Increase Over Predicted Value

1

Volkswagen Tiguan

$8,677

61.3%

2

Dodge Charger

$11,806

55.9%

3

Chevrolet Camaro

$12,346

52.9%

4

Nissan Altima

$6,228

49.4%

5

Volkswagen Passat

$6,400

49.3%

6

Chrysler 300

$8,084

49.2%

7

Nissan LEAF

$6,167

48.3%

8

Chevrolet Malibu

$6,392

48.2%

9

Hyundai Elantra

$5,319

47.9%

10

Mazda MAZDA6

$7,193

46.8%

11

Kia Forte

$4,913

46.7%

12

Jeep Compass

$7,163

46.4%

13

Jeep Cherokee

$7,418

46.3%

14

Nissan Versa

$3,961

46.1%

15

Ford Expedition

$15,830

45.8%

Overall Average

$7,019

31.5%
UPDATE: The National Park Service says Jennifer Coleman was found dead Sunday. Click here for the latest.
A 34-year-old woman who grew up in Roanoke is missing in Montana's Glacier National Park. The park's Twitter account says Jennifer Coleman was believed to be hiking Monday or Tuesday in Glacier when she was last heard from. Her car was later found at a trailhead, and her belongings were discovered undisturbed at her campsite.
Jennifer Coleman attended high school at North Cross School and graduated from Virginia Tech before earning a law degree at the University of Richmond. Coleman's LinkedIn profile says she is a Director of Compliance and Enforcement at the Virginia Department of Health. On-line records say Coleman's parents live in the Hidden Valley area of Roanoke County. Her father is listed as Treasurer of the Aware Foundation of Virginia, and its Facebook page says park rangers and a helicopter are searching for Jennifer.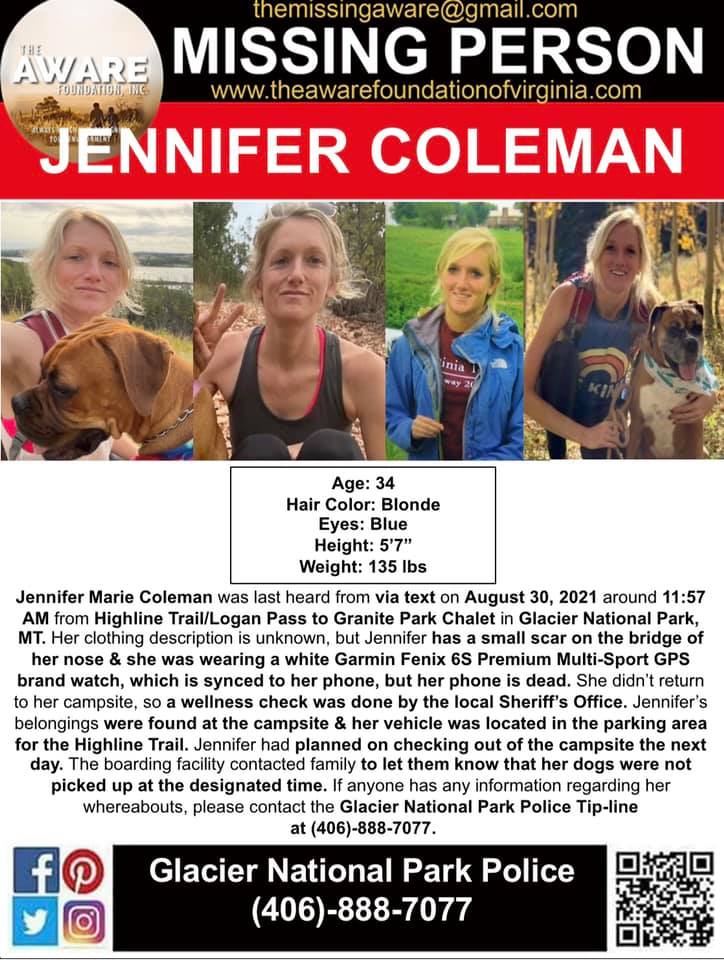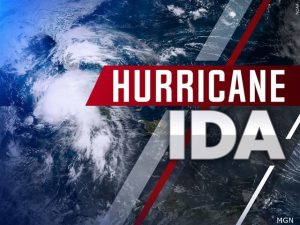 Don't expect any major price spikes, but at a time when gas prices tend to start falling, some after-effects of Hurricane Ida may boost them for a few weeks. Ida reached Category 4 strength as it barreled across some of the main oil refining centers of the country. AAA Mid-Atlantic Spokesperson Morgan Dean says 13% of U.S. refining capacity is currently off-line, and as a result, he says, gas prices are likely to fluctuate for a while, because storms this strong historically create refining issues that can last for weeks. WFIR's Evan Jones has more: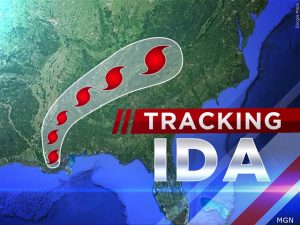 A flash flood watch is in effect as the remnants of Hurricane Ida are heading our way, and periods of heavy rain seem all but certain. Minor flooding appears possible, but major disruptions appear unlikely. Longtime Roanoke Valley residents have no trouble recalling the catastrophic flooding Hurricane Juan created in 1985, but WDBJ-7 Meteorologist Leo Hirsbrunner says what's left of Ida is likely to pass through relatively quickly, so even torrential downpours are unlikely to lead to widespread problems. WFIR's Evan Jones has more:
FROM THE NATIONAL WEATHER SERVICE:
The Flash Flood Watch continues through Wednesday evening for portions of North Carolina, Virginia and southeast West Virginia,   including the following areas, in North Carolina, Alleghany NC,   Ashe, Stokes, Surry, Watauga, Wilkes and Yadkin. In Virginia,   Alleghany VA, Amherst, Bath, Bedford, Bland, Botetourt, Carroll,   Craig, Floyd, Franklin, Giles, Grayson, Montgomery, Patrick, Pulaski, Roanoke, Rockbridge, Smyth, Tazewell and Wythe. In   southeast West Virginia, Eastern Greenbrier, Mercer, Monroe, Summers and Western Greenbrier.
Widespread heavy rain is expected first with the spiral bands of showers and scattered thunderstorms this afternoon and evening,  then transition to a steadier moderate to occasionally heavy  rainfall tonight into Wednesday. Rainfall amounts of 1 to 3 inches   will be common, with locally heavier amounts of 2 to 5 inches   possible where any rain bands set up and persist over a particular   area. Localized thunderstorms could also result in high rainfall rates.
Minor flooding is expected which will impact low-lying,   poor drainage, and typically flood prone areas. Small creeks and   streams will likely rise out of their banks and flood adjacent areas. Landslides and mudslides will also be possible in   areas of steeper terrain closer to the Blue Ridge. Some roads and   highways could become impassable as a result of mudslides and/or stream and creek flooding.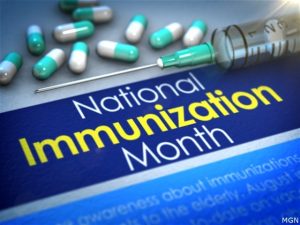 State health officials say the numbers of childhood vaccines being administered in Virginia has fallen significantly in the last year and a half, and they urge parents to get their children immunized, especially as a new school year begins. WFIR's Evan Jones has more. Everyone seems to agree on the reason for the lower numbers: with many children not at school for much or all of the last 18 months, childhood vaccinations took a back burner in many homes. Some speakers at a National Immunization Month event in Richmond acknowledged that the mistrust over COVID vaccines that has developed in some quarters over the last has spilled over to childhood immunizations. More from WFIR's Evan Jones: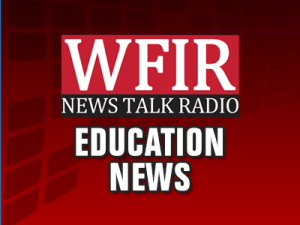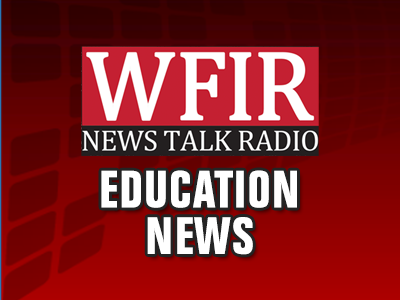 Virginia's statewide SOL tests results  took a nosedive this spring. State education officials say it was an anticipated result that reflects upheavals COVID-19 had on classroom learning. There were no SOL tests given last year, but since the last ones two years ago, math pass rates fell from 82% to 54%. Reading dropped from 78% to  69% percent., and science pass rates also fell from 81% to 59%.
Math pass rates in Roanoke City fell even more than statewide — from 78% 40%. In Roanoke County, the drop was less precipitous — 89% to 71%.
Delegate Christ Hurst is one of six Democrats that a national Republican group is targeting in hopes of regaining control in the House of Delegates. The Republican State Leadership committee is already running ads aimed at unseating Hurst in the 12th District which covers much of the New River Valley. Our political analyst says the district is likely to see among the most active delegate campaigns into November, as WFIR's Evan Jones reports: