Evan Jones
State Police say a Rocky Mount man lost his life when his car left Hardy Road in Franklin County, struck a guard rail and overturned. It happened Friday night near Middle Valley Road. Troopers say 28-year-old Timothy Muterspaugh II died at the scene.
NEWS RELEASE: Virginia State Police Trooper J.D. Cockerham is investigating a motor vehicle crash which resulted in a fatality. The crash occurred Friday, (Aug 16) at 10:14 p.m. on Route 636, one tenth of a mile east of Route 677 in Franklin County. A 1998 Buick Le Sabre was traveling west on Route 636, when the vehicle ran off the right side of the roadway, struck the guardrail and overturned. The driver of the Buick was identified as Timothy Ray Muterspaugh, II, 28, of Rocky Mount, Va. Mr. Muterspaugh was wearing his seatbelt and died at the scene. The crash remains under investigation.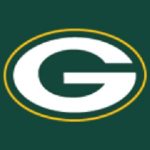 The new synthetic turf field going in right now at Glenvar High School will benefit much more than the school's football program. Roanoke County School Board Chair Don Butzer says muddy conditions and concerns over player safety limited the old Glenvar field's use for soccer. The old track was asphalt; Butzer says it hasn't hosted any competition in more than a decade, and the new one, he says, can host both dual and regional meets. WFIR's Evan Jones has more: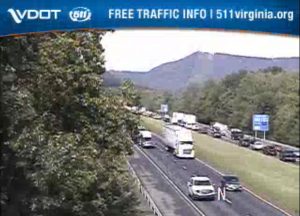 UPDATE: As of 5:00 pm, VDOT reports eight miles of northbound backups through the Roanoke Valley from Wildwood Road to Hollins, and three miles of southbound delays in the Cloverdale area.
PREVIOUS: Accidents are creating Friday afternoon delays in both directions on Interstate 81 between I-581 and Cloverdale. On the northbound side, the accident is at Milemarker 145 before you reach the Hollins exist. VDOT reports on lane is closed, and its cameras should very slow northbound going.
There is a similar story on the southbound side between the Cloverdale and Hollins exits, the result of an accident at milemarker 149. We can see the backups in that direction beginning before you get to Cloverdale.
A Martinsville man faces murder charges after reporting that his wife had committed suicide. Police say the call came Monday, and further investigation determined the shooting death of Amber Ives was a homicide, not self-inflicted. 25-year-old David Ives was arrested yesterday; he faces murder and firearms charges.
NEWS RELEASE: David Dillon Ives (DOB: 11/14/1993) was arrested on 8/15/2019 for the murder of his wife, Amber Ives. David Ives has been charged with 2nd Degree Murder, use of a firearm in committing a felony, discharging a firearm within an occupied dwelling, and reckless handling of a firearm. He is currently being held without bond.
On 8/12/19 Martinsville Officers responded to a reported suicide at 735 Onieda Street. Upon arrival, the officers found Amber Ives, age 25, with an injury consistent with a gunshot wound. The victim did not survive the injury and was pronounced dead at the scene. Information and evidence collected at the scene by officers and results from the medical examiner's office determined that the case was not a suicide but a homicide. Further information obtained during the investigation by the Martinsville Police Department and the Virginia State Police resulted in charges against David Ives.
Although an arrest has been made, the investigation is ongoing and no further information will be released at this time. If anyone has any information regarding this crime, contact Sergeant Richard Ratcliffe at 276-403-5331 or Crime Stoppers at 276-63-CRIME.
From the Franklin County Sheriff's Office:  On August 15, 2019, shortly after 7:00 AM, security personnel with Mountain Valley Pipeline contacted the Communications Center for the Franklin County Sheriff's Office in reference to two protestors that were chained to a piece of equipment near Wades Gap Road in Callaway. The caller reported an additional 4-5 people standing in the roadway that were protesting. Deputies responded to the scene to verify that everyone was okay. The Virginia State Police responded to the scene as well. The protestors on the roadway were asked to leave and obtain a demonstration permit. These protestors left the scene without incident.
The protestors chained to the equipment appeared fatigued so deputies called in the Franklin County Department of Public Safety to assess the subjects for any medical issues. VSP responded to the scene with a specialized team trained to remove protestors from the equipment safely. The protestors were removed from the equipment without incident. Both protestors have been arrested and charged with trespassing and tampering with a vehicle. 27-year-old Melissa M. Dubois of Worcester, MA was released on a $1,500.00 bond, and 19-year-old Amory L. Zhou-Kourvo of Ann Arbor, MI  is currently being held without bond.
The muddy Friday nights are over for Glenvar High School football. Installation of a new synthetic turf is well under way.  The field also has a new track around it, and it will all be dedicated two weeks from tonight ahead of the Highlanders' home opener. WFIR's Evan Jones has more: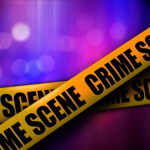 Roanoke City Police say officers responded last night to a "person down" call to find a man with severe injuries to his face. It happened along the 800-block of Tazewell Avenue Southeast. The victim is under hospital treatment; his name or current condition not currently released.
NEWS RELEASE: On August 14, 2019 right before 7:30 pm, Roanoke Police were dispatched to the 800 block of Tazwell Ave SE in reference to a person down. Responding officers located an adult male with severe injuries to his face. The victim was transported to Carilion Roanoke Memorial Hospital by Roanoke Fire-EMS for treatment. No arrests have been made regarding this incident. The investigation is ongoing. Anyone with information about this incident is asked to call (540)344-8500 and share what you know. You can also text us at 274637; please begin the text with "RoanokePD" to ensure it's properly sent. Please reference case 19-086218. Both calls and texts can remain anonymous.
(A previous version of this story incorrectly connected this incident to an update to a shooting death in southwest Roanoke. As of Friday morning, August 16, police have not released any updates regarding this incident.)
Roanoke County Fire and Rescue personnel were called out to the McAfee Knob Trail last night to help three lost hikers – and two dogs with them – to safely return to their vehicles. The rescue personnel used utility vehicles to help their effort. There were no injuries reported.
From Roanoke County Fire and Rescue: Last night career and volunteer staff from stations 9 (Fort Lewis) and 10 (Masons Cove) responded with Utility Vehicles to McAfee Knob trail to assist 3 lost hikers and 2 dogs with getting back off the trail. All were returned safely to their vehicles with no injuries. Please remember to hike safely on the trails in our area and prepare for the hike before you go.
The organization that gives away a new car to a high school student each year needs a new funding source to continue the program — and it needs on-line votes in efforts to obtain a $25,000 grant. More from WFIR's Evan Jones.
Becky Parr with YOVASO joined the Roanoke Valley's Morning News Wednesday to talk about the program and the on-line voting. Here is the full conversation:
Click here to vote for this program. You may do so up to 10 times a day, and the deadline to do so is midnight August 23.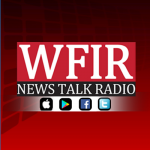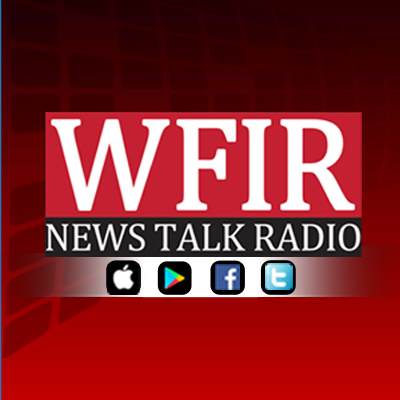 A Roanoke woman is now charged with involuntary manslaughter for an April chain reaction accident that killed a Christiansburg motorcyclist. Roanoke County Police say 23-year-old Sierra Meador was driving a car on US 11/460 between Glenvar and Ellison that rear-ended an SUV, one that in turn rear-ended a motorcycle operated by 54-year-old Kevin Hall, who died in the accident.