Evan Jones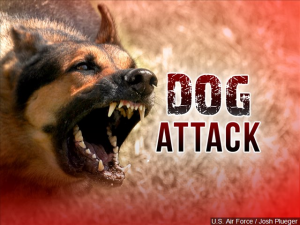 A Bedford County mother and adult daughter were severely injured when a dog attacked them. The sheriff's office says it happened today along Falling Creek Road several miles southeast of Bedford, and when deputies arrived, the two victims were lying on the ground with the dog circling them. Under the circumstances, a deputy felt lives were in imminent danger and shot the dog. A 43-year-old victim was airlifted for hospital treatment, her 24-year-old daughter taken by ambulance. The sheriff's office says deputies found two small children unharmed in a nearby car.
From the Bedford County Sheriff's Office: At 2:50 p.m. today Bedford County 911 received a call from the 8800 block of Falling Creek Road from a female reporting that she and her mother were being attached by her dog and needed help fast. Bedford County Sheriff's deputies arrived on the scene at 2:59 p.m. and found both mother, age 43, and daughter, age 24, had severe injuries as a result of the dog attack. Both women were lying on the ground and the dog was circling them. Deputies also found two small children in a car unharmed. Due to the extensive injuries of the victims and imminent danger a deputy was forced to dispatch the dog. The mother was transported to the hospital by air and the daughter was transported by ambulance. Deputies transported the dog's remains to the Bedford County Health Department for testing.
Police in Buena Vista are asking for help in finding a 13-year-old girl missing since late Sunday night. Police say Brooklyn Hoyle left her home at that time and has not been since.
News release: The Buena Vista Police Department needs your assistance in locating the following juvenile who left her home on Sunday, April 21st at approximately 11:00 pm: Brooklyn Lashae Hoyle – Age 13. Anyone having any information is asked to call the Buena Vista Police Department at 540-261-6171.
All lanes are open again on US 220 north of Fincastle in Botetourt County, more than two months after a fiery tanker truck accident forced the closure of the northbound lanes and disrupted traffic patterns while major repairs were underway. VDOT says there may be some southbound lane closures this week for paving and line marking, but again, all lanes are now open.
As for the repair cost, that is expected to top $1 million, and VDOT does not expect to bear the final expense. More from WFIR's Evan Jones.
From VDOT: Route 220 in Botetourt County just north of Fincastle has been restored to a four-lane road as work to repair damage from an overturned tanker fire that occurred on February 20 is nearing completion. Two lanes of Route 220 in each direction are now open. Weather permitting, drivers on southbound Route 220 should expect some additional lane closures during daytime hours for paving and line marking this week. Work has been ongoing since February to replace a section of pipe that was destroyed and rebuild the northbound lanes of Route 220. Traffic previously had been shifted into a two-way pattern using the southbound lanes of Route 220.
Efforts continue to extend passenger rail from Roanoke to the New River Valley, and State Senator John Edwards sounds optimistic in can happen. One factor that he believes can help extend it to Christiansburg is the alliance between Virginia Tech and that big new Amazon headquarters complex planned for Alexandria, which already has a station along that route. WFIR's Evan Jones has more:
News release: The Roanoke Police Department is asking for your help identifying the people in this picture. We believe they are connected to a case involving the fraudulent use of a deceased victim's credit card account. This investigation is multi-jurisdictional, and your help is needed to further this investigation. If you have any information please call (540) 344-8500 and reference case number 19-005933. You can also text us at 274637; please begin text with "RoanokePD" to ensure it's properly sent. Both calls and texts can remain anonymous.
UPDATE: All accidents have been cleared, all lanes are open, but there are some leftover delays.
PREVIOUS: We've had northbound traffic problems all afternoon on I-81, and we have a new one in the Hollins area — a tractor trailer accident at milemarker 146. The left lane is closed there, and one car that appears to be involved can be seen in the median. Northbound delays are quickly growing and now extend at least six miles back to Thompson Memorial Drive.
PREVIOUS: VDOT reports a northbound accident at milemarker 121 has been cleared. Its traffic cams show northbound traffic starting to move again in the area, but some residual backups remain for several miles.  Cleanup operations continue, meanwhile, six miles back at milemarker 115 between Radford and Christiansburg; VDOT reports one northbound  lane is blocked there, creating additional backups of  two miles. There is is the likelihood as well for heavy traffic on US 11/460 from I-81 to the Shawsville and Dixie Caverns areas.
Congressman Morgan Griffith says the Mueller report finds no Trump campaign collusion with Russia — and the president's frustration with the investigation did not stop the probe. Griffith says the issue is resolved, and it is time to close this chapter. Republican colleague Denver Riggleman agrees. He says Attorney General William Barr did the right thing in redacting not just grand jury testimony from the public report, but also data like records of telephone calls made. WFIR's Evan Jones has more:
04-19 Riggleman-Griffith Wrap2-WEB
5th District Congressman Denver Riggleman is praising the manner in which Attorney General William Barr managed the release of Special Counsel Mueller's report. Barr held a news conference this morning before making the report public. Riggleman says many Democrats would have been critical of the way that was handled no matter what Barr did or did not do — and he was critical of  much of the national media's response:
Democratic leaders in Congress say Barr should have released the report to them and to the public before holding today's news conference.
Riggleman says he hopes Congress might now turn its attention away from all things Trump and more toward legislating:
He says while it will likely remain difficult to pass any major legislation, he is more hopeful that more targeted bills might see action on matters that include addressing opioid addiction and increasing rural broadband access.
Democratic Senator Mark Warner says Attorney General William Barr "fundamentally mischaracterized" Special Counsel Robert Mueller's findings when Barr conducted a news conference before the releasing the report. Warner says it is essential that Congress hear directly from Mueller himself. Here is Warner's full statement:
"We have received the redacted version of the Special Counsel's report, and I am carefully reviewing its contents and findings. Even a preliminary review of the material makes it clear that the Attorney General fundamentally mischaracterized the Special Counsel's findings in his pre-emptive press conference this morning. In the days to come, it is essential that Congress hear directly from the Special Counsel regarding his investigation. The Senate Intelligence Committee continues its own investigation, and I expect to receive a full briefing, an unredacted report, and all the materials underlying the Special Counsel's findings."
Republican Congressman Morgan Griffith says the Mueller report finds no Trump campaign collusion with Russia — and the president's frustration with the investigation did not stop it. Griffith says the issue is resolved, and it is time to close this chapter. Here is Griffith's full statement:
"While I have not had time to read the entire 400-page report, it is clear that the Special Counsel did not find that President Trump or his campaign colluded or cooperated with Russia. That issue is resolved. It is understandable that the President would be frustrated by an investigation into a crime he did not commit. Moreover, his frustration did not stop the Special Counsel from completing his investigation. The investigation is over, and the Attorney General has released its findings to the public. It is time to close this chapter."
A man is charged with beating and sexually assaulting a Bedford County woman. The sheriff's office says the report came in yesterday morning from a Moneta-area home. 50-year-old Steven Lorent was also served a warrant for failing to appear in Rockbridge County court.
News release: At 6:30 a.m., on April 17, 2019, Bedford County 911 received a call from Little Creek Road in Moneta. The caller stated that a female had came to her house and said she had been sexually assaulted. The caller also advised that the female appeared to have been beaten. A Virginia State trooper and Bedford County deputies responded and observed the victim had multiple injuries. The victim said that Steve Lorent had sexually and physically assaulted her. He took her cell phone and left the residence on foot. She went to a neighbor's house to get help. The victim was transported to Roanoke Memorial Hospital for treatment of her injuries. She was later released.  Later deputies located Steven John Lorent at a residence in Huddleston. He was arrested on an outstanding warrant for failure to appear from Rockbridge County. Bedford County Sheriff's investigators later charged Lorent, age 50, with strangulation, object sexual penetration, grand larceny and felony domestic assault and battery. He is being held in the Bedford Adult Detention Center on no bond.