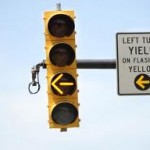 VDOT says more of those flashing yellow arrow signals will go up at several area intersections in the next month. They allow you to turn left when there is no oncoming traffic. Locations include Electric Road at the Interstate 81 entrance ramps and  two locations on US 11 in Botetourt County: Shadwell Drive and Read Mountain Road. More from WFIR's Evan Jones:
Charlottesville residents have the chance to talk with city officials Sunday about the white nationalist rally earlier this month that devolved into deadly violence. The city is hosting what it calls a "community recovery town hall" in collaboration with the U.S. Justice Department. The event comes after workers covered the statues of General Robert E. Lee and Stonewall Jackson yesterday in black. WFIR's Evan Jones has more:
The events in Charlottesville 11 days ago continue to be felt in various ways across the region — and the country. They include protests in Chapel Hill to take down a statue, efforts in Norfolk to move a Confederate monument and removal of a Lee portrait in the Hotel Roanoke lobby. More from WFIR's Evan Jones:
Charlottesville City Council has voted to shroud the city's Robert E. Lee statue with a black fabric while it continues with efforts to take it down. The early-morning decision came at the end of a lengthy and sometimes chaotic meeting. It had to be suspended at one point, and police removed three people for disrupting the session. WFIR's Evan Jones has more.
Liberty University President Jerry Falwell, Jr. says some of the university's graduates misunderstand his recent statements supporting President Trump. A group of alums  say they will return their diplomas in protest of those statements. But Falwell says his support for the president is about his willingness to call terrorist groups by their names. More from WFIR's Evan Jones:

A national foundation says the Roanoke region is well behind Virginia as a whole when it comes to preparing high school graduates for in-demand careers. As WFIR's Evan Jones reports, at issue is how many grads get additional education before entering the workplace.
08-14 Post-Secondary Wrap2-WEB
Click here from the Lumina Foundation web site
This past weekend's events in Charlottesville have raised passions and many questions, not the least of which is what should the futures be of the many memorials to the soldiers who fought for the Confederacy in the Civil War. Lieutenant Governor Ralph Northam is the Democratic Party's candidate for governor, and WFIR's Evan Jones has a conversation with him in this morning's Longer Listen:
08-17 Northam Longer-WEB
We have invited Republican Ed Gillespie to hold a similar conversation with us on this subject.
Virginia's major-party candidates for governor agree — and disagree — on the future of civil war statues. The issue has come to the forefront after Charlottesville leaders voted to take down a Robert E. Lee statue and the violence there last weekend. More from WFIR's Evan Jones.
Long-time Republican Congressman Bob Goodlatte already knows he will face Democratic opposition in November of next year. A Roanoke native has announced his candidacy. Peter Volosin is 31, with a background as a union representative, regional planner and EMT. He spoke with WFIR's Evan Jones:
Click here for the Volosin campaign website.
Some of the people who attended the "Unite the Right" rally Saturday in Charlottesville say police stood passively by when violence broke out — and on that point, the American Civil Liberties Union agrees. But city officials defend the preparations and response. WFIR's Evan Jones has the story.