Evan Jones
A Bedford County high school community is mourning the loss of a classmate who shot himself in the head overnight. 18-year-old Nicholas Bernard was a senior at Liberty High School. The Sheriff's office is investigating the circumstances. The school system is offering grief counselors to assist any students or staff there who need emotional help.
From the Bedford County Sheriff's Office: At 12:43 a.m. Tuesday morning Bedford County 911 received a call from Wycliffe Street reporting a shooting. Bedford Police and Bedford County Sheriff's deputies responded to the scene. On arrival witnesses advised an 18 year old male had shot himself in the head. The victim was transported to Roanoke Memorial Hospital by helicopter, where he later died. The victim is identified as Nicholas Bernard, age 18. The body will be transported to the Chief Medical Examiner's Office in Roanoke. The investigation of the shooting will be ongoing.
From Bedford County Public Schools:  "It is with tremendous sorrow that we confirm the recent death of Nick Bernard, Liberty High School Senior. Nick was well known by both students and faculty for his natural ability to bring joy to the campus. He will be deeply missed by everyone who was fortunate enough to have known him. We extend our deepest sympathy to Nick's family, friends and the Bedford Community. Grief support will continue to be available for any students or staff who may need emotional help during this difficult time. "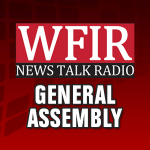 Virginia lawmakers are back in Richmond to begin this year's General Assembly session. It is the shorter session in the state's two-year cycle, but our political analyst says there will be no shortage of ultra-political and partisan debate and votes. WFIR's Evan Jones has more:
A Franklin County woman  is jailed and a man is wounded after a shooting in the Wirtz area. The sheriff's office says it happened in the early morning hours yesterday. 45-year-old Kimberly Morgan-Lefever faces malicious wounding charges. Investigators say the bullet struck the 47-year-old victim in the hand and grazed his head, but the injuries are not life-threatening. Officials say the shooting followed an argument.
News release: On 1/7/19, just after 3:00 AM, deputies with the Franklin County Sheriff's Office responded to a report of a gunshot wound at the intersection of Bonbrook Mill Rd. and Wirtz Rd. The caller was identified as 45-year-old Kimberly Ann Morgan-Lefever. Once on scene deputies were able to determine that an argument had ensued between Ms. Morgan-Lefever and 47-year-old male. Morgan-Lefever had fired one round which struck the male in the hand then grazed his head.  Morgan-Lefever has been charged with Malicious Wounding. The male was treated for non-life-threatening injuries. Morgan-Lefever is currently being held in the Western Virginia Regional Jail without bond. The case is currently still under investigation and additional charges may be pending.
Work is now under way for a new building at the National D-Day Memorial. The memorial held a groundbreaking ceremony yesterday for what will be its third Quonset hut. This one will be used for education space — and to provide a climate controlled display area for artifacts. Plans call for completion before June 6, which will be the 75th anniversary of the D-Day invasion. WFIR's Evan Jones has more: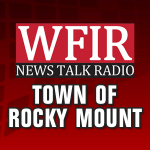 The Town of Rocky Mount is replacing every water meter in its system in coming months – all 3,200 of them. The work begins this week, and it is expected to last into late May. Town officials say the meters will wirelessly report usage numbers, and the new system should more readily help find and repair water leaks.
News release: ROCKY MOUNT, Va. – The Town of Rocky Mount is undertaking a significant water meter replacement project to modernize and upgrade its water system. Town residents will see employees of Troutdale-based Atlantic Utility Solutions replacing 3,200 meters throughout Rocky Mount's water system starting this week. Depending on weather, replacement work should be completed by May 31. As part of its current budget, Rocky Mount Town Council authorized funding to replace every water meter and the Town's accounting & billing system.
The new meters are the first step in modernizing water data collection. Once installation of all meters is finished, receivers will be installed so the Neptune meters, sold to the town on a low bid by CMC, can wirelessly report water usage data to Town Hall. "This modernization allows us to instantly read current water use, helping find and fix leaks both sides of the water meter," said Rocky Mount Assistant Town Manager Matthew Hankins. "The Town will be able to more accurately measure the water it is treating, pumping and selling, providing better value to the customer and better use of Town resources."
Customers should expect limited service interruptions as meters are replaced. Most meter changes are simple swaps lasting an hour or so, taking out old equipment and replacing it with new. For some old meters, meter boxes may be replaced. Rocky Mount water customers will experience benefits through this transition. Customers will be able to access their usage data, pay bills online and enable push alerts for suspected water leaks or unusual usage. Service at rental properties and for customers with a history of non-payment will be turned off and on from Town Hall.
The system eliminates the need to have meter readers physically touch the boxes, so meter readers will only have to come out in cases of problems.
"This is one of the most transformative public works projects we have undertaken during my tenure," said Rocky Mount Town Manager James Ervin. "Town Council has been very focused on water accountability and our ability to sell and accurately measure water, and this new system meets the modern needs of our customers."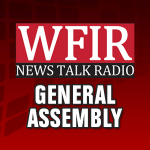 When the General Assembly reconvenes later this week, one of the major items on the agenda will be taxes. A recent statewide poll show Virginians fully support two different kinds of tax cuts or tax credits, but they become closely divided if it's one or the other. More from WFIR's Evan Jones.
01-07 Tax Cut or Credit Wrap1-WEB
News release:  On Monday, January 7, 2019 at 11:00 a.m. the National D-Day Memorial Foundation will break ground on the third and final Quonset hut installment, which will provide an education space and a climate-controlled artifact display area. The "Fleda Hut", named to honor late benefactor Fleda Ring, will be dedicated Memorial Day 2019. Benefactor Peter Ring, Fleda's husband, will join Foundation leader or Monday's groundbreaking. The new Q-hut will replace the current education tent with a more permanent facility.
The tent, named the John Robert "Bob" Slaughter Youth Learning Center, has been a part of the Memorial since 2002. It will eventually move into the education center, a large facility slated for construction within the next few years. Once the education center is built, the tent will remain the primary learning center and creative space for students and will still bear Memorial founder Bob Slaughter's name. In the meantime, the new education Q-hut will offer more space and enhancements with technological features for presentations as well as formal display cabinets to house some of the Memorial's extensive artifact collection.
"The new 'Fleda Hut' education space and the Bob Slaughter Youth Learning Center are just a few ways we will keep the memory of our veterans alive as we ensure their stories are shared for generations to come," said April Cheek-Messier, president of the Foundation.  "This is a critical addition to the Memorial and a timely one as we approach the 75th Anniversary of D-Day in June. Our veterans will see first-hand that our mission continues." When not in use for school programs, the Q-hut will be open to Memorial visitors.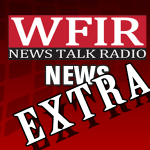 Freshman Congressman Ben Cline has a lot to digest as he learns his way around the Capitol. Sometimes, it's just the little things, as evidenced during a telephone news conference from his office Thursday when some bells he had not yet figured out interrupted him. Evan Jones has more in this WFIR News Extra:
The Franklin County Sheriff's Office says a traffic stop two days after Christmas has led to charges of possessing methamphetamine. Officials say a deputy conducted the stop on Brown Hill Road near Ferrum, and a resulting search led to discovery of what lab tests show to be a Ziploc bag containing meth. 32-year-old Bobby Perdue of Henry is currently free on bond.
From the Franklin County Sheriff's Office: On 12/27/18, a deputy with the Franklin County Sheriff's Office conducted a traffic stop in the 1000 block of Brown Hill Rd. in the Ferrum community of Franklin County. A subsequent search of the vehicle located a plastic Ziploc bag containing a crystalline substance that later tested positive for methamphetamine. The driver of the vehicle was identified as 32-year-old Bobby Christopher Perdue. Mr. Perdue was arrested and charged with possession of a schedule I or II controlled substance and released on a $5,000.00 secured bond.
Newly-seated 6th District Congressman Ben Cline says there are limits to what a freshman in the minority party can be expected to accomplish, but he is ready to try. He believes some bipartisan agreement is possible on matters than include infrastructure funding and economic development. More from WFIR's Evan Jones: