Evan Jones
We are now into the one full week each year that sees much higher than normal holiday traffic, and AAA says this year, those numbers will be much closer to those we are used to encountering, with the number of holiday travelers expected to be up close to one-third over 2020, when the pandemic sharply curtailed so many aspects of our lives.  That will often mean more crowded highways this week and longer lines at airports. WFIR's Evan Jones has more:
State transportation officials are taking one of the next steps needed to extend passenger service to the New River Valley by 2025: determining exactly where the station will be. And they are asking the public for their ideas. This comes after Virginia signed an agreement with Norfolk Southern last spring  to purchase one of the two rail lines between Roanoke and the Christiansburg area.  But there is no usable station in the NRV area along these particular tracks, so state officials have created an on-line survey to help consider four options.  A public meeting is also planned for some time this winter. WFIR's Evan Jones has more:
Click here to participate in the survey.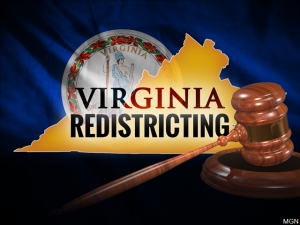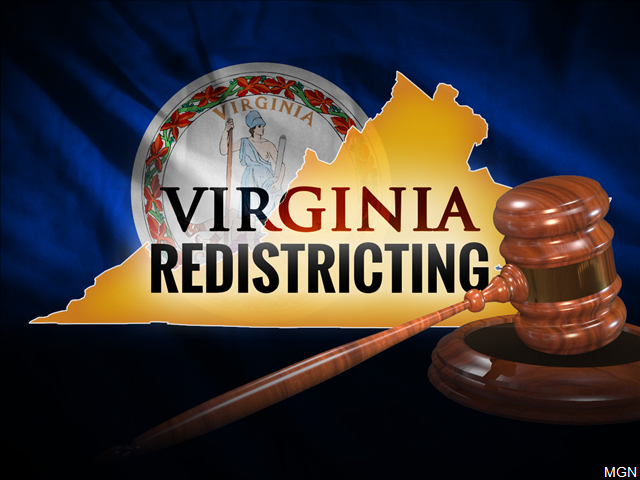 The comment deadline on proposed Virginia redistrictingends at 1:00 pm Monday, and the State Supreme Court must now decide whether to make any changes to the draft version, but whatever happens, southwest Virginia will have less representation in Richmond than before.  Virginia Tech Professor and WFIR Political Analyst Bob Denton says the draft version's proposed lines are not likely to change much when the final version is released, and with the state's population growing the most around Washington DC, Richmond and Hampton Roads, southwest Virginia will lose some degree of representation in the House of Delegates and State Senate. General Assembly and Congressional districts must be redrawn every ten years in efforts to make sure all have roughly equal numbers to reflect any population shifts that occur in each decade. More from WFIR's Evan Jones: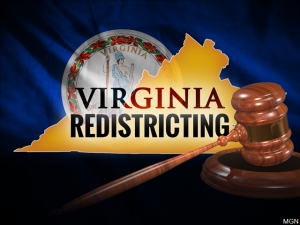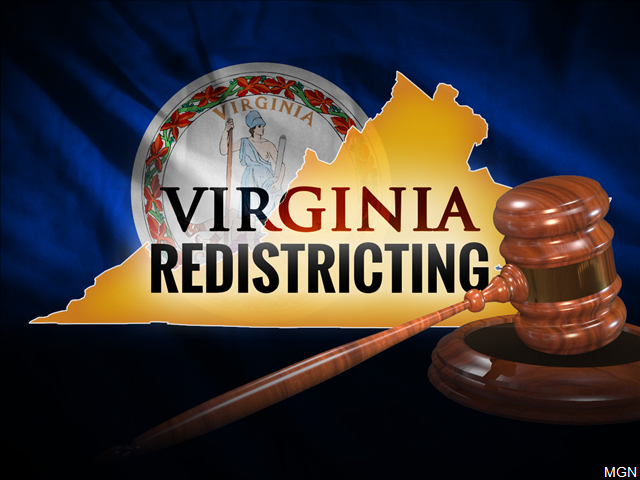 The deadline is drawing near for the State Supreme Court to complete its redistricting work. A Roanoke-area lawmaker says the preliminary plan does a great disservice to Vinton-area residents, and he hopes the final plan will change that. The court appointed two special masters to draw up the new Congressional and General Assembly lines, and their proposal includes a State Senate district that extends from Staunton in the north to the Vinton area in the south without including most of Roanoke County or the valley. WFIR's Evan Jones has more:
State Senator David Suetterlein says the time is long overdue to increase the state's standard income tax deduction, and he has introduced a bill for consideration this winter that would double it to $258 for individual filers and $517 dollars for married taxpayers. Suetterlein says recent multi-billion dollar budget surpluses show Virginia is more than able to provide this tax relief. More from WFIR's Evan Jones: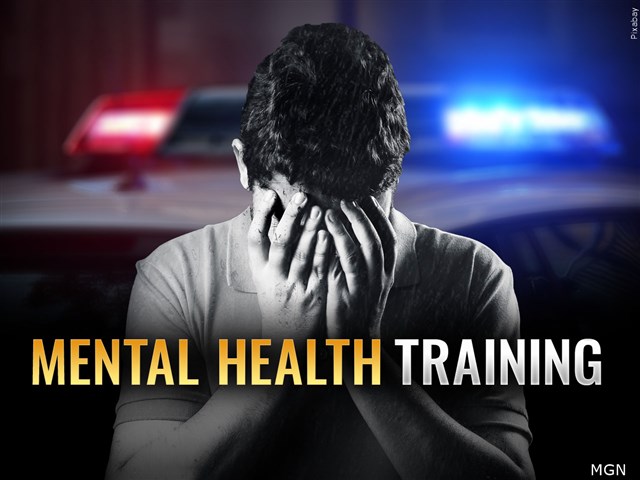 Many people who live in rural areas — like much of southwest Virginia — may face elevated mental health challenges created by the COVID pandemic. One effort to address those challenges, and substance abuse disorders that can result, is set for next month. It's a mental health first aid training course: two days on line and free, and co-sponsored by Recover Virginia, where officials say even before COVID arrived, rural residents were already hit hard by mental health issues and related substance abuse. WFIR's Evan Jones has more:
The on-line program is set for January 7th and 8th. Click here for more information.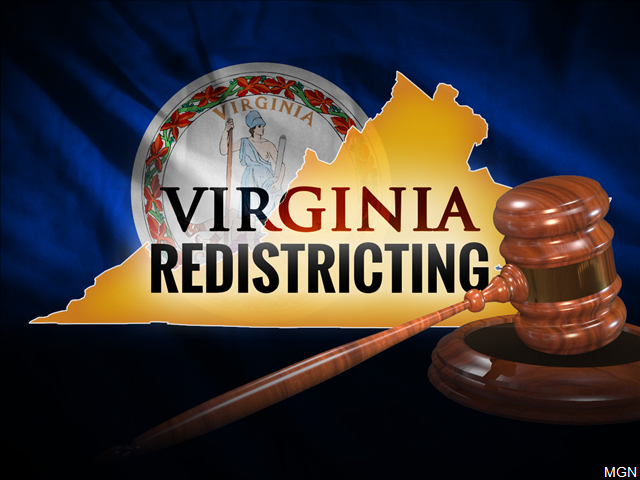 The State Supreme Court has scheduled two public hearings for later this week on the proposed redistricting of Virginia's General Assembly and Congressional districts. Virginia Tech Professor and WFIR Political Analyst Bob Denton says Democrats are likely to fare better overall — largely a matter of population shifts in Virginia, with Democrats generally making up a larger share of the state's fastest-growing regions, leaving our part of the state with less General Assembly representation. And as a result, that could lead to some area incumbent lawmakers facing each other to remain in office. WFIR's Evan Jones has more:
Rosie's Gaming Emporium in Vinton showed off its $28 million expansion today, one that includes much more than additional gaming space. The expansion more than doubles the size and almost triples capacity at Rosie's, which opened two and a half years ago. Officials say it allows for 350 more games, ones not seen there before. Beyond that, Rosie's has a new large circular bar and a sound stage to hold up to six musicians.  Outside, there is a new parking ramp to handle the increased capacity. WFIR's Evan Jones has more: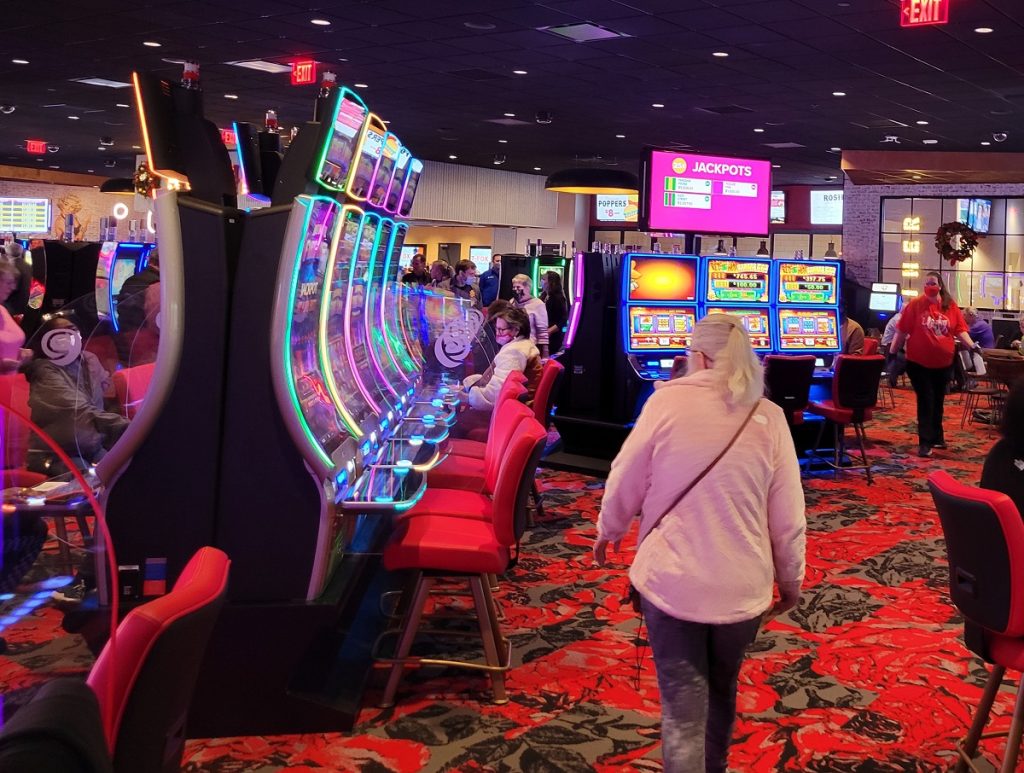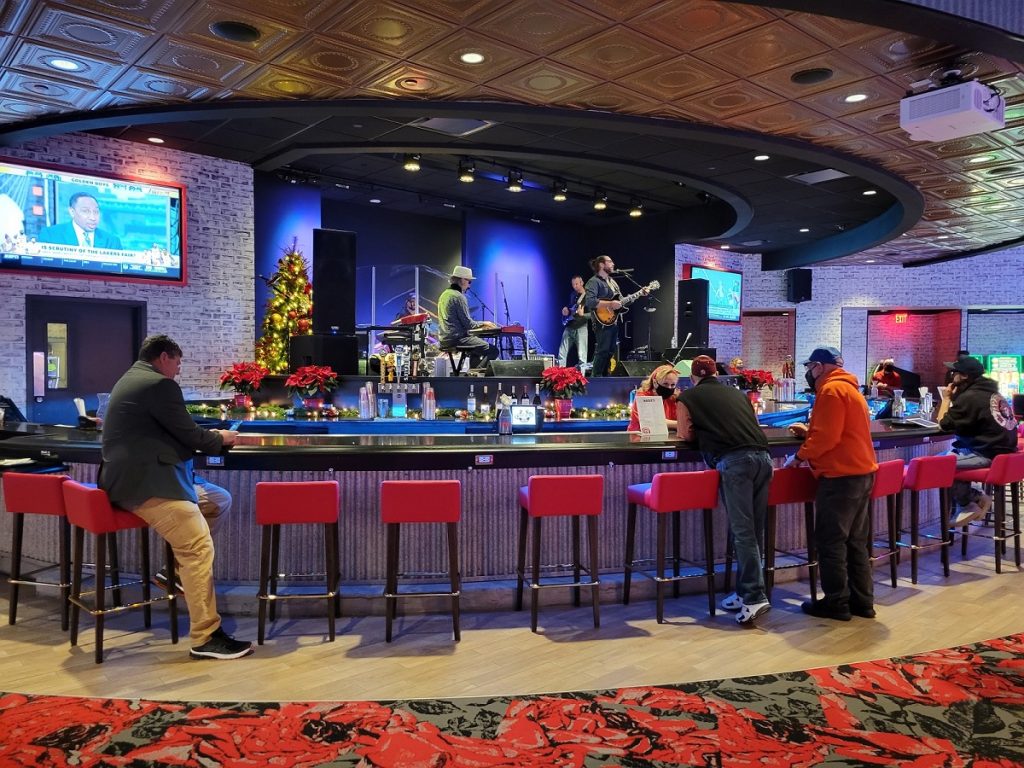 Photos: Ian Price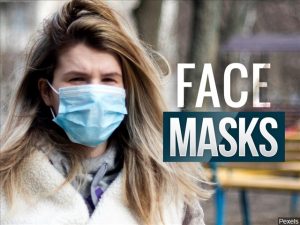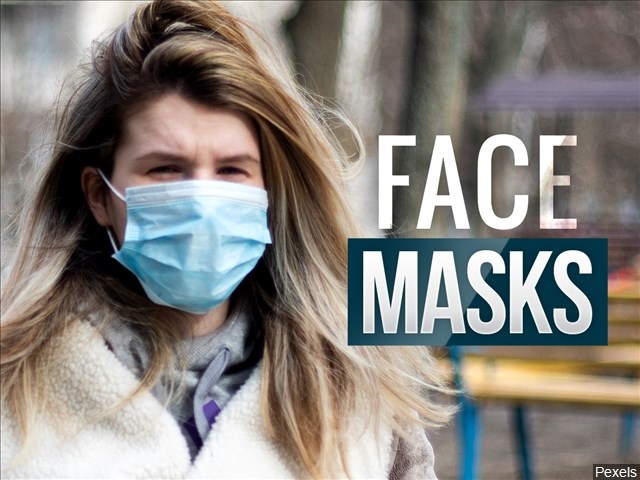 A new statewide poll shows how much Democrats in Virginia far more favor wearing face masks than Republicans, whether it's in stores, restaurants, or outdoor public places. And in each of the 13 places presented, those identifying as Democrats said they were about 30 to 40% more likely to wear a mask than Republicans. As examples,  90% of those surveyed identifying as Democrats say they are likely to wear masks inside grocery stores, compared to 52% of Republicans. When it comes to outdoor parks and beaches, 47% of Democrats say they will likely wear masks compared to 19% of Republicans. WFIR's Evan Jones has more:
ROANOKE COLLEGE NEWS RELEASE: To measure how Virginia feels about vaccination and mask-wearing, along with exploring political anxiety, The Institute for Policy and Opinion Research interviewed 634 adult residents of Virginia between Nov. 7 and Nov. 15 in a survey addressing these topics. The survey has a margin of error of +4.4%.
COVID Vaccination
The percentage of adult Virginians who are fully vaccinated against COVID-19 or are awaiting their second dose remains near 78%, while just 2% say they plan to start vaccination soon, according to the latest Roanoke College Poll. These numbers remain unchanged from similar results in September (82% fully or partially vaccinated and 3% plan to start soon) when both polls' margins of error are considered. The percentage of adults who state they do not plan to get vaccinated (13% now, 11% in September) also remains essentially constant.
Among those adults fully vaccinated, 24% have received a third dose or booster shot, another 51% plan to get another shot when they're able, and 22% do not plan to receive another dose.
Both vaccination results differ greatly when political party is considered. Democrats report full or partial vaccination at 90% with just 3% not planning to get a shot; for Republicans, those numbers are 67% and 24%. Regarding booster shots, 81% of Democrats have or plan to get an additional dose of vaccine with only 18% not planning to do so. Republicans have a lower rate of booster dose interest (67%) and increased rate of reporting no plans to receive an additional shot (37%.)
Mask Wearing
Roanoke College Poll also asked Virginians about their likelihood of wearing a mask in various scenarios. Roughly 72% of Virginians are very or somewhat likely to wear a mask in many indoor scenarios (grocery stores, indoor retail stores, working near others, and attending an indoor art, entertainment or music venue.) Outdoor retail establishments or art/entertainment venues result in about 51% of residents likely to wear a mask. Restaurants and bars see lower amounts of mask wearing, whether they are indoor (57% likely) or outdoor (39% likely).
With the Thanksgiving holiday just passed and the winter holiday season upon us, only 33% of Virginians report wearing a mask while visiting with family and friends in their houses. By party, almost half (45%) of Democrats wear masks while visiting family and friends, while about one-sixth (17%) of Republicans do so.
That political party divide on mask wearing exists across all scenarios presented to the respondents, such as grocery stores (90% Democrats likely compared to 52% of Republicans), at work (88% compared to 54%), dining inside (76% compared to 35%), and hair salons/barbershops (79% compared to 43%.)
CLICK HERE for full poll results and methodology.
A Virginia Tech graduate will be the next leader of the Norfolk Southern Corporation. The railroad announced today that Alan Shaw will succeed James Squires as CEO as of May 1st. Shaw has worked for 27 years at Norfolk Southern, most recently as Chief Marketing officer. He earned engineering and business degrees as Virginia Tech.
NEWS RELEASE: Norfolk Southern Corporation (NYSE: NSC) today announced that Chairman and CEO James A. Squires plans to retire on May 1, 2022, at which time Executive Vice President and Chief Marketing Officer Alan H. Shaw will become CEO.  As part of the company's planned succession process, the board of directors has elected Shaw to the role of president, effective immediately.  The company's executive leadership team now reports to Shaw.
"Jim is retiring at the top of his game," said Steven F. Leer, Norfolk Southern's lead independent director.  "Thanks to Jim's leadership, Norfolk Southern has a strong foundation for continued success.  During his tenure he has increased shareholder value by more than $30 billion, implemented precision scheduled railroading, led the company through a freight recession and global pandemic, and brought company leadership together in a new, state-of-the-art Atlanta headquarters."
"This is the right moment for a leadership transition," said Squires.  "The company is in rock-solid position, I've accomplished what I set out to achieve, and our board of directors has identified the right leader in Alan Shaw to guide Norfolk Southern in its next chapter of success and value creation."
Squires and Shaw will continue to work closely together over the next five months to complete a smooth transition.
"Alan has a unique combination of skills and experience that prepare him to lead the company," Squires said.  "He's a veteran railroader who understands operations and will drive continued improvement in service and efficiency.  At the same time, he has an unparalleled understanding of our customers and the markets we serve, as well as the vision to grow shareholder value in our competitive, rapidly evolving industry."
Shaw is one of the freight industry's most respected leaders, with 27 years of experience at Norfolk Southern in marketing, operations, and finance.  He was appointed CMO in May 2015, and under his leadership the company has built the strongest intermodal franchise in the eastern United States, positioning it for growth in consumer-oriented, service-sensitive markets.  He is responsible for innovations in customer-facing technology, sustainability, and new product offerings.
Shaw earned a BS in Aerospace Engineering and an MBA from Virginia Tech, and completed the General Management Program at Harvard Business School.  He is a Chartered Financial Analyst.
"I look forward to working with Jim, our board of directors, and the entire team at Norfolk Southern to provide superior service to our customers, create compelling value for shareholders, and build on the momentum of our improving operating ratio," Shaw said.
Demonstrating its comprehensive succession plan and deep bench of executive talent, the company also announced that Ed Elkins, vice president of industrial products, has been promoted to executive vice president and chief marketing officer.
Elkins joined Norfolk Southern in 1988 as a locomotive engineer.  He served as group vice president for chemicals and group vice president for international intermodal before assuming his current role in 2018.  Elkins, a veteran of the U.S. Marine Corps, graduated from the University of Virginia's College at Wise and earned an MBA from Old Dominion University.  He completed the General Management Program at Harvard Business School.
"Ed is an experienced, innovative, and trusted leader who will step seamlessly into the role of CMO and be a strong addition to the executive leadership team," said Squires.
James "Leggett" Kitchin, currently group vice president of domestic intermodal marketing and sales, will succeed Elkins as vice president of industrial products.  These appointments are also effective immediately.
Jeff Heller, vice president of intermodal and automotive, will retire from the company after a distinguished 27-year career on March 1, 2022.  Shawn Tureman, currently group vice president of industrial products / chemicals, becomes group vice president of intermodal and automotive effective immediately and will succeed Heller as vice president upon his retirement.