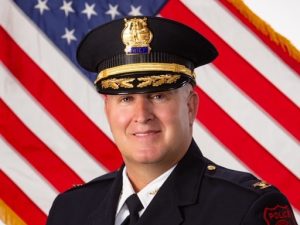 Danville's Police Chief is heading to Roanoke. City officials in Danville announced today that Scott Booth has accepted chief's position in the Star City. It is no surprise: Roanoke City Manager Bob Cowell had indicated Booth was his top choice. His record in Danville includes a sharp reduction in crime rates under his tenure.
DANVILLE CITY NEWS RELEASE: City Manager Ken Larking announced today that Police Chief Scott Booth will be leaving the City of Danville to accept the position of police chief for the City of Roanoke. Booth's last day as police chief in Danville will be October 31.
Larking noted the dramatic reduction in crime rates under during Booth's tenure.
"While I am disappointed that Chief Booth will be leaving us, I am incredibly thankful for what he and his team have accomplished under his leadership," Larking said. "I am happy for him to have this new opportunity and for the people in Roanoke. Scott and the department have built a winning system in Danville."
Mayor Alonzo Jones agreed, saying, "He's done a great job for the City of Danville, and he deserves praise for the work he has done. To see crime at the lowest rates in years, the partnerships between the police department and the community that are now in place, and the high level of engagement and trust with citizens speaks volumes for Chief Booth and the entire department."
Booth has been the chief of police in Danville since February 2018. "Over the last five years, we have worked together as a city to meet several goals, including reducing violent crime and establishing community-based policing, which has become the Danville model," Booth said. "Through a philosophy of having leaders in the department that are empowered to act, and lead by example, the Danville community has come together and established a better tomorrow for the future."
During his tenure, he has been recognized for his leadership in reducing crime, community policing, and community engagement. Most recently, Booth received national recognition with the Frederic Milton Thrasher Award from the National Gang Crime Research Center. The award recognizes Booth's accomplish