Crime and Public Safety
ROANOKE, Va. (AP) — The mother of a wanted Marine told investigators that she saw her son kill her boyfriend, according to a federal criminal complaint.
The criminal complaint filed in U.S. District Court in Roanoke, Virginia, on Wednesday shows Vanessa Hanson told a U.S. Marshal that she witnessed Michael Alexander Brown, 22, fatally shoot her boyfriend, Rodney Wilfred Brown, last Saturday at a home in Hardy.
According to the complaint, Hanson also identified Brown's getaway vehicle through pictures obtained from a gas station just before the shooting. The vehicle was later found near Clarendon County, South Carolina, about four hours southwest of Camp Lejeune, in North Carolina, where he had been stationed as a U.S. Marine until leaving his post last month.
Investigators think the Marine deserter was trying to contact his grandmother when a neighbor saw him in Roanoke on Thursday morning, Police Chief Tim Jones said at a news conference. Authorities believe Brown was driving a recreational vehicle, which was discovered by police nearby later that day. Law enforcement approached the RV, but Brown was not inside. Photos showed the RV suffered significant damage.
The search for Brown began after someone called 911 around 4 a.m. on Thursday to report that someone was tapping on the windows of a nearby house. Jones said Brown's grandmother lives at that house and they believe he was trying to contact her and his mother.
When Brown left his post at Camp Lejeune, it "(constituted) the offense of Desertion … a federal offense punishable by imprisonment for greater than one year," the complaint said.
A manhunt in Roanoke on Thursday forced school officials to cancel classes and led the city to issue a shelter-in-place order. Classes resumed on Friday and the city's order was lifted, but residents were cautioned to be vigilant and to report any suspicious activity.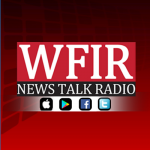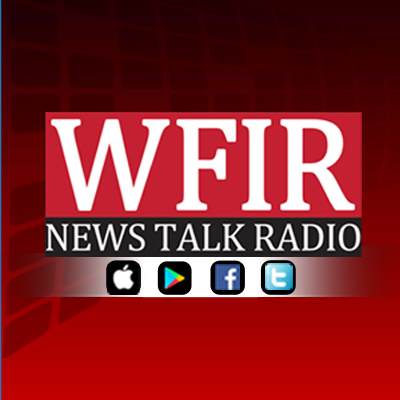 The search for murder suspect Michael Brown disrupted life in many ways in the Grandin Village area — and to a lesser extent, throughout Roanoke. Neighborhood residents were urged to shelter in place, some Grandin businesses closed for the day, and citizens were urged to be careful in their cars and homes. We found mixed levels of concern, as WFIR's Evan Jones reports:
UPDATE: Roanoke Police have lifted the shelter in place advisory for the Grandin Road area near Patrick Henry School, but police say they do not know where murder suspect Michael Brown may be. Anyone living in or driving through the Grandin Village area is urged to lock their homes and vehicles.
UPDATE FROM ROANOKE POLICE: The shelter in place for the Grandin Road area near Patrick Henry High School has been lifted, but Roanoke Police urge residents to remain vigilant and report any suspicious activity. Remember to lock your vehicles and homes. Stay tuned to social media outlets for updates.
PREVIOUS: Roanoke Police say the search remains centered in the Grandin Village neighborhood for murder suspect Michael Brown. And they urge everyone to use proper precautions in their homes and vehicles. WFIR's Evan Jones has the latest.
Herer is Roanoke Police Chief Tim Jones' 1:00 pm news conference:
PREVIOUS: State Police explosives experts are searching the RV Michael Brown was believed to be using. The vehicle was found overnight in the Grandin neighborhood, and it is being checked to determine if any explosives were inside it.
PREVIOUS: The search for a weekend murder suspect has led police to the Grandin neighborhood of Roanoke — and the closure today of all Roanoke City Schools. This comes after a caller reported a possible sighting last night of Michael Brown near Patrick Henry High School. There is a heavy police presence now throughout that neighborhood, and all Roanoke schools are closed as a precautionary measure. People living in that area are urged to shelter in place and keep their doors locked.
Police found an RV in the area that is believed to be the one Brown was using.
Michael Brown is wanted for the weekend shooting death of Rodney Brown in the Hardy area of Franklin County. The county sheriff's office says Michael Brown is an AWOL Marine and the son of Rodney Brown's live-in girlfriend.
NEWS RELEASE: Roanoke Police Chief Tim Jones, along with other law enforcement partners, held a press conference this morning about the manhunt for Michael Alexander Brown. He is believed to be in the area near Patrick Henry High School and is considered armed and dangerous. THIS IS NOT A SCHOOL SHOOTING OR SCHOOL INCIDENT. If you see Michael Alexander Brown, please call 1-877-926-8332 or 911. His vehicle was discovered on Tillett Road, SW. Police believe he may be on foot in the area. Residents are asked to use extreme caution, lock all doors, and be on the lookout. To watch the press conference, visit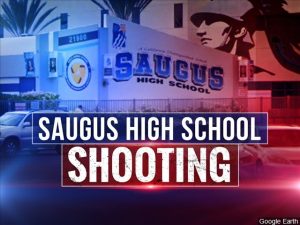 SANTA CLARITA, Calif. (AP) — A student gunman opened fire Thursday at a Southern California high school, killing two students, wounding three others and shooting himself in the head, authorities said. He was in grave condition.
The shooting occurred around 7:30 a.m. at Saugus High School in Santa Clarita, about 30 miles (48 kilometers) northwest of downtown Los Angeles.
Shauna Orandi, 16, said she was in her Spanish class doing homework when she heard four gunshots that she initially mistook as instruments from a band class. She said a student burst into the room saying he'd seen the gunman, and her classmates were stunned into silence.
"My worst nightmare actually came true," she said later as she left a nearby park with her father. "This is it. I'm gonna die."
Freshman Rosie Rodriguez said she was walking up the library stairs when she heard noises that "sounded like balloons" popping. She realized they were gunshots when she saw other students running.
Still carrying a backpack laden with books, she ran across the street to a home, where a person she didn't know gave shelter to her and about 10 other students.
"I just heard a lot of kids crying. We were scared," Rodriguez said.
On a normal day, she said, Saugus High School felt very safe.
"We never really thought this would happen in our school," she said.
Los Angeles County Sheriff Alex Villanueva said six people were shot, including the 16-year-old student suspect.
No details were released on a motive and his name was not released. Thursday was his birthday.
A video of the shooting showed the gunman shooting himself in the head. Authorities say he was carrying a .45 caliber handgun and used the last bullet on himself.
The two students who died were a 16-year-old girl and a 14-year-old male. Their names were not released.
Saugus High School and other schools in the area were locked down.
Television images showed deputies swarming the school and several people being moved on gurneys. Lines of students were escorted from the school by armed deputies.
Anxious parents were awaiting reunification with their children in a park near the high school.
Los Angeles County Undersheriff Tim Murakami has tweeted an apology to the parents, saying investigators needed to interview the students before they could be released.
Orandi said she has heard about so many school shootings that she always assumed she'd panic in such a moment.
But she said she stayed calm, thanks to the help of her teacher who locked down the classroom.
The shots rang out — "bang! pop!" — and Orandi said she heard people yelling and running. Students in the classroom started crying and hugging one another.
"I just couldn't believe it was happening," Orandi said.
She was escorted from the classroom to the school gym and later picked up by her father Hamid Orandi.
"She burst out crying like crazy, but I felt better because I knew the danger was gone," he said. "It's one of those random things you always have to worry about."
His daughter said she would probably go home and vomit from the stress.
Student Sharon Orelana Cordova told KNBC-TV she hid under a table in a nurse's office until officers came to get her.
"When I got out, I saw this person lying on the ground … with blood all over," she said.
You may not want to think about it but Old Man Winter may be just around the corner. It's time to prepare. The Virginia Department of Transportation says it is, as WFIR's Gene Marrano reports: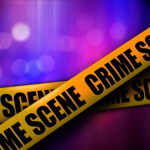 Roanoke Police are looking the man who bumped the rear end of a woman's car this morning, then once she got out to look at the damage, stole her purse and took off in his vehicle. Police say it happened downtown around 5:30 am at the stoplight at Williamson and Elm.
NEWS RELEASE: On November 11, 2019 at about 5:30 am Roanoke Police responded to a report of Robbery at the intersection Elm Ave SE and Williamson Rd SE. Arriving officers spoke with the victim who stated that she was followed from the Carilion River walk Parking Garage to this location by an unidentified black male. When the victim stopped for the traffic light the suspect bumped into the rear of her vehicle. On exiting her vehicle to inspect the damage, the suspect grabbed the victim's purse from her vehicle and after a brief scuffle over the purse the suspect fled the area in the mini-van. This is an ongoing investigation. Anyone with information about this incident is asked to call (540)344-8500 and share what you know. You can also text us at 274637; please begin the text with "RoanokePD" to ensure it's properly sent. Please reference case number 19-120446. Both calls and texts can remain anonymous.
An arrest warrant for murder has now been issued against an AWOL Marine charged with fatally shooting his mother's boyfriend over the weekend in Franklin County. The sheriff's office says Michael Brown remains at large and should be considered armed and dangerous. He is charged with the shooting death of Rodney Brown in the Hardy area.
NOVEMBER 11 UPDATE:On 11/11/19, the Franklin County Sheriff's Office obtained an arrest warrant for second degree murder and use of a firearm in the commission of a felony for Michael Alexander Brown in connection to the homicide of Rodney Brown on 11/9/19. Charges may be modified as additional evidence is received and evaluated. The public is urged to use extreme caution if contact is made with Michael Brown as he is considered armed and dangerous. Any contact with Brown should be reported to law enforcement immediately. Anyone with additional information is urged to contact the Franklin County Sheriff's Office at 540-352-5139.
NOVEMBER 10: On 11/9/19 just before noon, Rodney Brown was shot and killed at his residence on Woodthrush Cir. in Hardy, VA. The suspect is Michael Alexander Brown, the son of Rodney Brown's live in girlfriend. It is currently unclear why Michael would have killed Rodney. Michael is a former Marine and was last stationed at Camp Lejeune in NC. Around October 18, 2019, Michael deserted his post at Camp Lejeune where he served as a combat engineer. He has been seen in and around Franklin County in the past two weeks. It is unknown where Michael may be headed or where he has been staying since leaving his post. He has been known to live in the woods and frequent National Parks and National Forest. He is believed to be armed with a high-powered rifle and may have access to other weapons. Anyone having contact with Michael Brown should use extreme caution and contact law enforcement immediately. He has recently been driving a 2008 black Lincoln Town Car with a possible NC license plate, EHP-4877. Anyone with information on this homicide or the location of Michael Alexander Brown is urged to contact Sgt. Nolen at 540-483-6662.
PREVIOUS: On November 9, 2019 at approximately 12:00 PM, the Franklin County Sheriff's Office responded to a shooting call on Woodthrush Circle in the Hardy community of Franklin County. The call was placed by a family member that found the home owner deceased at the scene. The Sheriff's Office has determined a person of interest. His name is Michael Alexander Brown with a last known address of Woodthrush Cir. In Hardy, VA. Michael Brown owns a 1976 Cadillac which is white in color. There are no license plates registered to Michael and his direction of travel is currently unknown. Anyone coming in to contact with Michael Brown should use extreme caution and notify local law enforcement immediately. The case is currently under investigation and additional information will be provided as soon as it becomes available. Anyone with information on this homicide or the location of Michael Alexander Brown is urged to contact Sgt. Nolen at 540-483-6662.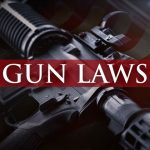 This was going to be the week the Virginia Crime Commission held a final meeting before presenting its recommendations on gun and public safety laws, but last week's election has changed all that. Tomorrow's meeting is cancelled, but commission leaders say the staff will soon release its recommendations.  As for any General Assembly action, it is clear that now awaits January, when Democrats will gain control of both houses. WFIR's Evan Jones has more: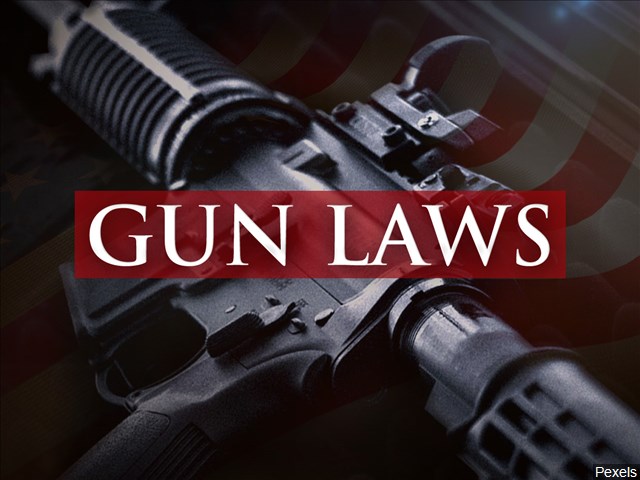 RICHMOND, Va. (AP) — Virginia Republicans have canceled a meeting where they were to present GOP-backed proposals to curb gun violence.
State Sen. Mark Obenshain said Friday that he had canceled next week's planned meeting of the state's Crime Commission because of the results of Tuesday's legislative elections.
Republicans tasked the commission earlier this year to come up with ideas on how to improve public safety in the wake of a mass shooting at a Virginia Beach municipal building. Democratic Gov. Ralph Northam had instead wanted lawmakers to vote on gun-control measures during a special session.
Democrats ran aggressively on gun control in legislative elections and won majorities in both the state House and Senate on Tuesday.
Northam said he expects lawmakers to pass several gun-control bills next year.