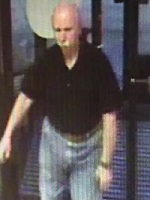 From Roanoke Police: Roanoke, Va.– Roanoke Police need your help identifying a man who touched two teenage girls in a non-sexual manner and began speaking with them on September 24, 2016 at Valley View Mall. The first incident was reported to police at 8:28 p.m. Officers collected video evidence of the suspect. Officers later learned of another incident that happened to a separate teenage girl a short time before officers were called to the mall. Officers spoke with the second girl who provided a similar account of what had occurred with her. She provided a description of the suspect. This incident also occurred at the mall. The suspect is described as a bald white male, large build, wearing a black polo shirt, blue jeans and white shoes. Officers have provided the attached photo to mall security and loss prevention personnel. Anyone who might recognize the suspect is encouraged to call the RPD tip line at 540-344-8500. Anonymous text messages can be sent to the number 274637 [Crimes]. Please start the text message with the keyword "RoanokePD:" to ensure that it's properly sent.
From the Montgomery County Sheriff's Office: Our office is seeking assistance from the public in identifying the suspects involved in vandalism and breaking/entering of the Longshop/McCoy Fire Department, a nearby residence, and a church in the McCoy area of Montgomery County.  Each of these incidents caused property damage and there were multiple items stolen, to include, a dual cassette deck, 5 disc DVD player, microphone, microphone stand, audio mixer, 18 hp Briggs & Stratton, portable motor, and a various other items.  These incidents occurred in the early morning hours of Saturday September 17, 2016. Anyone with information is asked to contact Investigations Captain Ed Hertling at (540) 382-6915 ext: 44418.

From the Transportation Security Administration: ROANOKE, VA – Residents of western Virginia and southern West Virginia will be able to enroll in the Transportation Security Administration's popular TSA Pre✓® application program inside the Roanoke-Blacksburg Regional Airport (ROA) terminal during the week of October 17 to 21, where officials will host a temporary enrollment center.  The airport is a convenient location to enroll in the popular program. The airport address is 5202 Aviation Drive, NW, Roanoke, VA 24012.
To participate in this enrollment opportunity, travelers should make an appointment online and pre-enroll by clicking here
(Continue reading for the rest of the news release.)

Here's the press release from Virginia State Police: BEDFORD CO., Va. – Virginia State Police are investigating a two vehicle fatal crash which occurred on Stewartsville Road, just east of Good View Road.  The crash occurred at 6:04 am in Bedford County. A 1996 Ford Explorer was traveling west on Stewartville Road when it ran off the roadway on the right side, over corrected, came back into the roadway crossing the center line and struck a Ford pick-up truck head-on. The driver of the Ford Explorer was Shayna Darlene Alls, 21, of Moneta, Va.  Ms. Alls was wearing her seatbelt and died at the scene.  Also in the vehicle was a 2-year-old female juvenile who was in a child safety seat, she also died at the scene. The driver of the Ford pick-up was Kevin J. Corwin, 59, of Roanoke, Va.  Mr. Corwin was wearing his seatbelt and was not injured. The crash remains under investigation.
UPDATE: Authorities say Justin Paige was taken into custody without incident Friday afternoon.
From the Franklin County Sheriff's Office: During the early morning hours of 9/16/16, the Franklin County Sheriff's Office responded to a gunshot call at 2260 Iron Ridge Road, Lot 1, Rocky Mount, VA. Upon arrival, officers found Marques Jermaine Whorley with injuries consistent with gunshot wounds. After collecting information at the scene, warrants for Assault and Malicious Wounding have been issued on Justin Devon Paige. Paige is listed as a black male, 21 years of age, 5' 11' tall and weighing approximately 190 lbs. Last known address is listed as 2260 Iron Ridge Road, Lot 5, Rocky Mount, VA. Paige has not been located at this time and is considered "Armed and Dangerous".  Anyone having any information on Paige's whereabouts are encouraged to call the Franklin County Sheriff's Office at 540-483-3000.

From Botetourt County Police: On September 8, 2016, Sheriff Ronnie Sprinkle with the Botetourt County Sheriff's Office reports that dispatch received a call at approximately 5:51 p.m., to respond to the Happy Food Mart located at 8216 Roanoke Road regarding two males that were fighting. Upon arrival Deputies located a unresponsive male subject laying at fuel pumps. The male was transported by Botetourt County Emergency Services to Roanoke Memorial Hospital where he was pronounced deceased.  Identification of the deceased is pending notification of next of kin. The other individual involved has been identified, interviewed and was also transported to the hospital for injuries sustained in the incident. Charges are pending further investigation.
From Liberty University —  Liberty President Jerry Falwell has announced that Indiana Gov. Mike Pence, currently on the Republican ticket for vice president of the United States, will speak in Convocation on Wednesday, Oct. 12. Falwell told students the news at Convocation on Wednesday. He said Pence reached out to him after reading an editorial that Falwell wrote for The Washington Post. Pence was elected the 50th Governor of the State of Indiana in 2012 and inaugurated January 14, 2013. "I think students will very much enjoy hearing from Gov. Pence," Falwell told the Lynchburg News & Advance. "I think he'll be very well received at Liberty. I don't think Donald Trump could have chosen a better running mate than the governor." Liberty's Convocation stage has become a popular stop for those seeking political office. In this election cycle, guests have included Ted Cruz, Bernie Sanders, Ben Carson, and Donald Trump, who spoke in January before becoming the Republican presidential nominee. Jeb Bush was the 2015 Commencement speaker. As an institution, Liberty does not endorse anyone for political office and invites all presidential candidates to speak in Convocation.


From the Montgomery County Sheriff's Office: At 3:02 p.m. today Jason B. York, 31 years old of Christiansburg, ran from deputies in the 1300 block of Craig Mountain Rd while they were attempting to serve a Capias warrant on him for Failure to Appear for Court.  After a brief search he was unable to be located.  The public is asked to call our office at (540) 382-4343 if they have any information on his whereabouts.  Previous mug shots are attached.
From the Hillary Clinton campaign: On Wednesday, September 14, Chelsea Clinton will campaign for Hillary Clinton and Tim Kaine in Roanoke, Virginia. During a tour of a pre-kindergarten facility, Clinton will emphasize her mom's plans to expand early childhood education before visiting Roanoke College to lay out the stakes of November's election for millennial voters and discuss her mom's plans to make free community college and debt-free college available to all Americans. Clinton and Kaine's plan, the New College Compact, would ensure that costs won't be a barrier to attending college and that debt will not hold individuals back from achieving their goals upon completing their education.
The Pre-Kindergarten tour is not open to the public. Members of the public interested in attending the Roanoke College event can RSVP here.