The Roanoke Valley SCPA is asking for community support to help care for a group of rescued animals.  They are part of 700 cats, dogs and other animals rescued by the ASPCA from a facility in North Carolina in January. WFIR Intern Reporter Clark Palmer has more.

Here's the press release from the Roanoke Rail Yard Dawgs: The Roanoke Rail Yard Dawgs are pleased to announce that Sam Ftorek has been named as the first-ever head coach of the organization. After concluding a magnificent 17-year playing career during the 2014-15 season, Ftorek made the transition to coaching and guided the Kalamazoo Wings to the ECHL playoffs this season as assistant coach. "We are ecstatic to have Sam join the Rail Yard Dawgs. We had a number of applicants for this position and it was important for us to hire someone who not only had great knowledge of the game, but also the ability to teach and grow our players, and most importantly, the desire to be an ambassador to the Roanoke community," said Dawgs Vice President Mickey Gray. Sam was a great fit in every single category and he is going to be a great addition to this organization and community." "My family and I are excited to be a part of the organization that is bringing hockey back to Roanoke," said Ftorek. "I've had the opportunity to watch and learn from many great hockey minds and I'm really looking forward to starting this next stage of my career with a first-class organization that is taking the necessary steps to secure instant success on and off the ice." When he was a player, Ftorek was known as a skilled forward, who for the betterment of his team reinvented himself as a solid and prolific scoring defenseman. During the 2013-14 season, at the age of 39, Ftorek led all ECHL defensemen in scoring with 47 points (13 goals, 34 assists). For his efforts, Ftorek was named to the ECHL's First-Team. In total, Ftorek played in 1,097 career games as a player, including an ECHL record 837 contests. In his career, Ftorek has always been viewed as a leader including being one of the team captains in each of his six seasons with the Wings." Coming from an excellent pedigree, Ftorek is the son of Robbie Ftorek, who played eight seasons in the National Hockey League with the Detroit Red Wings (2), Quebec Nordiques (3) and the New York Rangers (3). Robbie Ftorek also possesses an impressive coaching resume with 23 years experience, 10 of which were in the NHL. Ftorek, his wife, Misty, along with their three children will be moving to Roanoke in the near future.

From Roanoke County Public Schools: VINTON – The Roanoke County School Board has named Tammy Newcomb as the new principal at William Byrd High School (WBHS), effective July 1. Newcomb replaces Dr. Richard Turner who will retire at the end of the current school year.
Newcomb began her tenure at Roanoke County Public Schools in 1991 as a teacher at WBMS where she taught English and Math for 12 years. In 2003, she was named the assistant principal at W.E. Cundiff Elementary School.  Two years later, Newcomb became the principal at Green Valley Elementary School.  In 2011, Newcomb returned to WBMS as principal, where she continues to serve today.
Newcomb, a graduate of William Byrd High School, holds a Bachelor's degree from Radford University and a Masters Degree from Virginia Tech.  She is endorsed in administration and supervision by the VDOE.
"Tammy has shown outstanding leadership at William Byrd Middle School," said Roanoke County Public Schools Superintendent Dr. Greg Killough.  "I'm very pleased she will continue to be a leader in the William Byrd community and will carry on the Terrier tradition," Dr. Killough said.
From Roanoke County Public Schools: ROANOKE – The Roanoke County School Board has named Dominick McKee as the new principal at Northside High School, effective July 1.  McKee previously served as assistant principal at NHS from 2009-2014.
McKee is a 2002 graduate of Radford University with a Master of Science degree in Counseling and Human Development.  He also holds a Bachelor of Science degree in Interdisciplinary Studies from Radford University.  He currently is seeking his doctorate from American University and he is endorsed in administration and supervision by the VDOE.
McKee first joined Roanoke County Public Schools in 2002 as a counselor at Hidden Valley High School.  In 2007, he became an assistant principal at Hidden Valley Middle School.  He moved to Northside High School as an assistant principal in 2009.  In 2014, he moved to central office as the supervisor of human resources.
"Dominick has the respect of the entire staff at Northside, and I know he will be an outstanding leader and principal, just as he was an outstanding assistant principal before coming to central office," said Roanoke County Public Schools Superintendent Dr. Greg Killough.  "I'm very pleased he will be returning to Northside and I'm confident he will continue the Viking pride," Dr. Killough said.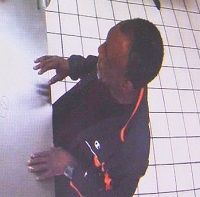 From Roanoke City Police: On April 23, 2016 at 1:13 a.m. Roanoke Police responded to a report of an attempted robbery at the Papa John's in the 4500 block of Williamson Road NW. The suspect, seen in the attached photo, had already left the scene on foot before officers arrived. A Papa John's employee told officers the suspect walked into the business and demanded money from the cash register.  The employee said the suspect displayed a large knife. The suspect left the store without obtaining any money or property. He's described as being between 5'8″ to 5'10" and weighing approximately 160 lbs. Anyone with information can call our tipline at 540-344-8500.  Calls can be anonymous.  You can also send an anonymous text message to CRIMES [274637]. Please start your text message with the keyword RoanokePD: to ensure that it's properly sent.
From Vinton Police: Vinton, VA – On April 25, 2016 at 4:28 PM, officers of the Vinton Police Department were called to a private residence located in the 600 block of South Maple Street, in reference to a "wellbeing check." Family members reported having difficulty contacting the resident of the home, Mr. Gary Edward Thompson, age 45, and were concerned for his health and safety. Through their interaction with Mr. Thompson, at his home, Vinton officers discovered a deceased German Sheppard on the front lawn of the home. An examination of the dog at the scene indicated the dog did not likely die of natural causes. On April 26, 2016 the body of the animal was transported to the Lynchburg Regional Animal Health Laboratory for a necropsy examination so as to confirm the manner and cause of death. Mr. Thompson was subsequently arrested and charged with violation of 3.2-6570 (F) of the Code of Virginia and transported by officers of the Vinton Police Department to the Roanoke County–Salem Jail.

UPDATE from Roanoke County Fire & Rescue: April 28, 2016 (ROANOKE COUNTY)—Fire investigators determined the house fire started in the garage but the damage is too extensive to determine what specifically sparked the fire. The fire is believed to be accidental in nature and damage estimates are $250,000. The house is a total loss as well as two vehicles.A couple and their two dogs are displaced and staying with family. On a secondary search of the home, firefighters were able to rescue the two dogs. They were found on two different floors, covered in soot and scared. Paramedics cleaned them off and they should be okay. The injured firefighter is doing good.
——————————-
From Roanoke County Fire & Rescue: April 27, 2016 (ROANOKE COUNTY)— Roanoke County Fire & Rescue was dispatched to the 1900 block of Springmill Road at 4:08 p.m. for a reported structure fire. When crews first arrived on scene they found a two-story house with flames coming from the front and side of the home. Soon after arrival, flames burned through the roof and the roof began to partially collapse forcing firefighters to fight the flames from outside the structure. Firefighters from the Fort Lewis and Masons Cove stations as well as Salem units worked for more than 30 minutes to get the flames knocked down. The siding of the next door house melted as a result of the flames. The homeowner called 911 when she saw flames in her garage. She reported that two dogs were in the house. Firefighters were able to rescue the two dogs and paramedics provided care to them on scene. One firefighter was transported for what is believed to be a minor injury. Fire investigators are on scene working to determine what sparked the fire.
UPDATE: 3-year-old Mason Ryan was found safe in a wooded area about 3 miles from his home. Police were able to find him by following the sounds of his dog – that he went missing with last night – barking.
Henry County Police are searching for a missing boy. Mason Ryan, 3, was reported missing from the Wagon Trail Road area of Spencer just before 6 p.m. Monday evening. He was last seen with a dog and wearing a yellow Batman logo t-shirt, according to police. Mason's mother stepped into another room, and when she returned he along with the small brown dog were gone. Virginia State Police, along with fire and rescue, and volunteers are assisting the Henry County Sheriff's Office with the search.

WFIR News has received a top award among Virginia radio stations for 2015 "Best Newscast". Competing with cities that include Norfolk and Richmond, "The Roanoke Valley's Morning News" with Joey Self received the highest Associated Press honor presented to any Virginia station competing in the "Metropolitan" category for Best Newscast. The award was presented over the weekend in Charlottesville.

From Roanoke County Police: Friday, April 22, 2016 – Roanoke County Police have charged a student at Northside High School with making a threat at the school on April 15. The threatening message was discovered written in a girl's bathroom. Charges include one count of threats of death or bodily injury; threats to commit serious bodily harm to persons on school property (Sec. §18.2-60 of the Code of Virginia). It is a felony charge. Police on Thursday charged a student at William Byrd High School with making threats at the school on April 7 and April 18. Police continue to investigate similar threats made at Northside High School on April 18, Hidden Valley High School on April 19, and at William Byrd High School on April 21.