Virginia Tech news release: Virginia Tech Athletics will continue to honor the memory of two local television journalists who were tragically killed in a shooting on Wednesday. The Virginia Tech football squad will wear special helmet stickers for the season opener against Ohio State on Labor Day night. There also will be a moment of silence before the game. Alison Parker and Adam Ward were doing a live broadcast for Roanoke CBS affiliate WDBJ-7, on Wednesday morning at Smith Mountain Lake, a little more than an hour from Tech's campus, when they were killed. The players will wear a helmet sticker that features the No. 7 and teal and maroon ribbons, along with the initials of both victims. Teal was Parker's favorite color, while the maroon ribbon represents Ward, who graduated from Virginia Tech in 2011.
(Continue reading for the rest of the news release.)
From the Bedford County Sheriff's Office: On Saturday August 29, 2015 at 1: 30 p.m., Bedford County 911 dispatchers received a call to 1284 Breezy Hill Road, Vinton. The caller, who was calling from Botetourt County, advised that her daughter, Ashley Brogan, age 28, was at this residence and was possibly being assaulted by a Willard Hale. A Bedford County deputy responded to the address and spoke with Willard Hale's father, who invited the deputy into the residence. He said the two were in another part of the house. After checking the residence the deputy could not locate either. The father then advised the deputy they must have went out the back door.
(Continue reading for the rest of the news release.)

A Roanoke area business has been the target of a scam that attempted to take it for $47,000, and the Better Business Bureau is warning other area businesses that they could be next.  WFIR's Luke Church has the details.
An independent radio and television producer has spoken of his interactions with Vester Flanagan, the man authorities say shot and killed two WDBJ7 journalists Wednesday before killing himself.  Andre Whitehead remembers Flanagan, as a person who felt discriminated against when he worked there as a reporter, but Whitehead believes those claims were unfounded. WFIR's Luke Church has the story.
A new Roanoke College poll shows Democrat Hillary Clinton leading Republican Donald Trump by 13 percent among Virginia residents, but when up against other GOP presidential candidates like Jeb Bush, Marco Rubio and Scott Walker, the margins are much narrower — anywhere from one to four per cent.  There is a big gender gap, with men slightly favoring any of the Republican contenders and women strongly in favor of Clinton. She trails Bush, Rubio, and Walker among Independents by 10-17 points, but leads each among moderates by margins ranging from 25 to 35 percent.
(Click here for full poll results and methodology.)

From the City of Salem: The Salem Fire & EMS Department responded to a structure fire at 20 Turner Rd., Brinks, Inc., this morning at approximately 1:52 a.m. No one was in the building at the time of the fire, but the entire structure did sustain heavy fire and smoke damage. The first unit arrived within six minutes of receiving the call and found heavy black smoke coming from the building. It took firefighters more than an hour to contain the blaze. The fire appears to have started inside a vehicle that was parked inside the building. Approximately 36 personnel from the Salem Fire & EMS Department (Engine 1, Engine 2, Engine 3, Medic 801 & Medic 803), the Roanoke Fire & EMS Department (Engine 4 & Ladder 5), the Roanoke County Fire & Rescue Department (Tower 9, Wagon 9 & Air 9) and the Salem Rescue Squad (Squad 1 & Medic 154) responded to the call. Roanoke County Fire & Rescue Department (Wagon 10) assisted with handling additional City of Salem emergency calls. The fire remains under investigation by the Salem Fire Marshal's Office, and there is no damage estimate at this time.
From Salem City Police: This morning at approximately 5:45 a.m., Salem Police with the assistance of Roanoke City Police executed a Salem search warrant for stolen property at a residence located in the 900 block of 12th Street S.E. in Roanoke. Earlier this week, investigators received information that in addition to the stolen property, explosives and controlled substances also were likely at the residence. The investigation into this matter is ongoing and no further information is available at this time.

From HokieSports.com: NASHVILLE, Tennessee (August 19, 2015) As the 2015 college football season kicks off, country music superstar Brad Paisley and IMG will be taking his show to select universities to provide free entertainment for the campus community. The tour kicks off September 6 at Virginia Tech. The "Country Nation College Tour presented by Zaxby's" will roll into Blacksburg, Virginia on September 6 and set up on the Virginia Tech campus. Breakout country artist Eric Paslay will be the special guest.
(Continue reading for the full news release.)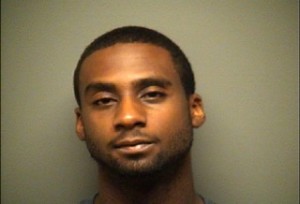 UPDATE: 24-year-old Tymon Marquis Smith of Roanoke has been arrested and charged with robbery, petit larceny and wearing a mask to conceal identity. He's being held in the Roanoke County/Salem jail without bond.
————————————
From Salem City Police: On Wednesday, August 12, at approximately 4:12 a.m., officers from the Salem Police Department responded to the 7-Eleven convenience store located in the 1700 block of E. Main St. in reference to a reported Armed Robbery. Upon their arrival, they were advised by the store clerk that a masked male had entered the store and demanded money. The man, who according to the clerk did not display a weapon, left the scene on foot with an undisclosed amount of currency. The suspect is described as a black male approximately six-feet tall with a slender build. At the time of the robbery he was wearing a gray sweatshirt and black shorts, and he was covering his face with what appeared to be an orange shirt. Anyone having information about the crime or the identity of the suspect is asked to call the Salem Police Department at (540)375-3078 or Roanoke Valley Crime Line (540)344-8500.

From Advance Auto Parts: ROANOKE, Va., August 13, 2015 – Advance Auto Parts, Inc.  today announced its financial results for the second quarter ended July 18, 2015. Second quarter comparable cash earnings per diluted share (Comparable Cash EPS) were $2.27 and was an increase of 9.1% versus the second quarter last year. As part of its on-going process of store evaluations, the Company has identified, and is subsequently planning to close 50 stores in the latter part of 2015 in line with the Company's accelerated efforts to achieve its 12% comparable operating profit target in 2016.