From Christopher Newport University:NEWPORT NEWS, Va. – Republican Donald Trump rebounded slightly from his low point after the "Access Hollywood" tape disclosure, but Democrat Hillary Clinton still holds a double-digit lead in Virginia, according to a tracking survey released Friday by the Wason Center for Public Policy at Christopher Newport University. Clinton leads Trump among likely voters in Virginia, 45-33 percent.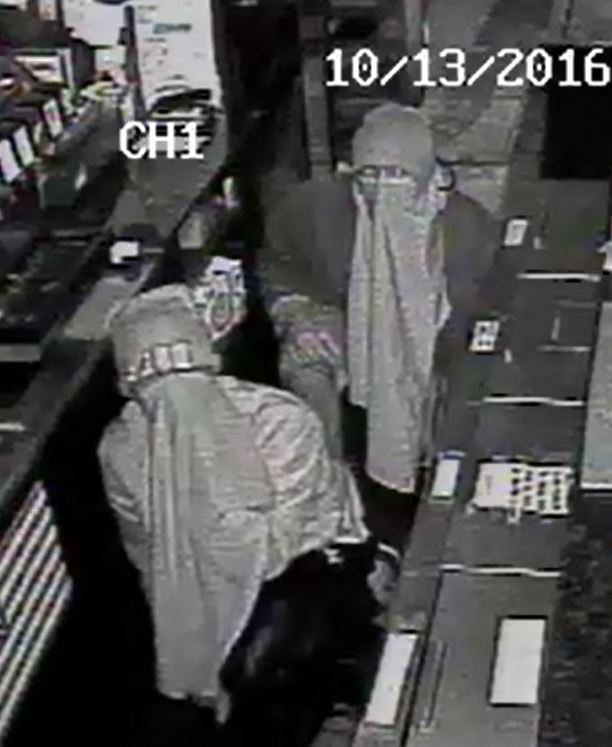 From Roanoke City Police: Roanoke, Va.– On October 13, 2016 at 7:02 a.m. Roanoke Police were called to the 3100 block of Shenandoah Avenue NW, the Hilltop Restaurant, to investigate a burglary. Officers found evidence of forced entry into the business. Restaurant staff told officers that cash and at least one other item belonging to restaurant had been taken. Further investigation revealed that the burglary had taken place early on the morning of October 13th. Two suspects entered the business. Both are included in the pictures below.
Anyone with information is encouraged to call the RPD tip line at 540-344-8500. Callers can choose to remain anonymous. Anonymous text messages can also be sent to 274637 [Crimes]. Please start any text message with the keyword "RoanokePD:" to ensure that it's properly sent.

From the Virginia Department of Health: (MONETA, Virginia) – The West Piedmont Health District (WPHD) will offer free seasonal flu vaccine at a special drive-thru clinic on Tuesday, Oct. 25th from 9:30 a.m. to 11:30 a.m. at Scruggs Fire, Rescue, and Dive Squad (2180 Bluewater Drive, Moneta, VA 24121). Only 300 doses of injectable vaccine will be available and will only be offered to adults 18 years and older on a first-come, first-served basis. Be sure to wear clothing that is loose around the arm so that a public health nurse can give you the flu shot in your upper arm, while you enjoy the comfort and convenience of your vehicle. Please do not have pets in the vehicle (controlled service animals are allowed).
(Continue reading for more of the news release.)
UPDATE From Roanoke County Police: John Chumbley has been located and he is uninjured.
PREVIOUSLY: (Roanoke County, VA) – Roanoke County Police need help in locating John Alexander Chumbley, 15 years of age. He was last seen on October 14, 2016. John is believed to be in danger due to some statements he made to his parents.  Please call the Emergency Communication Center if you know his whereabouts.  Emergency line is 911, Non emergency is 540 562-3265

From Roanoke County Police: (Roanoke County, VA) – Roanoke County Police arrested Mark Andrew Edwards, 44, of Roanoke, on an outstanding warrant on 10/13/2016. Detectives were conducting follow-up investigations related to the string of southwest County burglaries. Mr. Edwards was known to the detectives and at that time for being wanted on an arrest warrant for larceny from the City of Roanoke. After Mr. Edwards was recognized in a vehicle, the vehicle was stopped. Mr. Edwards was arrested on the City warrant. Subsequently, property found in the vehicle was later connected to a burglary that had occurred on Cotton Hill Rd earlier in the day. Edwards has been charged with one count of Breaking and Entering and one count of Grand Larceny. Police are investigating whether or not Edwards is connected to other burglaries in the area.
From the Bedford County Sheriff's Office: On August 10, 2016, Bedford County Sheriff's Animal Control Deputies received a complaint regarding an incident that occurred at the Bedford County Animal Shelter.  Animal Control Deputies were informed that a shelter worker, identified as a Bryan Skinnell, had injured a cat while performing cleaning maintenance at the facility. Upon investigation, it was found that Skinnell had injured the cat after he grew frustrated because it kept escaping its cage.  The cat was taken to a local veterinarian clinic where it had to be euthanized due to its injuries. The cause of death was consistent with blunt force trauma. Skinnell was terminated immediately and has been charged with felony Animal Cruelty.  On September 26, 2016, Skinnell was arrested and transported to the Bedford Adult Detention Facility. He was released on a Personal Recognizance bond.

From the Bedford County Sheriff's Office: At 12:30 p.m. today, Bedford County 911 dispatchers received a call from the 4500 block of Dickerson Mill Road, Bedford. The caller said he heard gunshots come from a house on Wheatland Road and that the young man that lived there has a history of mental issues. The caller also called the stepfather of the male subject and told him that he saw his stepson walking up the road with a rifle. The step father called 911 and advised that there were two rifles in the house and one of them was loaded. He also said both guns were supposed to be locked up. Dispatchers also received a call from 5301 Wheatland Road and the caller said a subject with blond hair was ringing his door bell and holding a rifle. He then said the subject had run down there the woods. Bedford County Sheriff's deputies along with Bedford Town Police officers and Conservation Police responded to the area and attempted to locate the subject.
(Continue reading for the rest of the news release.)

From the Botetourt County Sheriff's Office: On Thursday October 12, 2016 at approximately 11am, the Botetourt County Sheriff's Office was notified of a threat at Read Mountain Middle School. School officials reported discovering a statement written on a restroom wall, indicating that a bomb was on school grounds. The Sheriff's Office responded to the scene immediately with law enforcement personnel & explosives K-9 units from the Virginia State Police, Roanoke County Police Department & the Virginia Tech Police Department.  School officials activated their emergency operation plan placing students and faculty in a lockdown while a thorough search of the building was conducted. At this time no threat has been discovered, however the sheriff's office in cooperation with the school division is continuing to investigate this matter.
From the Christiansburg Police Department: We are searching for three missing juveniles October 5, 2016 – The Christiansburg Police Department received a report on October 3 at 7:15 p.m. in reference to three Christiansburg High School students who had not returned home from school that day. Jordan Twiggs, 14, Alexis Coward, 14, and Kayla Swortzel, 14, left school after classes were dismissed on a school bus and got off the bus in the area of Swallow Lane in Montgomery County. The parents of the high schoolers told the Christiansburg Police Department the juveniles had talked about living together near a river. The Christiansburg Police Department has several officers and detectives searching various areas in the County, including locations the juveniles may be familiar with. Twiggs is described as 5-foot-5 and 130 pounds with brown eyes and sandy hair. Coward is described as 5-foot-5 and 150 pounds with blue eyes and brown hair. Swortzel is described as 5-foot-8 and 200 pounds with brown eyes and brown hair. Anyone with information is being asked to call Sgt. Randall Womack at the Christiansburg Police Department at (540) 382-3131 or after hours at (540) 382-4343.

The Henry County Sheriff's Office received information that there were lewd sexual acts along with the displaying of obscene motion pictures taking place at Passions Video located at 6535 Greensboro Rd., Ridgeway, Virginia. Passions Video is advertised as being an adult video store with movie arcade and adult novelties. Through the course of the investigation, it was discovered that the operator of Passions Video was charging a fee to allow customers to enter the rear area of the business. In the back portion of the business, there were multiple televisions playing obscene pornographic videos.  It was in this area that customers were engaging in sexual acts. While investigating the allegations, it was discovered that the business was owned and operated by Randy Dell Corns, 51, of 7804 Maplewood Rd., Waxham, NC.