From State Police: We are investigating a fatal motor vehicle crash which occurred on Route 460, east of the Town of Bedford at 11:52 a.m. The crash involved a dump truck loaded with gravel and a pickup truck, both of which were traveling east on Route 460.  The dump truck was slowing or stopping in the right lane and was struck by the pickup truck in the rear. The road was blocked eastbound for several hours while the vehicles were removed and the crash was investigated, and reopened at 2:21 p.m. State Police are working to make notification to the next of kin at this time and will release more information after that notification has been made. Virginia State Police Accident Reconstruction was called to assist with the investigation.

From the National Weather Service: 
A flood warning remains in effect until 5:00 pm EST for Roanoke, Salem and Roanoke County.  200 pm EST, runoff from heavy rain during the morning continues to collect in area rivers and creeks, and has pushed several out of their banks, resulting in minor flooding. Some rivers that are experiencing minor flooding in spots are the Roanoke River, Catawba Creek and Mason Creek. Rivers in the warned area are expected to crest during mid afternoon, with water levels receding thereafter. Some locations that will experience flooding include Roanoke, Salem, Vinton, Catawba and Bent Mountain.
Obey all road closures and avoid driving in areas where water covers the road. Keep children away from storm drains, culverts, creeks and streams. The flow of water is extremely strong after heavy rain and can sweep children away. When it is safe to do so, please send your reports of flooding, including mudslides or flooded roads, to the National Weather Service by calling toll free at 1-(8 6 6) 215-4324.
Update from the Botetourt County Sheriff's Office: The missing juvenile reported to the Botetourt County Sheriff's Office on January 21, 2017 has been located and returned home safe. The Botetourt County Sheriff's office was able to develop a lead on a possible location of the juvenile on Sunday January 22, 2017. This led Botetourt Deputies to contact Albemarle County Police Department who assisted in identifying a suspect who Botetourt Deputies believe assisted juvenile in disappearing. At approximately 8:00 pm on Sunday the juvenile was located at a home in Albemarle County. A suspect was placed in custody by Albemarle County Police on a Botetourt County warrant for contributing to the delinquency of a minor. The suspect is identified as Garret Fitzgerald Coffman of Charlottesville VA. He is currently being held in the Albemarle Charlottesville Regional Jail.
Previously: The Botetourt County Sheriff's Office is looking for a missing teen. Melanie Pritts, 15, of Troutville, was last seen Friday night. She's 5'5" and about 115 lbs. Deputies say she told friends she was heading south. Pritts may have a long-haired black and white cat with her as well. If you know Melanie Pritts' whereabouts, you're asked to contact the Sheriff's office at (540) 473-8631.

Within the last hour the Roanoke County Police has received three calls for service in reference to an attempted fraud. The citizens are getting calls from a male subject identifying themselves as an employee of Appalachian Electric Power (AEP). They are advising the person called that they area past due on their power bill and that if they do not pay by pre-paid cards their services will be cancelled immediately resulting in their power being cut off.   We want to alert the community that AEP and no other utility company would ever demand any payment in this manner. If anyone has any information on this incident they should call the Roanoke County Emergency Communication Center at (540) 562-3265.

From the Virginia State Police: Virginia State Trooper J. L. Cornett is investigating a fatal motor vehicle crash on Interstate 81 in Roanoke County.  The crash occurred at 10:54 a.m. at the 134 mile marker, one mile north of Route 647 in Roanoke County.A 2002 Jeep Liberty was traveling north on Interstate 81 when the driver lost control, ran off the left side of the roadway. Read the rest of this story »
From Roanoke City Police: On January 17, 2017 at 6:15 p.m., Roanoke Police responded to a home in the 2300 block of Staunton Avenue NW for a person who had been shot. The victim was identified as Michael Lee Nance, age 28, of Roanoke. Nance sustained a gunshot wound to the abdomen. The first officer on scene began rendering first aid to Nance until paramedics arrived. Nance was speaking with officers at the scene. Roanoke Fire EMS transported Nance to Carilion Roanoke Memorial where he died at 7:37 p.m. Officers determined the shooting took place in the 1800 block of Staunton Avenue. Evidence recovered indicates that Nance had been in his vehicle when he was shot. Drug activity was involved in the shooting. After further investigation, officers arrested Michael Antonio David Jr., age 19, at his residence in the 4000 block of Wyoming Avenue NW at 7:45 a.m. At this point David Jr. has been charged with second degree murder. He was taken to the Roanoke City Jail. Detectives have also obtained a second degree murder warrant for Markeith O'Shea Bryson Jr., age 19, of Roanoke. He has not been served with the warrant at this time. Anyone with information on his immediate whereabouts should call 911. Anyone with information that may help find him please call 540-344-8500. Callers can remain anonymous.
Republican candidate for governor Ed Gillespie joined WFIR Morning News Host Joey Self and Reporter/Anchor Gene Marrano on The Roanoke Valley's Morning News. Here is the full interview:
We will conduct similar live interviews this year with the other candidates for governor.
Bedford County's fire marshal says it is too early to determine what started this morning's fire that killed a four-year-old girl, but they know the fatal blaze began in the back of the house near Bedford Middle School. There were eight people in the home — two adults and six children ranging from five months to 17 years old. Firefighters rescued four of them, but the young victim died on the way to the hospital. Fire officials say one adult male was airlifted to Wake Forest Medical Center.
(Continue reading for the Town of Bedford news release.)
Update from the Bedford County Sheriff's Office:  Trenton Poindexter was arrested in Roanoke City this afternoon.
Previously: Shortly after sending out the Press Release this morning the suspect was identified as Trenton Marquise Poindexter, age 21, of Franklin County Va. A Bedford County Sheriff's Deputy was able to identify the suspect due to having knowledge of him while working at another law enforcement agency. Two felony warrants were obtained for Poindexter for having previously been convicted two or more times for petit larceny. Bedford County deputies have notified the Franklin County Sheriff's Office of the warrants for Poindexter.
Previously: On Wednesday January 11, 2017, the Bedford County Sheriff's Office received a call from the Virginia ABC Store located at 14807 Moneta Road. The caller reported a black male wearing a red hoodie and khaki pants and a white female with blonde curly hair came into the store together. The caller said that the black male subject placed two bottles of liquor in his pants and left the store. Anyone with information on this crime can call the Bedford County Sheriff's Office at 540-586-7827 or Central Virginia Crime Stoppers at 1-888-798-5900. Crime Stopper callers remain anonymous and could receive a cash reward up to $1,000.00.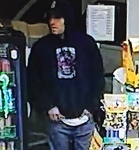 From Vinton Police Department: At approximately 0711 hours this morning Vinton Police officers responded to BP Food Market, 210 W. Virginia Ave for an armed robbery. A white male, described as being late 20's to early 30's in age, 5'11"- 6″1″ in height wearing a blue hoodie, jeans and dark ball cap entered the store, produced a handgun and demanded an undisclosed amount of money from the clerk. He then fled on foot. No further information is available at this time.