From Christiansburg Police:
August 24, 2016 – Christiansburg Police responded on Tuesday night to a two-vehicle wreck near the Interstate 81 overpass on Virginia 8.  According to the preliminary investigation, at 7:17 p.m., a 2009 Chrysler sedan made a left turn from the south I-81 Exit 114 off-ramp onto Virginia 8. The sedan collided with a 2002 Harley-Davidson motorcycle that was travelling toward downtown Christiansburg on Virginia 8.  The motorcycle driver, Timothy Harold Roberts, 54, of Christiansburg, was airlifted from the scene but died en route to Carilion Roanoke Memorial Hospital.  The driver of the sedan, Marjorie Kaye Cromer, 64, of Christiansburg, was not injured. The incident is under investigation, and no charges have been filed at this time.
UPDATE – From Roanoke County Police: Witnesses told police that during the attack, Mr. Farooqui was yelling "Allah Akbar." Roanoke County Police immediately contacted the FBI. "The FBI is working with the Police Department following the incident that occurred on Saturday evening," said Adam Lee, Special Agent in Charge of the FBI's Richmond Division. "While I cannot discuss details of the investigation at this time, I do want to reassure the community that we are working to determine the nature of the incident." This is all of the information that will be released at this time.
Continue reading for the original press release

From Roanoke County Police: On Monday August 22, 2016 at 2:06 p.m., Roanoke County Police responded to the 3500 block of Brambleton Avenue in South Roanoke County to investigate an armed robbery. Witnesses say a white male, approximately 5'08" to 5'10", with short hair, wearing dark shorts and a dark hooded sweatshirt entered the business, armed with a handgun. The suspect took an undisclosed amount of cash, exited the business, and then ran south along Brambleton Avenue. No one was injured during the incident. No arrests have been made. Anyone with additional information should contact the Roanoke County Police Department at 540-562-3265.
(Police did not identify the agency, but WDBJ7 reports it was the Don Hodson Nationwide Insurance Agency)
From The Bedford County Sheriff's Office: We are seeking the public's assistance in identifying a white female who stole a cell phone from the Hop-Inn in Stewartsville. On Wednesday August 17, 2016, between 1:00 p.m. and 2:00 p.m. an employee said her cell phone was taken from a charger on the deli counter. The surveillance video in the store shows a white female taking the phone. The suspect is 25/35 years old, blonde hair, wearing a white sleeveless shirt, dark colored shorts and white sunglasses. The suspect was driving a white, mid/late 90s four door car with black rims. Anyone with information on this crime can call the Bedford County Sheriff's Office at 540-586-7827 or Central Virginia Crime Stoppers at 1-888-798-5900. Crime Stoppers callers remain anonymous and could receive cash reward up to $1,000.00 for information that helps solve crimes.
From Roanoke County Police: On Monday 8/15/2016 at approximately 6:40am, officers with the Roanoke County Police Department responded to a business break-in located in the 900 block of N. Electric Rd. Extensive property damage was reported, as was the theft of money (undisclosed amount). Surveillance footage from the scene captured two subjects with masked faces and covered hands within the building wielding crowbars. Attached is a still surveillance photo of one of the suspects attempting to disable a surveillance camera on 8/14/2016 at 10:56pm. Anyone with information regarding this investigation or information regarding the suspect information for the still photo provided is asked to please call Roanoke County police at 540-562-3265.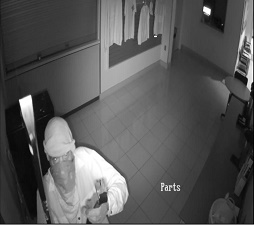 From the Virginia Department of Health: (RICHMOND, Va.) – The Virginia Department of Health (VDH) is investigating a cluster of hepatitis A cases and has identified a potential association with smoothies from Tropical Smoothie Cafe restaurants in Virginia. Genetic testing shows the illnesses were caused by a strain of hepatitis A that has been associated with past outbreaks due to frozen strawberries from Egypt. Upon learning of the potential link to strawberries, Tropical Smoothie Cafe immediately conducted a voluntary product withdrawal of all strawberries sourced from Egypt and found an alternate supply. Individuals who consumed a smoothie from a Tropical Smoothie Cafe in Virginia that contained frozen strawberries, on August 5, 6, 7 or 8, 2016, may still benefit from vaccine or immune globulin to prevent hepatitis A. If you have had hepatitis A or have been vaccinated for hepatitis A, you are already immune and therefore not at risk for getting the disease. Anyone who consumed a smoothie after the frozen strawberries were removed from restaurants is not thought to be at risk for hepatitis A.
(Continue reading for the rest of the news release.)
From the Bedford County Sheriff's Office: On Tuesday August 16th, 2016, Investigators from the Bedford County Sheriff's Office Vice Unit, assisted by the Town of Bedford Police Department, executed a search warrant for 912 Grand Arbre Dr in the Town of Bedford. The search warrant was in reference to the distribution and sale of cocaine from the residence. The investigation began when members of Bedford County Sheriff's Office Vice Unit purchased an amount of powder cocaine from Gerry Staples on two different occasions which then led Investigators to obtain a search warrant for the residence. Inside the residence, Gerry Staples who resides at that address, was located. Investigators recovered $11,670 in cash, approximately 10 grams of powder cocaine packaged in separate bags along with plastic bags and other items commonly associated with the distribution of illegal narcotics, several sets of digital scales that contained white residue and a black tactical stock shotgun.
(Continue reading for the rest of the news release.)

From Roanoke County Fire & Rescue: August 16, 2016 (ROANOKE COUNTY)—At about 2:45 this afternoon, Roanoke County Fire & Rescue crews were dispatched to the 100 block of Clubhouse Drive for a report of a gas line leak.
When the first units arrived, they found flames coming from the area where landscaping contractors had been digging. Firefighters protected several near-by homes from the flames until a gas company worker could arrive and shut off the natural gas line.
The fire marshal investigated and determined that a landscaping company was digging holes for fence posts and struck a natural gas line causing it to leak. The machinery sparked the flames and caused an estimated $10,000 in damages. The damage includes melted vinyl siding, a burned section of privacy fencing and water damage.
No injuries were reported.

Local restaurants will be in the downtown Roanoke area this weekend to compete in an annual cooking competition — and hoping to put their best wing forward. WFIRs Clark Palmer has more details.

The 19th annual Virginia Vintage Comics and Collectibles show returns to the Salem Civic Center this weekend, aiming to capitalize on the popularity of recent superhero movies. WFIR's Clark Palmer has more details.