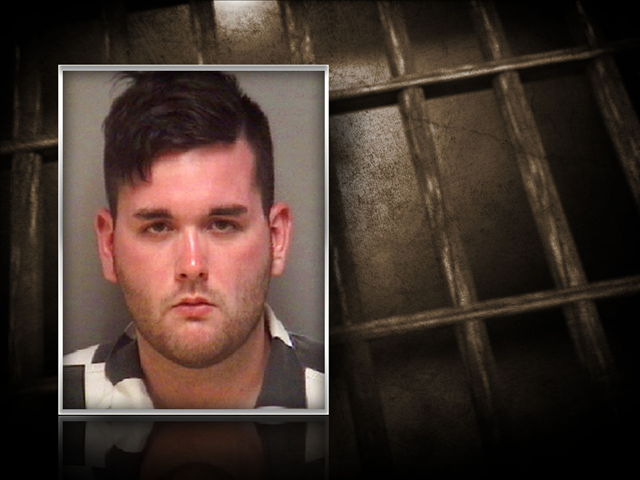 CHARLOTTESVILLE, Va. (AP) — A man in custody at a Virginia jail assaulted fellow inmate James Alex Fields Jr., the man accused of driving a car into counterprotesters at a white nationalist rally, the facility's superintendent said Friday.
Fields was being seen by jail staff in an office Monday morning when Timothy Ray Brown Jr. made his way past a correctional officer and hit Fields "twice on the left side of his body above his shoulders," Col. Martin Kumer, superintendent of the Albemarle-Charlottesville Regional Jail, said in a news release.
"At no time did Inmate Fields have an opportunity to defend himself or respond in any manner," the news release said.
A friend of Brown's told The Associated Press on Friday that Brown was a friend of Heather Heyer, the woman killed in the Aug. 12, 2017, attack, which left dozens more injured.
Fields — who has been described by authorities and others who knew him as an admirer of Adolf Hitler — faces first-degree murder and other charges in Heyer's death.
Both Fields and Brown were evaluated after the incident and neither had serious injuries, Kumer said.
Brown has been charged with assault and Fields has been given the chance to pursue criminal charges, according to the news release.
Fields' attorney didn't respond to requests for comment.
Jay Scott, a friend of Brown's who said he was with him and Heyer in downtown Charlottesville when the car plowed into the crowd, learned of the jail fight and started a GoFundMe page this week to raise money for an attorney.
"He shouldn't have to fight it alone," said Scott.
The August 2017 "Unite the Right" rally drew hundreds of white nationalists to the college town, where officials planned to remove a statue of Confederate Gen. Robert E. Lee. Hundreds more came out to protest against the white nationalists.
Prosecutors allege that after the crowd broke up, Fields drove his car toward the area where a racially diverse group of people had gathered to protest the rally. They say he rapidly accelerated his gray Dodge Challenger into the crowd. The car then reversed and fled.
Fields was arrested a relatively short while after the attack. Kumer told AP he was not aware of any other assaults or threats against Fields during his time in custody.
Fields, of Maumee, Ohio, is scheduled to go on trial next month on the state charges he faces. He also faces federal hate crime charges.