Health and Medicine
A day after being called "a crazy governor" at the White House by President Trump, Governor Ralph Northam appeared to take a mild swipe at the president while touting how Medicaid expansion in Virginia may have lessened the impact of COVID-19. More from WFIR's Gene Marrano: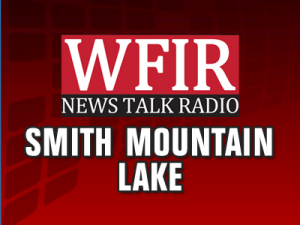 NEWS RELEASE: SMITH MOUNTAIN LAKE, Virginia – The Smith Mountain Lake Regional Chamber of Commerce (SMLRCC) announced the reopening of the Smith Mountain Lake Visitor Center, which it operates, on Thursday, May 21, to coincide with the Governor's recent phase one opening of the state.
"We wanted to reopen the Visitor Center to support and serve visitors and the greater Smith Mountain Lake business community in advance of the Memorial Day weekend," stated Christopher Finley, SMLRCC executive director. "We have implemented new measures to ensure the safety of guests, staff and volunteers including physical distancing, enhanced cleaning protocols, and Personal Protective Equipment."
Safety measures will be in place in accordance with the Centers for Disease Control and Prevention (CDC) and Virginia Department of Health (VDH) guidelines including:
All employees are to wear masks.
Plexiglass shield installed at the service counter.
Sanitizer is available upon entrance and exit.
Floor markings and temporary layout changes to ensure social distancing.
Employee "greeter" stationed near the entrance to control the number of guests allowed in.
An employee "sanitizer" will be responsible for maintaining cleanliness throughout the visitor center.
The chamber's restroom will remain closed to the public.
Located at Bridgewater Plaza, Suite 2 on 16430 Booker T. Washington Hwy in Moneta, the Visitor Center will be open 9 a.m. to 5 p.m. Monday thru Friday and 10 a.m. to 4 p.m. on Saturday and Sunday. Finley added visitor information services are also available online at visitsmithmountainlake.com, over the phone at (540) 721-1203 or via email at info@visitsmithmountainlakecom.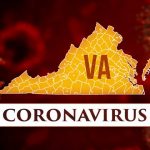 A local long-term care facility is expressing thanks to its staff, residents and local supporters as it emerges from a COVID-19 outbreak that had thrust it into the spotlight. More from WFIR's Gene Marrano: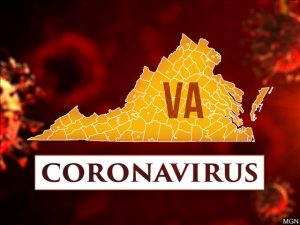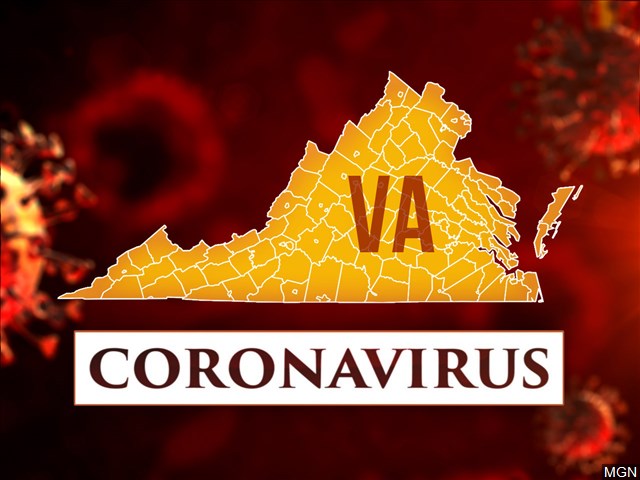 According to numbers released this morning by the VDH, there are 763 new coronavirus cases statewide, bringing the overall total to 32,908. Over the same 24-hour period, health officials report there were 33 new coronavirus-related deaths, bringing the total number of dead statewide to 1,074.
Of particular local note, there are no new reported cases of coronavirus in the Roanoke Valley in the latest reporting period. The VDH shows 135 confirmed or probable cases in Roanoke City, 88 in Roanoke County, 33 in Salem and 31 in Botetourt County for a total of 287.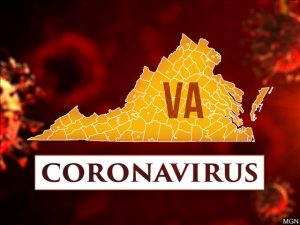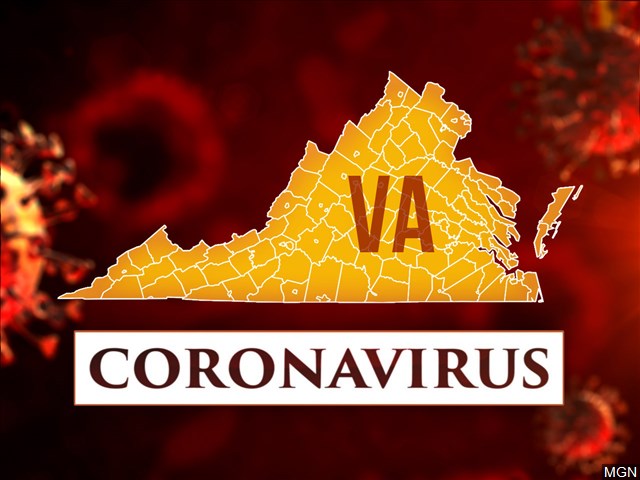 According to the latest numbers released by the VDH, there are 7 new confirmed cases of coronavirus in Roanoke City, two in Roanoke County, and one new case in Salem. Botetourt County's overall case count remains at 31. There are no new confirmed deaths in the Roanoke Valley.
The VDH is reporting there are 1,005 new coronavirus cases statewide bringing the commonwealth's overall case count to 32,145. State health officials are also reporting over a 24 hour period, there were 27 new coronavirus related deaths bringing the overall number of dead in Virginia to 1,041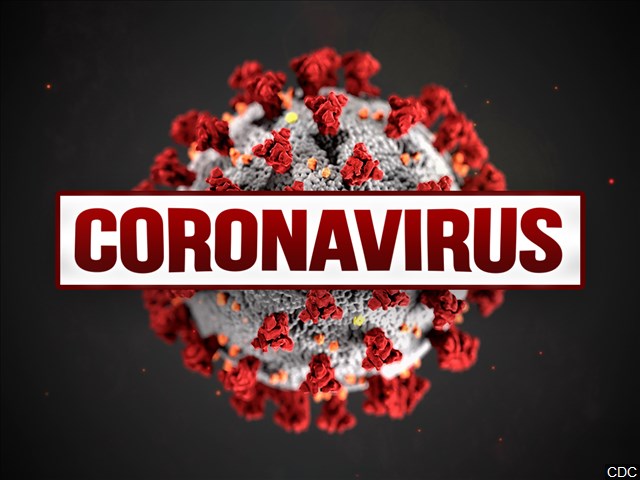 From Virginia Department of Health: (CHRISTIANSBURG, Virginia) – The New River Valley Public Health Task Force will host an interactive, virtual town hall on COVID-19 and local government, Wednesday, May 20 from 6 to 7 p.m. All area residents are invited to participate.
This is the third in a six-week series of town halls. Each has a specific focus and features a panel of local experts, who will offer remarks and answer questions. This week's panel includes representatives from the Counties of Floyd, Giles, Montgomery and Pulaski, City of Radford and Towns of Blacksburg and Christiansburg. Additional dates, topics and invited panelists are:
May 27 – Local/Small Business – Downtown Blacksburg, Inc., Floyd, Montgomery and Pulaski County Chambers of Commerce, Giles County Tourism, Radford Chamber of Commerce and the Small Business Development Center
June 3 – Education/K-12 – Radford Public Schools, Floyd, Giles, Montgomery and Pulaski County Public Schools
June 10 – Education/Colleges and Universities – New River Community College, Radford University, Virginia Tech
Submit your questions anytime, as follows:
In writing athttp://montva.com/NRVtownhall;
Record your question by voicemail at 540-391-0385; and
On Twitter with the hashtag #NRVStrongerTogether.
Written questions can be submitted during each town hall (at http://montva.com/NRVtownhall), and will be addressed as time allows.
The town halls will stream live at www.youtube.com/montgomeryva, and will be archived on YouTube, agency websites and social media, and rebroadcast on local cable access stations including Comcast and Shentel Channel 190 (Christiansburg and Montgomery County) and Comcast Channel 2 (Blacksburg).
The New River Valley Public Health Task Force is composed of local health, public safety, education and government agencies that work to proactively provide local residents and communities with information about COVID-19, to coordinate efforts to reduce its local impact and to facilitate community recovery.
For more information, visit www.montva.com/coronavirus and www.vdh.virginia.gov, or call the New River Health District public health call center at 540-267-8240. Hours are Monday through Friday, 8 a.m. to 8 p.m.; Saturday, 8 a.m. to noon and Sunday, noon to 4 p.m. After hours, leave a message.
# # #
NEW YORK (AP) — A nurse from Virginia took a unique path to travel to New York to help out during the COVID-19 pandemic.
Rather than risk flying during the crisis, 26-year-old Rachel Hartley and her husband sailed hundreds of miles to Brooklyn last month.
Hartley, of Lynchburg, told the New York Post she left her job at a local hospital and has been working four 12-hour night shifts a week at NYU Langone Brooklyn.
She and husband Taylor have been living on the boat, a four-bedroom, 50-foot vessel named Turning Points, at a marina in Brooklyn Heights. Hartley said the marina owner has even waived thousands of dollars in monthly fees for the couple.
The trip took two days and featured cold temperatures and windy conditions. Hartley said it's the hardest-working environment she's experienced, but that it's been well worth it.
"My ultimate desire is to give people help and love. For me, going to the epicenter of a pandemic was the best way to do that," she said.
Virginia's DMV will start reopening some of its offices Monday – nine of them around the state, including Roanoke – and for those who must attend to business in person, those customer service centers are going to look a lot different. More from WFIR's Evan Jones.
If you have a license or registration matter that can be handled on line or by mail, you are currently required to do it that way, but if you must attend to things in person, you must first make an appointment. In- person business will mainly involve title returns, people moving to Virginia from other states and first-time drivers licenses.
When you walk in to the Roanoke office, there are ten counters set up with plexiglass shields — and a single chair eight feet behind each one.
DMV officials expect to gradually equip and reopen all customer service center by the end of July.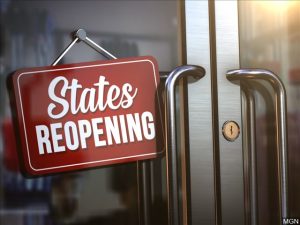 This is the day many Virginia businesses can re-open, including hair salons and barbershops. But in many places, getting your hair cut will probably not resemble what you are used to.  Take the Hollins Barber Shop, where a lot has changed — like plastic dividers now between the five chairs and appointments for the first time ever. There is no waiting inside and no conversation that comes with it, something that Mike Hughes at Hollins says is often as important to customers as the haircut itself. WFIR's Evan Jones has more: