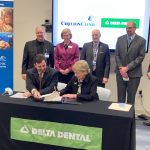 Carilion Clinic and Delta Dental will work together to create a pediatric dental residency based at Carilion Children's-Tanglewood. The Delta Dental of Virginia Foundation announced a 2 million dollar endowment today during a joint event with Carilion officials.  Up to four dental school graduates a year could be doing their residencies at Carilion Children's by some time in 2024. The goal is to attract more dentists to the valley – hoping they will stay here once their residency at Carilion Children's is over. Frank Lucia is Delta Dental of Virginia President and CEO:
(Delta Dental release) ROANOKE, Va. (Jan. 18, 2023) – The Carilion Clinic Foundation and Delta Dental of Virginia Foundation
today announced the creation of a new partnership and funding agreement that will expand children's
oral health care services in the region through the development of a pediatric dental residency program
at Carilion Clinic. In addition to investments by Carilion, the Delta Dental of Virginia Foundation is
funding a $2 million endowment to provide annual programming support in perpetuity. The program
and funding agreement were created in direct response to the nationwide shortage of oral health
services for underserved and vulnerable populations; a need echoed in our region.
"The majority of southwest Virginia is considered to have a dental health professional shortage and our
regional safety-net clinics are in desperate need of relief and support," said Frank Lucia, Delta Dental of
Virginia president and chief executive officer. "We continue to search out unique opportunities to
strengthen our partnership with Carilion and leverage the capabilities of our two organizations to
benefit the communities we serve."
Carilion's pediatric dentistry practice is already one of the busiest in southwest Virginia, serving
approximately 10,200 patients annually. The addition of two pediatric dental residents will allow the
clinic to provide preventative and restorative dental care for thousands of additional children each year.
"Access to dental care shows up repeatedly as a top need in our Community Health Assessments," said
Nancy Howell Agee, president and chief executive officer of Carilion. "Through our continued
partnership with Delta Dental of Virginia, we're addressing this longstanding need by training the next
generation of dentists and attracting more talent to our community."
The newly created residency will be housed inside Carilion Clinic Dental Care at Tanglewood, providing
young professionals an opportunity to work with the latest in modern dental care technology and
infrastructure. The program will provide residents growth, development and education opportunities in
orthodontics, craniofacial structures, behavior management, care of patients with special needs and
multidisciplinary care.
This program joins 29 other nationally accredited graduate medical education programs offered at
Carilion. They include 13 residencies and 16 fellowships involving 340 trainees.
"We are excited to teach the next generation of pediatric dental experts, while also introducing them to
our community," said Lee Jones, D.M.D, chief of dentistry at Carilion. "Best case scenario is that our
residents not only receive the best-in-class, hands-on education available, but that they also grow to
love our region and continue to have a positive impact on patients in the Roanoke Valley and beyond for
years to come."
Delta Dental of Virginia and Carilion have partnered for more than a decade on various oral health
education and community impact initiatives, including the development of the Virginia Tech Carilion
School of Medicine's annual Oral Health Lecture series, a previous endowment to create the first oral
health curriculum in a U.S. medical school, and most recently the creation of the LIFT Center at Fallon
Park Elementary.