Web Staff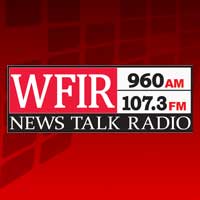 A club in Roanoke focuses on women and their right to bear arms. "A Girl and a Gun Club" members meet every month to practice their shooting skills. WFIR's Starr Anderson has the story.
Click here for the club's website.

The Vinton Police Department is getting a new four-legged addition. The town's police chief says the dog's keen sense of smell will help search for narcotics, and he hopes there will be a decrease in the dealing and distribution of drugs in the community.  WFIR's Starr Anderson has the story.

Red Cross Blood supplies are at the lowest level in 15 years. They are only collecting about 80% of what they hope to see each day, and that is leaving them with little reserve to draw upon.WFIR's Starr Anderson has the story.

Eat for Education is over, but Roanoke City school officials say its benefits will continue in next few years. The 2% meals tax increase expired just over a month ago. WFIR's Starr Anderson reports on its impact.

It takes more than notebooks and pencils to be ready for the first day of school. Officials say it happens every year: parents fail to schedule required physicals and immunizations for their children before the young ones enter kindergarten. WFIR's Starr Anderson has more.

The statistics show childhood obesity has more than tripled in the past 30 years, and many school systems are trying to help bring that number down. WFIR's Starr Anderson reports on what they are doing in Roanoke County schools.

Virginia's annual tax-free school supplies weekend starts Friday. State officials estimate shoppers will save about $4.5 million Friday through Sunday. WFIR's Starr Anderson has more on what you can save on.
Click here for The Virginia Department of Taxation's full list of rules and items eligible for the tax-free weekend.
It was only a test — and it was not supposed to go out to 30,000 Roanoke County land line telephones. But a warning about an escaped inmate had many county residents wondering what was going on. It is part of a "reverse 911" system Roanoke County plans to implement within the next month.WFIR's Starr Anderson has the story.
Here is the entire telephone test message:
(Continue reading for the full Roanoke County news release)

Most public schools resume classes in the next month or so, and many low-income students will again have access to school lunch programs during the week. As WFIR's Starr Anderson reports, a private program intends to help many of those same children on weekends — one backpack at a time.

Roanoke City was one of the 80 communities and organizations awarded money from the National Endowment of the Arts. The main goal is to use the $50,000 to bring arts in to the neighborhoods.WFIR's Starr Anderson has the story.