Web Staff

The Obama campaign has released details on former President Bill Clinton's stop tonight (Saturday) in Roanoke. The Clinton event will be at Patrick Henry High School at 7:00 p.m. Doors open at 6:00 p.m. You have to have a ticket to get into the event, but they are free. You can click here for a direct link on the Obama campaign website to sign up for an e-mail to get an e-ticket.

A new Roanoke College poll shows Republican Mitt Romney with a five-point lead over President Obama, 49%-44%. That contrasts with an eight-point Obama lead in the last Roanoke College Poll nearly a month ago. A Quinnipiac University poll this morning shows the race at a virtual tie, with Obama ahead 49%-47%.
In the U.S. Senate race, the Roanoke College poll shows Republican George Allen ahead of Democrat Tim Kaine 47%-42%.  The Quinnipiac poll shows Kaine ahead 50%-46%.

RICHMOND, Va. (AP) _ Dominion Virginia Power estimates up to 1 million customers could lose power over the next few days as Hurricane Sandy barrels by Virginia.
About 2,000 of the utility's customers were without power early Monday, down from more than 5,000 on Sunday night.
Dominion will get assistance from 2,000 crews that are arriving in Virginia to help with the anticipated outages.
Spokeswoman Alison Kaufmann tells WWBT-TV that the three-day window of the storm will make it difficult for crews to restore power until the winds have passed.
If the outages reach 1 million, Kaufmann says Sandy would likely be one of the worst storms on record as far as leaving people in the dark. About the same number of customers were without power after Hurricane Irene last year.
Roanoke County police are asking for help identifying and finding a man who robbed the SunTrust Bank in the 7200 block of Williamson Road in the Hollins area. The suspect reportedly went into the bank shortly before 5:00 p.m. Thursday. The man did not show any weapons,  but showed the bank teller a note and took off with cash. Continue reading →
State Police say a Texas truck driver was killed in the overnight accident that blocked northbound Interstate 81 for several hours in Rockbridge County. The driver's name name is not yet being released pending notification of relatives.  The truck caught fire underneath a bridge at Exit 175, forcing the bridge to be closed to traffic until engineers could inspect its structural integrity. All lanes of Interstate 81 and all Exit 175 ramps are open once again.
Check VDOT for the latest traffic information.
UPDATE: Roanoke police say they have arrested the suspect in an early Saturday morning stabbing. The police department says Alex Hamm turned himself in to police around 8:45 p.m. Monday. He is charged with the murder of Anthony Hall.
Roanoke police are looking for Alex Daniel Paul Hamm, 36, of Roanoke. A warrant for Hamm has been obtained for the Sept. 15, 2012 murder of Anthony Dale Hall, 27, of Roanoke. Officers found Hall stabbed around 2:30 a.m. Saturday in the 700 block of Bridge Street in southwest Roanoke. That's near the Bridge Street Grille. Hall died at the hospital and police suspect Hamm of the stabbing death. If you know the whereabouts of Hamm, you're asked to call 911 immediately.
Roanoke police are warning hotel guests about a scam designed to get their credit card information.  Police say they've gotten several reports of guests getting calls to their hotel rooms from someone claiming to be from hotel security.  The callers tell the guests there's a problem with their credit cards.  They threaten to evict the guests if they don't give their name, address and credit card information.  Police say in some cases, guests gave that out, and it resulted in fraudulent charges made on their credit cards within minutes.  Police say hotel guests getting such a call should not give personal information to the caller.  They should hang up and call the front desk–or go there in person–to check it out.  Police have not said which hotels have been targeted by the scam.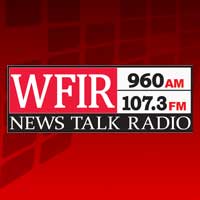 Angels of Assisi is more than an animal shelter. They're an adoption guarantee center. They make a lifetime commitment to their pets and will always take a pet back after it's been adopted no matter how long it's been. Angels of Assisi will never euthanize an animal for lack of space at the shelter. WFIR's Starr Anderson has the story.