Jim Kent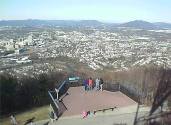 Roanoke City calls it a window connecting Roanoke with the rest of the country. Now, "StarCam" is back on line. It snaps a picture of the valley every 15 seconds, including whoever is on the Mill Mountain Star overlook at the time. "StarCam" had to be taken down for repairs in September. City Public Information Officer Melinda Mayo says the repairs were designed to make the camera less susceptible to harsh weather. Mayo says "StarCam" has been a popular feature and "an ambassador for Roanoke," attracting more than 100,000 on-line visitors in each of the past two years.
A Christmas morning house fire in Roanoke displaced two adults and four children.  Roanoke Fire EMS spokesperson Tiffany Bradbury says the fire in the 300 block of Hanover Avenue was reported about 1:30 a.m.  Investigators say it started in the attic and was caused by an electrical problem.  The Red Cross is assisting the six people who lived in the house.  No one was injured.

A Salem man escaped injury when a train struck his vehicle at a crossing in the Dixie Caverns area early Saturday morning.  Roanoke County police say 26-year-old Michael Woods was crossing on the Spring Hollow Access road off of West River Road about 3:20 a.m. when his vehicle got stuck on a portion of the track.  The crash did significant damage to the vehicle, but there were no injuries reported.  Police say no charges were filed.

A poll out this morning in the Virginia Governor's race has the Democrat up by eight points. The story from WFIR's Jim Kent:
The Roanoke Valley is seeing flooding this morning from the rains yesterday and overnight.  Streams are overflowing and the Roanoke River is rising. The flood stage at Walnut Avenue is 10 feet, and the river will be cresting well above that.
Roanoke and Salem deployed swift water rescue teams to help stranded motorists. The high water covered and closed a number of streets, and authorities warn motorist not to drive on roads that are covered by water, and to respect police barricades.
Among the many streets flooded: Peters Creek Road between Cove Road and Melrose Avenue. Water and mudslides closed Route 221 near Bent Mountain Elementary School in Roanoke County. Salem was seeing high water along Mason's Creek, on Thompson Memorial Drive and at the Riverwalk Apartments. Flooding extends beyond the Roanoke Valley to surrounding counties, where high water and downed trees are blocking a number of roads. There were also a few hundred power outages reported in Roanoke and Montgomery counties.
Joe McNamara won Saturday's firehouse primary in Roanoke County's Windsor Hills district, but the race in the Hollins district ended in a tie. McNamara defeated RoxAnne Christley by just five votes, 292 to 287. In Hollins the race was a dead heat, with Mike Bailey and Al Bedrosian each getting 389 votes. County Republican Committee
Chairman Dave Suetterlein says the winner will be selected by a public drawing next week, with a location and time to be set by the party's executive committee.
McNamara's victory in Windsor Hills sets up a rematch with Ed Elswick, who defeated McNamara for the Republican nomination four years ago. Elswick is running in November as independent.  The eventual nominee in the Hollins district will face independent Gary Jarrell, who announced his candidacy in February.
The outcome in Hollins was the first time political observers can remember a tie in a firehouse primary, but it was not the first tie in a contest for Roanoke County Board of Supervisors. In November of 1977, a tie in the Windsor Hills District resulted in a contest decided by lot. Democrat Lawrence Terry was eventually declared the winner over Republican Joseph Yosafat.

Researchers at the Virginia-Maryland Regional College of Veterinary Medicine at Virginia Tech are working on what they think could eventually be an effective treatment of prostate cancer in humans. They're working with a genetically engineered chicken virus that kills prostate cancer–even cells that migrate to other parts of the body–without harming other human cells. Researchers say they're looking for commercial entities that are interested in licensing the technology for human clinical trials and treatment.  The story from WFIR's Jim Kent.

More recreational access has opened up on the James River in Botetourt County.  Boaters, floaters and fishermen are already beginning to take advantage of the Gala Public Boating Access. WFIR's Jim Kent has the story.
Click here for full James River access information from Botetourt County.