Jim Kent
Researchers at Virginia Tech are looking into possible health benefits from compounds found in cocoa. The work has gotten a lot of attention, sometimes for the wrong reason. Andrew Neilson, assistant professor of food science and technology, says this should not be seen as an invitation to eat more chocolate. He says there are healthier ways to get the benefits of cocoa. The story from WFIR's Jim Kent:

US 220 re-open around noon between Clearbrook and Boones Mill, but Roanoke County Police say they'll have to close it down again for about 20 minutes between 2:00 and 3:00pm to hang new wires across the road. An accident this morning required  a lengthy closure to replace a utility pole.

The Virginia Department of Transportation Sunday was getting ready for another winter storm.  VDOT's Salem District said equipment was prepared and employees were ready to mobilize.  VDOT said it will not be pre-treating the roads with brine because the wintry weather is forecast to start as rain, which would wash the brine off the roads.  With the rain expected to turn into a wintry mix, VDOT says roads are likely to become covered with ice and snow.
To the North, VDOT's Staunton District urged motorists to avoid travel late Sunday and early Monday and to "shelter in place" until the storm passes.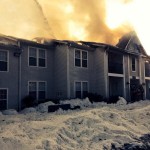 An apartment fire in Salem Friday afternoon left 41 people homeless and heavily damaged 20 apartments at 1778 Salem Commons Lane.  Four firefighters were injured.  Three received treatment at the scene and the fourth was treated at a hospital and released. 
Firefighters arriving about 3:40 p.m. found flames coming through the roof.  Officials say it took a little over an hour to contain the fire.  They were able to contain it to one building, but there was some smoke and water damage to a unit nearby.
The Salem Fire Marshal is investigating the cause and there was no immediate dollar estimate on the damages.  The Red Cross is assisting those displaced by the fire.

Roanoke officials reported Saturday morning that road crews had plowed and treated 65 percent of the city's residential streets, but said that streets that had not been plowed were still slippery and dangerous.   The storm dumped 19 inches of snow Wednesday and Thursday.  Friday's sunshine and warmer temperatures aided those who were still digging out from the storm.
Raj Suri has a computer science degree from Virginia Tech, but it's his work as a producer and co-writer of a Doritos commercial that has put his team in the running for $1 million prize. The commercial called "Time Machine" is one of five finalists for a Doritos spot to air during the Super Bowl.
Suri says they spent just $300 dollars making the commercial, and he calls his team "the underdog" to win the prize. The top winner is decided by on-line voting, and Suri is urging people to use their social networks to get the word out. View the commercial here.
Raj Suri talks about "Time Machine" and the "Doritos Crash the Super Bowl" competition:
Roanoke police say they're looking for the man who held up the Lafayette Express store on Lafayette Boulevard, NW.  It happened Monday evening shortly after 7:30.  Police say the suspect took money from the store and several items from the clerk. Nobody was hurt. Continue reading →
Three people escaped from a house fire in the 1200 block of Chapman Avenue early Sunday morning.  Roanoke Fire-EMS spokesperson Tiffany Bradbury says crews responded to the fire at about 3:45 a.m. and had it under control by 4:44 a.m.  Crews found "heavy fire showing" when they arrived, and they said three people inside the house had already escaped the flames.  The fire also damaged a neighboring house.  Damages are estimated at $98,000.  The cause of the fire is still under investigation.
The Red Cross says it is providing financial assistance for meals, clothing and lodging for a family of two.  The Red Cross says a man living in a separate unit in the house declined assistance.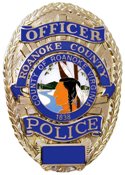 Roanoke County police, fire and rescue scrambled this morning when they got word of an Alzheimer's patient missing in this bitter cold. Police Sergeant Joseph Orange says the man in his 70s was reported missing from his house on Montgomery Circle in the Vinton area around 3 a.m. He was found in a wooded area less than a quarter of a mile from his house. Sergeant Orange says the man had been missing for two to three hours. Cold, but in good spirits, he was taken to a hospital.