Crime and Public Safety
Roanoke County fire crews are currently working to douse a forest fire off Bradshaw Road in the Mason's Cove area. Fire officials say as of 4:45 pm, the blaze had burned about nine acres of steep and heavily-forested woodland. No homes or other structures are threatened. Police say as a result of the fire, Bradshaw Road is down to one lane in the 2900 and 3000 blocks. In addition, say police, traffic is also limited to residents only on Forest Acre Trail.
From Roanoke County Fire & Rescue: Crews are currently on the scene of a forest fire in the Masons Cove area of the County . The call was dispatched at about 2:30 p.m. When firefighters arrived, they reported a forest fire in the area of Forest Acre Trail and Forest Acre Court off of Bradshaw Road. No homes or other structures are threatened at this time. Firefighters are working to dig a containment line completely around the burning area. At this time, approximately nine acres have burned and the fire is about 70% contained. The area that is burning is heavily wooded and steep terrain which makes it difficult for crews to move fast. The Virginia Department of Forestry is on scene with a bulldozer to reinforce the containment line.
Grover Price is a co-founder for The Hope Center – a non profit that serves those in need in Northwest Roanoke. He's also announced his candidacy for Roanoke City Council as an independent. Price has been outspoken about issues that impact so-called neglected communities… he took to social media to say there's a growing presence of gang activity in Roanoke, although some won't acknowledge it. WFIR's Overnight Reporter Lillian Boyd spoke with Price.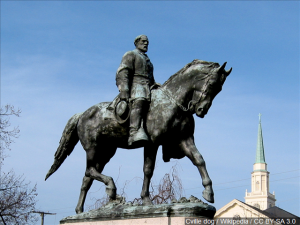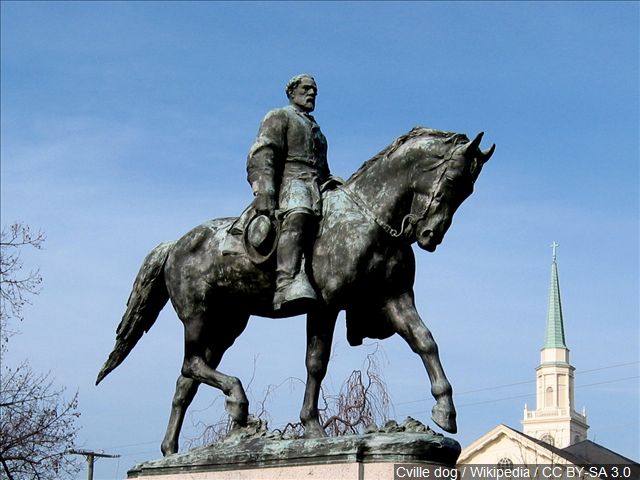 CHARLOTTESVILLE, Va. (AP) _ Police in Charlottesville have charged a Richmond man for a second time after he allegedly removed tarps covering statues of Confederate Generals Robert E. Lee and Thomas "Stonewall" Jackson. The Daily Progress reports police received a call Friday reporting that the black tarps covering the statues had been removed. When officers arrived at Emancipation Park, they spoke to witnesses who identified two men as suspects. Officers charged 34-year-old Christopher James Wayne with trespassing and vandalism. The second man was not charged. Wayne was charged with trespassing earlier this month after the tarps were removed three times over the weekend of Feb. 3. The tarps were placed over the statues in August after a woman was killed when a car plowed into a crowd of counterprotesters at a white nationalist rally.
From Roanoke City Police: On February 19, 2018 at 8:51 p.m., Roanoke Police responded to a robbery in progress call at the Exxon convenience store in the 2800 block of Hershberger Road N.W. On officer's arrival they were advised that a black male in his teens or to early 20's, described as 5'6 tall, and thin build came into the store with his face covered and demanded the clerk open the register. The male reached towards his waistband, acting as if he had a weapon. No actual weapon was displayed. The male subject removed cash from the register and fled on foot. Anyone with information on this subject's identity is encouraged to call the RPD tip line at 540-344-8500. Callers can choose to remain anonymous.
Amid funerals for the victims and calls for government action, a local criminologist says law enforcement personnel hope to learn life-saving lessons from last week's mass school shootings — starting with understanding motives. WFIR's Evan Jones has the story.
The City of Salem's Police Officer of the Year for 2017 is Cody Keen, a 25-year-old patrolman who hails originally from Richlands. Keen was cited for his work on two cases last year – one involving a woman trapped in a car filled with smoke, the other a drugstore robbery where Keen saw the suspect leaving with bags of prescription drugs. Keen hopes to become a detective some day with a focus on human trafficking crimes.
From Salem Police: Salem's Police Officer of the Year for 2017 is a young man with a passion for helping others, who also has exhibited a level of maturity way beyond his years. Cody Keen, a 25-year-old Richlands native, helped bring order to two very different crime scenes with his quick thinking a nd calculated actions in 2017. As a result, his peers at the Salem Police Department have selected him for this prestigious annual honor. "I am very grateful that they think I am worthy of this award, but I just happened to be in the right place at the right time," says Keen. "I know for a fact, that every single one of the people I work with would have done the same things that I did." His selection is even more impressive when you consider that Keen has been employed at the Salem Police Department for less than two years. Last July, he and his wife were traveling near Valley View Mall when they encountered a car full of smoke sitting in the roadway. Keen was off-duty at the time, and after approaching the vehicle, he realized the doors and the windows would not open and that a female driver was trapped inside. "For whatever reason a car jack was laying on the side of the road and I was able to use that to break the glass, and convince her to climb out of the window to safety," he says. Roanoke City Police Officers arrived on the scene as she was exiting the car and after further investigation, they determined that the female was involved in a DUI accident earlier in the evening and they arrested her. Later in the fall, on Halloween night, Keen was on-duty when he responded to an alarm call at the CVS Drug Store, located at Lakeside Plaza on Electric Road. "I was working on a report in the parking lot when the call came in that night," says Keen. "Normally, I check the main door first for an alarm call, but in this instance, something told me to pull around to the back first." When he drove to the rear of the business, he saw a man exiting the store carrying bags of merchandise in both hands. As Keen approached the suspect at his car, the man denied any involvement, placed the bags in his trunk, but then tried to flee the scene on foot. "We were able to apprehend him and keep a good amount of prescription drugs off the street," says Keen.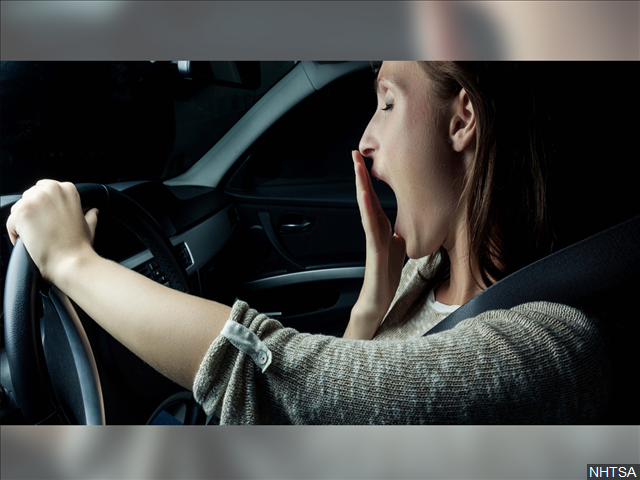 The AAA Foundation for Traffic Safety collaborated with the Virginia Tech Transportation Institute for a new report on the prevalence of drowsy driving. More from WFIR's Ian Price: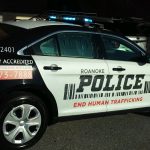 (from Roanoke PD) On February 18, 2018 at 9:32 am. Roanoke Police were dispatched to a call of a body inside of a parked vehicle in the 3000 block of Lombardy Avenue NW, Officers located a silver 2005 Toyota 4-Runner with Virginia tags JXB-5607. The car was parked legally on the street.  A deceased white male was inside of the vehicle. The vehicle is associated with the missing male, Nicholas Sherman, who was reported missing to the Campbell County Sheriffs Office, and was possibly believed to be in the Roanoke area. Roanoke Police detectives and forensic personnel have worked to confirm the identity of the male, collect physical evidence, and interview other individuals. The body has been identified as that of the missing male, Nicholas Sherman. Roanoke Police and the Campbell County Sheriffs Office have worked together to make the proper notifications throughout the day. The body has been taken to the Medical Examiners Office for an autopsy to determine the cause and manner of death. The investigation is ongoing, and is in the preliminary stages. Roanoke Police are asking that anyone having information to assist in this investigation, or knowing of Sherman's activities since being reported missing, to please call the RPD Tip Line at (540) 344-8500 .  Callers can choose to remain anonymous.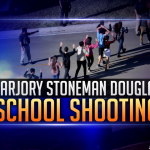 (from ABC News) Student organizers of the protest told ABC News' "This Week" Co-Anchor Martha Raddatz on Sunday that they are determined to use protests and political action to make the mass shooting at Marjory Stoneman Douglas in Parkland, Florida, a turning point in the national debate over gun control. "People keep asking us, what about the Stoneman Douglas shooting is going to be different, because this has happened before and change hasn't come?"
Cameron Kasky, an 11th-grader told Raddatz. "This is it." Called "March for Our Lives," the demonstration in Washington is to be on March 24, according to Kasky and four of his classmates whom Raddatz also interviewed — Emma Gonzalez, David Hogg, Alex Wind and Jaclyn Corin. In addition to the march in Washington, the organizers also plan protests in other cities around the country.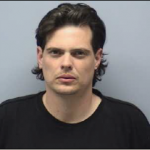 (Roanoke PD release) UPDATE – the suspect was found in Bedford and has been taken into custody. (original release) On February 17, 2018 at 7:00 PM Roanoke Police stopped a vehicle on 9th Street and Bullitt Avenue S.E. for a traffic violation. A passenger Richard Thomas Hale age 36 of Vinton (pictured) was found to have a warrant for Unauthorized Use of a Motor Vehicle. Hale was placed under arrest and placed in the back seat of the officers vehicle. The officer went back to the stopped vehicle to gather additional information related to the traffic stop. Upon the officer's return to the police car, Hale was no longer in the vehicle. A perimeter was established and attempts to locate him were unsuccessful. Anyone with information on Hale's location is asked to call 911. Hale is described as being 6′ tall, 200 pounds and last seen wearing a green flannel shirt and jeans.