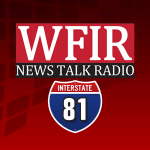 If your travel plans including heading north into West Virginia on Interstate 81 in the next week, you can expect some major delays as you approach the Mountain State. VDOT says emergency bridge work just inside West Virginia will cause lengthy daytime backups for the next week or so. Northbound backups today run about nine miles.
From VDOT:  Significant traffic delays are expected on northbound Interstate 81 in Frederick County through August 1, 2018, due to emergency bridge work in West Virginia. The right lane of I-81 northbound is expected to be closed 24 hours a day until repairs are complete. The work zone is about three miles north of the Virginia/West Virginia state line. As of 3 p.m. Thursday, traffic was backed up about nine miles into Frederick County, Virginia. Drivers can also expect related congestion on Route 11 in the Winchester area for the duration of the bridge work.
Northbound motorists should consider alternate routes including:
Interstate 66 or Route 7 to Route 340 northbound through Warren and Clarke counties
I-81 exit 310 to Route 37 (Winchester bypass) to Route 522 northbound in Frederick County.
Variable message boards along the northbound I-81 and westbound I-66 corridors are warning drivers of the I-81 lane closure.