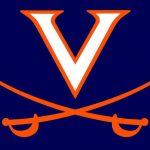 CHARLOTTE, N.C. (AP) — The doors to the Virginia's locker room opened, the last protection for a group of players sitting in a state of shocked quiet after the most improbable of losses. Some fought back tears. Some hung their heads or stared blankly down at their cellphones. Others could only shake their head. And now it was time to confront the questions along with the disbelief: how could this have happened? How could Virginia — the team that rolled through the Atlantic Coast Conference and claimed the No. 1 overall seed in the NCAA Tournament — become the first top seed to lose to a No. 16 seed with Friday's 74-54 loss to UMBC? "If you play this game and you step into the arena, this stuff can happen," Virginia coach Tony Bennett said.
Yet it was a jarring turn of events specifically because it hadn't happened. Ever. 135-0. That's where No. 1 seeds stood in NCAA Tournament history against 16-seeds. Sure, there had been a few close calls — most notably Georgetown surviving against Princeton in 1989 for a 50-49 win when a freshman named Alonzo Mourning blocked Kit Mueller's final-play shot. But there had been nothing like this before.
The questions following the Cavaliers (31-3) to Charlotte were more about whether this would be the year for Bennett's program to shake a modest history of postseason stumbles and make the leap to the Final Four, which had eluded him in two previous NCAA Tournaments as a top seed. Virginia had its calling-card defense allowing just 53.4 points per game, while the offense offered more perimeter scoring options in Kyle Guy, Devon Hall and Ty Jerome even as the Cavaliers still played the methodical offensive pace that reduced the number of possessions and often turned games into grind-it-out, ugly crawls. Even after losing ACC sixth man of the year De'Andre Hunter to a broken left wrist suffered during the league tournament, Virginia (31-3) arrived at the NCAA Tournament with a school-record win total and five straight weeks at No. 1 in the AP Top 25 — the program's first time atop the AP rankings since the days when 7-foot-4 great Ralph Sampson roamed the paint.
That Virginia team lost the top spot after a December 1982 loss to NAIA team Chaminade in what many have considered the biggest upset in college sports. And now the first Cavaliers team to make it back there has perhaps an even more shocking loss, this one to end a season. "It's not the end of the world," senior forward Isaiah Wilkins said of Bennett's postgame message to the team. "It feels like the end of the world. But it's not."
As stunning as the loss itself was the way it unfolded. The America East Conference champion Retrievers — who had lost by 44 points at Albany on Jan. 21 — turned a 21-all tie into a second-half romp. They scored 53 points and shot 68 percent while spreading out Virginia's suddenly flummoxed defense. Meanwhile, Virginia couldn't make a key shot to stem UMBC's surge, making just 3 of 13 3-pointers after halftime and 4 of 22 for the game. The lead grew and grew, sending murmurs at first through the Charlotte crowd that soon began to churn into a growing buzz and a tangible feeling that a historic moment was quickly becoming inevitable. Virginia never figured out a way to stop it, either.
"I don't know, I can't think about it," Hall said when asked when he felt it was getting away. "I don't know, man. They were hitting mostly every shot they took. We were scrambling behind the plays. Don't know, can't tell you." By the final minutes, the Retrievers were up big and in celebration mode with constant gestures seeking more noise from their already-rowdy section of fans. It was the kind of position everyone expected the Cavaliers, not the Retrievers, to be in as the game wound to a close just like every other 1-seed before them.
These games are supposed to be routine, almost a formality. Instead, the Cavaliers ended up trying to find answers to locker-room questions when no easy ones were to be had. "Somewhere in the game, we just got lost and we lost our heads and lost what our vision was and what we've been doing all year," graduate guard Nigel Johnson said. Asked whether he worried one bad night would overshadow the season, Wilkins cut off the question.
"I don't care about that," Wilkins said as he fought back tears. "I don't care about that." It certainly creates a complicated legacy. This was a team that went 20-1 against ACC opponents, won the program's third ACC Tournament title and spent the past two weeks of the season as a unanimous AP No. 1. It was all part of wildly unexpected climb from being picked to finish sixth in the ACC. In the end, the Cavaliers stunned everybody one last time.