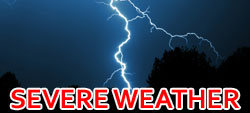 A big Fourth of July thunderstorm in Roanoke gave a powerful preview to last night's man-made fireworks. The storm slammed into the Roanoke Valley around 4:00 p.m., damaging buildings, blocking roads with debris and knocking out power to thousands. By late afternoon, Appalachian Power Company listed more than 11,000 customers without electricity, and APCO was still working early this morning to restore power.
Winds gusting up to 75 miles per hour flipped a small plane and damaged several others at Roanoke Regional Airport. The winds tore off a portion of the roof of Northside Middle School and there was water damage to the inside of the building. That was just one of numerous damage reports in the Peters Creek Road area of north Roanoke County.
The storm cut short some of the activities and reduced the crowd at last night's Roanoke Times Music for Americans event at River's Edge Park. The newspaper says 20,000 normally attend, and estimated last night's crowd at 12,000. The rain stopped in time for the main show to start on schedule at 7:30 followed by the big fireworks display.