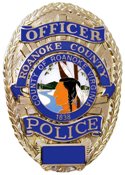 A bank robbery in Roanoke County led police to order lockdowns at several schools in the Cave Spring area, but police tell  us the lockdown has been lifted.  Assistant Chief Mike Warner tells WFIR News police believe the robber has left the area around the bank, and there is no longer reason to believe anyone is in potential danger.
The robbery occurred at the Union First Market branch on Electric Road. Roanoke County school officials say the following were on precautionary lockdowns:
Cave Spring Elementary School
Cave Spring Middle School
Cave Spring High School
Green Valley Elementary School
Hidden Valley Middle School
Hidden Valley High School
Oak Grove Elementary School
Penn Forest Elementary School
North Cross School is closest to the bank and it, too, was under a lockdown.
Police are still looking for the robber. The suspect was described as a white male in his 20's, 6 foot or taller, wearing a black hoodie and headed towards the Penn Forest neighborhood.