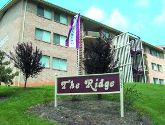 One person is dead and 12 others are homeless after an overnight apartment fire in Southwest Roanoke. The Fire Marshal's Office is investigating the fire, which started around 12:45 a.m. at The Ridge on Brandon Avenue. There were about 30 people in the building at the time of the fire. Roanoke Fire-EMS estimates damages at $200,000.
Roanoke Fire-EMS News Release:
Roanoke Fire-EMS responded to a second alarm fire last night at 2755 Brandon Ave., the Ridge. The call was received in the E-911 Center at approximately 12:44am and was under control at 1:40am. 35 Fire-EMS personnel responded.
When crews arrived they found a downstairs apartment fully involved in flames. Crews began to extinguish the fire and evacuate some of the other apartments.
Approximately 30 people were in the apartment building when the fire started. One person died in the fire. Their name is not being released at this time. No injuries to firefighters.
The cause of the fire is under investigation by the Fire Marshal's Office. Damage estimates are approximately $200,000. 12 people were displaced. They are being assisted by the American Red Cross.