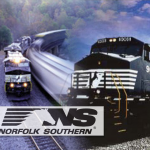 The scenario we told you about several weeks ago at Norfolk Southern is now a reality – more than 100 local NS employees are losing their jobs. An update from WFIR's Gene Marrano:
RELATED: Rasoul condemns Roanoke NS layoffs
RELATED: City manager says laid off NS employees are skilled, should find new work
NORFOLK SOUTHERN STATEMENT: "In today's rapidly changing environment, Norfolk Southern continues to focus on ensuring that we have the optimal number of people and assets at every location across our system in order to operate safely and efficiently. As we execute our new strategic plan, we expect that targeted hiring and furloughing will remain components of our operating model. Today, that entailed the furlough of approximately 130 employees in Roanoke, Virginia. Furloughed employees will have the opportunity to apply for positions elsewhere at Norfolk Southern.
Consistent with our strategic plan and current business levels, our ability to streamline operations and use fewer locomotives has required the difficult but necessary decision to reduce our locomotive mechanical forces due to the decreased demand for locomotive repair. Norfolk Southern will continue to evaluate staffing needs as our business evolves."
PREVIOUS: A source with input from union sources now says  80 were laid off from the East End shops and 50 from the Shaffer's Crossings shops.
PREVIOUS: A Norfolk Southern employee says a scenario we told you about several weeks ago now appears to be a reality: saying the Shaffer's Crossing NS facility and the east end shops laid off a number of employees today – reportedly at least 100. At full strength Shaffer's Crossing has about 300 workers. We are attempting to get additional information from Norfolk Southern corporate on the reported layoffs.