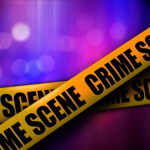 Roanoke Police say shoplifting suspects tried to run over an officer with a vehicle — then took off until state police later took them into custody. Officers were called today to the Towne Square Shopping Center, and police say that's where a juvenile pushed one to the ground and 28-year-old Fuquan Goode of Bedford tried to run her over. Both face various felony charges, as does 18-year-old Brenda Stout of Roanoke.
News release: On Thursday August 2, 2018 at around 10:45 a.m., officers were dispatched to the Towne Square Shopping Center on a shoplifting call. The responding officer was able to identify and locate the suspects – 28-year-old Fuquan Goode of Bedford, 18-year-old Breana Stout of Roanoke and a juvenile male.
As the officer attempted to arrest Goode, the juvenile suspect assaulted her. The three suspects then fled to a vehicle in the parking lot. The officer attempted to stop and arrest the suspects again, when Goode pushed her to the ground, assaulted her again and then attempted to run her over with the vehicle. The vehicle then fled the scene and other responding officers started a pursuit. The officer who was assaulted was not seriously injured.
We ended the pursuit when the suspects' vehicle headed into Roanoke County's jurisdiction. At that time, the Virginia State Police took over and arrested the suspects.
Goode is facing charges of obtaining merchandise under false pretenses, petty larceny, grand larceny, assault and battery, attempted aggravated assault on law enforcement, assault and battery on law enforcement, fleeing from law enforcement and felony eluding. Stout is facing grand larceny charges. The male juvenile is facing charges of assault on law enforcement, felony obstruction of justice with force and petty larceny.