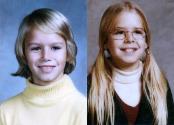 BEDFORD, Va. (AP) _ Authorities are conducting a new search on a Virginia mountain for the remains of two Maryland sisters who disappeared in 1975. The Bedford County Sheriff's Office said Monday that additional leads prompted another dig on Taylor's Mountain but didn't provide details. The operation is expected to take several days to complete. The sheriff's office, the Virginia State Police and the Montgomery Police Department in Maryland are conducting the search for the remains of 10-year-old Katherine Lyon and 12-year-old Sheila Lyon. The sisters disappeared after walking to a shopping mall in Wheaton, Maryland. An earlier dig was conducted on the mountain in January. Authorities have named Richard Allen Welch Sr. and his nephew, Lloyd Lee Welch, as persons of interest in the case. Neither man has been charged.
(Continue reading for the Bedford County Sheriff's Office news release.)
NEWS RELEASE FROM BEDFORD COUNTY SHERIFF'S OFFICE:
The ongoing investigation into the disappearance of the Lyon sisters from Maryland continues with new efforts on Taylor's Mountain in Bedford. The investigation has developed additional leads through supplemental investigative interviews that have found cause to conduct an additional dig on the mountain in efforts to locate the missing children. This effort is being conducted collaboratively by the Bedford County Sheriff's Office, the Virginia State Police, and the Montgomery Maryland Police Department. A representative from the Virginia Department of Forensic Science is on scene, and it is anticipated this process will take several days to complete. The dig is being done in hopes of finding additional evidence to bring a successful resolution and closure to the case from 1975.