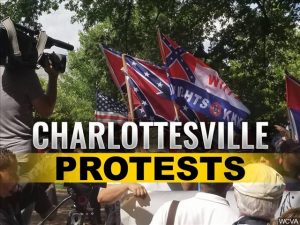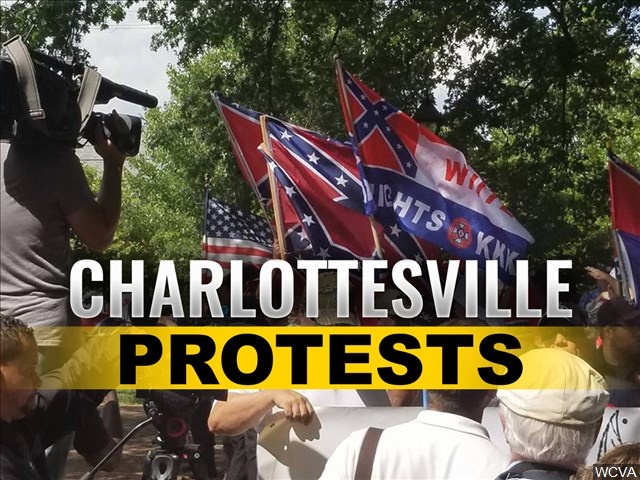 CHARLOTTESVILLE, Va. (AP) — Four members of a militant white supremacist group from California have been arrested on charges they traveled to Virginia last year to incite a riot and attack counterprotesters at a white nationalist rally that turned deadly, court documents unsealed Tuesday say. The defendants — Benjamin Drake Daley, Michael Paul Miselis, Thomas Walter Gillen and Cole Evan White — are part of the Rise Above Movement, which espouses anti-Semitic views and meets regularly in public parks to train in boxing and other fighting techniques, according to an affidavit.
The affidavit alleges the four men were "among the most violent individuals present in Charlottesville" on Aug. 11 and 12 of last year. It says photos and video footage shows they attacked counterprotesters, "which in some cases resulted in serious injuries." The men have also taken part in "acts of violence" at political rallies in Huntington Beach and Berkeley, California, and other places, the affidavit alleges. "These guys came to Charlottesville in order to commit violent acts, and it wasn't the first time they'd done it," U.S. Attorney Thomas Cullen said at a news conference held to announce the charges. The four have been arrested and are awaiting their initial hearings, according to another court filing in the case. It wasn't immediately clear if they have attorneys who could comment on their behalf.
According to The Anti-Defamation League, Rise Above Movement members believe they are fighting against a "modern world" corrupted by the "destructive cultural influences" of liberals, Jews, Muslims and non-white immigrants. Members refer to themselves as the mixed martial arts club of the "alt-right" fringe movement, a loose mix of neo-Nazis, white nationalists and other far-right extremists. "They very much operate like a street-fighting club," said Oren Segal, director of the ADL's Center on Extremism. Segal said the group has roots in the racist skinhead movement in southern California. Daley, of Redondo Beach, figures "prominently" in the organization, according to the affidavit.
The arrests come more than a year after hundreds of white nationalists descended on Charlottesville in part to protest the planned removal of a statue of Confederate General Robert E. Lee. Clashes first erupted on Aug. 11, 2017, as a crowd of white nationalists marching through the University of Virginia campus carrying torches and chanting racist slogans encountered a small group of counterprotesters. The following day, more violence broke out between counterprotesters and attendees of the "Unite the Right" rally, which was believed to be the largest gathering of white nationalists in at least a decade. Street fighting exploded before the event could begin as scheduled and went on for nearly an hour in view of police until authorities forced the crowd to disperse.
Later, a woman was killed when a car prosecutors say was driven by a man fascinated by Adolf Hitler plowed into a crowd of peaceful counterprotesters. The death toll rose to three when a state police helicopter that had been monitoring the event crashed, killing two troopers. The suspected driver, 21-year-old James Fields Jr., of Maumee, Ohio, has been charged with federal hate crimes in the death of Heather Heyer, 32. Fields also faces state murder charges; his trial is scheduled to begin Nov. 26.