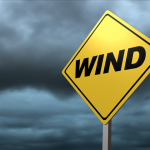 From Appalachian Power Noon Sunday: The power is out for more than 60,000 Appalachian Power customers after an unexpected wind storm swept through the service area late Saturday into early Sunday morning. The storm, which was not forecasted, included gusts of almost 60 MPH, which impacted electric service. The hardest hit areas are in West Virginia where more than 46,000 customers are currently without power. In Virginia, more than 14,000 customers do not have electric service. Our employees are assessing the situation this morning to determine the full impact on transmission stations and distribution lines.  As outages are cleared, crews will move into these more heavily damaged areas to assist in restoration. Customers in these areas should check the Outage Map at www.AppalachianPower/OutageMap for the most up-to-date restoration times.
Areas with large numbers of customers affected by the storm include: 
| | |
| --- | --- |
| West Virginia Counties | # of Customers Out |
| Kanawha | 14,124 |
| Raleigh | 5,555 |
| Greenbrier | 4,066 |
| Wayne | 4,062 |
| Logan | 3,743 |
| Putnam | 2,095 |
| | |
| --- | --- |
| Virginia Counties | # of Customers Out |
| Grayson | 5,654 |
| Floyd | 1,601 |
| Roanoke | 1,588 |
| Montgomery | 1,266 |
In West Virginia, the bulk of customers should see power restored by Monday evening. However, in isolated instances where damage is most severe, restoration could extend into Tuesday. Most areas in Virginia should see power restored later tonight. Where damage is most severe, though, restoration could extend into Monday
A majority of customers could see their power restored well before these estimated times. New restoration times may be available for the outages in your area. Check our Outage Map at www.AppalachianPower/OutageMap for more info.
PREVIOUS: The National Weather Service in Blacksburg has issued a High Wind Warning, which is in effect from 6 PM this evening to noon EDT Sunday. The Wind Advisory is no longer in effect.
* Winds…Northwest 20 to 30 mph with gusts up to 60 mph.
* Timing…This evening into the overnight.
* Impacts…Winds may bring down trees and powerlines.
* Locations…Along the Blue Ridge.
* Hazards…Strong wind gusts.
PRECAUTIONARY/PREPAREDNESS ACTIONS…
A High Wind Warning means a hazardous high wind event is expected or occurring. Sustained wind speeds of at least 40 mph or gusts
of 58 mph are likely to cause power outages…fallen trees… property damage…and dangerous driving conditions for high profile vehicles. Move unfastened items…such as garbage cans and deck furniture…indoors.