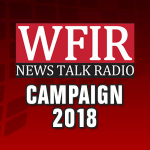 RICHMOND, Va. (AP) — Vice President Mike Pence has stumped in Virginia with three Republican congressional candidates ahead of midterm elections 2½ weeks away. He traveled to Richmond to rally Republican voters with Rep. Dave Brat, Ryan McAdams and Denver Riggleman. The candidates met Pence at Richmond's international airport.
Pence tweeted a photo from a Saturday rally for McAdams, describing the longshot to unseat incumbent Democratic Rep. Don McEachin as a "strong conservative."
He also rallied support for Brat and Riggelman. Brat is a two term incumbent in a closely watched race against ex-CIA operative Abigail Spanberger. Riggleman is trying to succeed retiring Rep. Tom Garrett in the 5th Congressional district.
Pence then headed to West Virginia to support state Attorney General Patrick Morrisey in his bid to unseat Democratic Sen. Joe Manchin.